After midnight, a gleaming "OPEN" sign and some evidence of human activity can be a beacon of light on your pilgrimage home. Charlotte is growing, sure, but it's no go-all-night city that never sleeps. After last call your next logical option is one of these nine late-night dishes with the potential to satiate your most pressing nighttime cravings.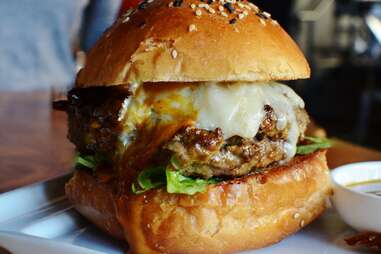 5Church lamb burger
5Church (address and info)
Uptown
Just because it's after midnight doesn't mean you have to rough it. 5Church attracts a late-night crowd, so it knows it's gotta serve. The meaty lamb burger is topped with oozing Gorgonzola and a savory red onion marmalade. The secret sauce (it's good, don't ask questions) finishes it off right while the crispy confit potato side dish is the perfect antidote for soaking up the last drop of your nightcap.

Jack-Mac
JackBeagles (address and info)
NoDa
Mac and cheese is good most any time, but it's especially good at 3am and Beagles' Jack-Mac is not your typical out-of-a-box variety. Its rich, creamy mac is done up with a lip-smacking garlicky Buffalo sauce and topped with Parmesan crumbles. The result: a super-cheesy, slightly tangy concoction with a bit of spice that's so worthy of being your last meal of the night.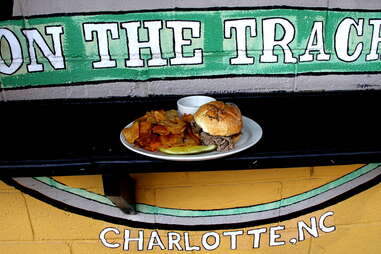 Beef on weck
Tavern on the Tracks (address and info)
South End
You don't have to be a Buffalo native to appreciate this Western NY staple. Slow-cooked, perfectly rare beef is piled high on a caraway-seeded weck roll, and served with savory au jus (literally good enough to drink), horseradish, and a crisp pickle. If you're feeling frisky, add five wings tossed just how you like 'em, and since this is the South, you might as well have your fries topped with gravy.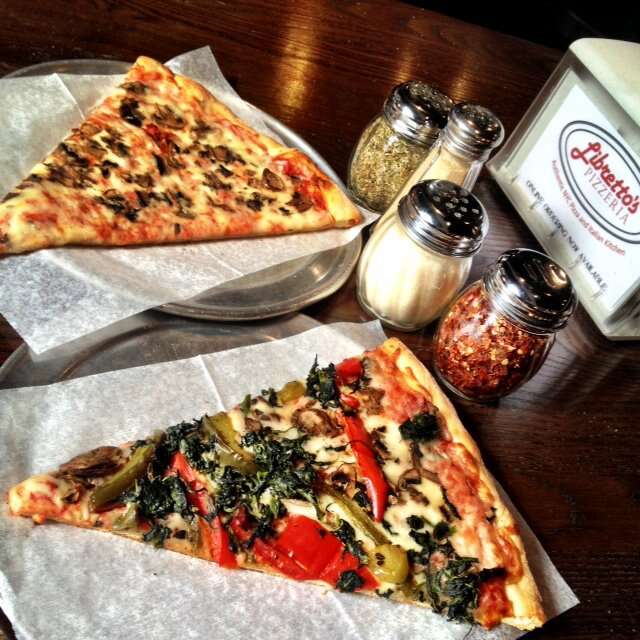 Pizza by the slice
Libretto's Pizzeria and Italian Kitchen (address and info)
Uptown
This authentic pizzeria is the only spot in town that claims to have NY-style pizza and actually has a location in NYC. By the time EpiCentre's bars and clubs finish "turning up," Libretto's has a line out the door that doesn't let up until the last slice is served, usually around 3am from Wednesday through Saturday. Have your pick from a hefty spread of pies, like the classic margherita and meat lovers or one topped off with BBQ or Buffalo chicken.
Fried chicken bucket
Shell Gas Station (address and info)
South End
The Shell gas station on the corner of East and South Boulevards might as well be your one-stop shop for everything. Gas? Check. Lotto tickets? Check. The best fried chicken in the city? Yup. If you think you're too good for eating chicken out of Styrofoam from a gas station, your loss. The gals behind the counter bread, season, and fry each piece by hand. No frills, just a little soul and grease to coat your stomach on the venture home.

Diamond in the Rough
The Diamond Restaurant (address and info)
Plaza Midwood
This burly hangover-busting sandwich is served between two delectable waffles with eggs and bacon in the center and is doused with maple syrup. Offered only on the late-night menu and served until 4am, consider this magical concoction your after-midnight snack and breakfast all in one.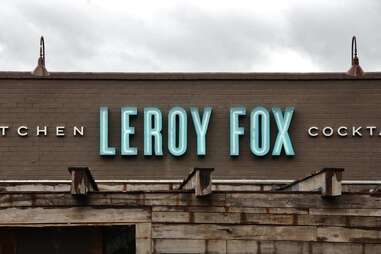 Hot pretzels
Leroy Fox (address and info)
Cotswold
These pillowy bites of salty goodness are just made better by the two dipping sauces that come with them: Leroy's honey mustard and ranch dressing. The perfect combination of salty and sweet, these mouthwatering bites of heaven look like an appetizer but satisfy like a true midnight snack. Leroy's is about the only place you'll find late-night food on this side of town aside from anything you might eat out of a window.

Special combo omelet
Landmark Diner (address and info)
Eastland
Come prepared to order as this place has a menu the size of a novel. A transcontinental novel, that is. Dishing out Greek cuisine, Italian eats, and classic diner fare all until 4am, you're bound to find something that strikes your fancy. During witching hours, go with an omelet stuffed just how you like it, served with home fries, French fries, or grits and a buttery biscuit or toast. And don't you dare leave without a slice of homemade pie. You know, for later.
Jaco pork
The Roasting Company (address and info)
Montford
Pack your beer-laden belly with this handcrafted pulled pork-on-rice dish and you're destined for sweet dreams. Jaco pork is equal parts smoky, tangy, and sweet all rolled into one. Served with cornbread and two sides (the squash casserole is where it's at) for under $10, you'll be out the door stuffed and ready to snooze.
Sign up here for our daily Charlotte email and be the first to get all the food/drink/fun in the Queen City.