From Italian cuisine to Mexican fare, modern American food to small plate specialties, Charlotte has it all, and we have it everywhere. It's tough to choose the best of our many killer dining options, so we've outlined the 10 best Charlotte neighborhoods for eating, based on quality and quantity (and, well, five years of personal judgments). Set your sights on a 'hood or three on this satisfying list and get ready to start consuming!
Recommended Video
Timothy DeLaGhetto & David So Take Over LA's Premier Foodie Event
10. Cotswold
Tucked behind Myers Park along Providence and Sharon Amity, the Cotswold neighborhood has become an increasingly popular residential and retail area. With this comes the rising status of its area eateries; Cotswold may not have a ton of restaurants yet, but the quality is there. Block & Grinder brings you the finest of hand-cut meats, while The Improper Pig offers up a creative take on Asian-inspired barbecue. Neighboring Leroy Fox hands over crispy fried chicken in an inviting Southern atmosphere.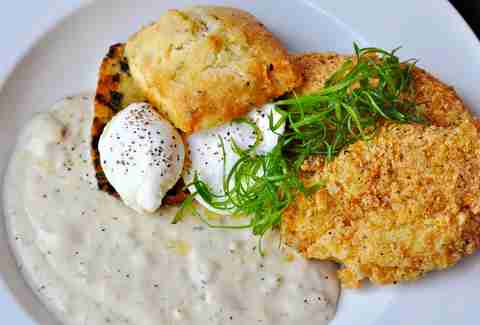 9. Midtown
Meals with a view make Metropolitan in Midtown the ideal place to grab an evening meal. Within sight of the city skyline, this neighborhood sits along the Little Sugar Creek Greenway just a mile from Uptown Charlotte. Vivace's house-made pastas and the steak plates at Dressler's Restaurant aim to please, and Pisces Sushi Bar and Pizzeria Omaggio offer up awesome lunch options. Outside Metropolitan and just off Kings Dr, Mama Ricotta's will provide you with a family-style Italian dinner you just can't resist (it's also one of the best Italian restaurants in town).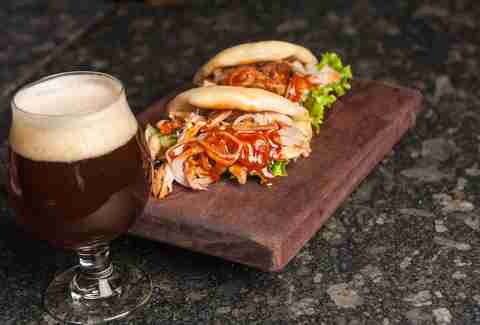 8. NoDa
Charlotte's art district, known as NoDa (short for North Davidson), rests northeast of the city and is home to an eclectic mix of crucial chowdown spots. The original location of Amelie's French Bakery in NoDa may be the best bakery in Charlotte, and is open 24/7, so you can finish off any day stocking up on pastries. You'll find the largest late-night pizza slice at Benny Pennello's, gluttonous gourmet donuts at Joe's Doughs, and insanely good Baja cuisine at Cabo Fish Taco. Round out your weekend at Heist Brewery with a one-of-a-kind shared plate, like the chicken & waffle tacos, or better yet, splurge on the all-you-can-eat brunch buffet to pair with your beers for the ultimate Sunday Funday.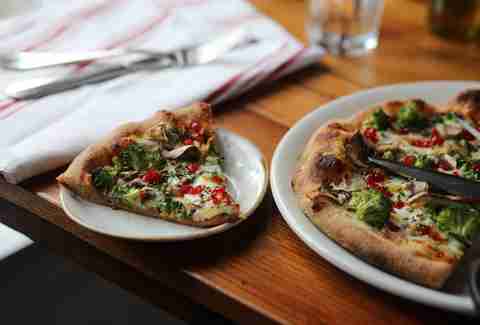 7. Myers Park
It's no surprise that the dining scene in this prestigious neighborhood matches the grand stature of its homes. Myers Park is Charlotte's setting for delectable worldly cuisine, from rave-worthy Italian restaurants to French-inspired bistros. You can enjoy modern fare at Lumiere, or a seasonal menu with locally sourced ingredients at Stagioni (both of which should be on your food bucket list). Revel in wine-country cooking at Napa on Providence, or choose to sit back at Little Spoon, a chic neighborhood café with an innovative approach to your typical American dishes. Looking for a casual night out with friends? Opt for RuRu's, a popular pick with an outdoor patio, specialty cocktail list, and tasty taco selection. Myers Park consists of several frontrunners; you just need to know where to look.
6. South End
From the beloved barbecue at Mac's Speed Shop to the famous fried chicken at Price's Chicken Coop, Southern comfort food certainly rules the South End scene. Plus, Tupelo Honey Cafe arrived in 2013 as the missing piece to fill your stomach with a made-from-scratch Southern breakfast. The fuel doesn't stop here, however. Enjoy a classy steak dinner at Sullivan's, or head to The Liberty for a great weekday alternative of delicious American fare alongside a renowned beer list. There's also an endless supply of food trucks that bring convenient grub right to the doors of your daily hangouts. Recent restaurant additions such as Seoul Food Meat Co. and O-Ku sushi are adding even more variety to the already savory lineup.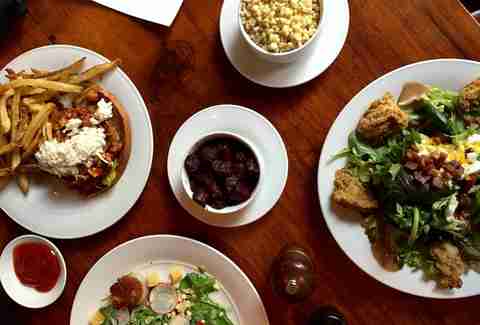 5. SouthPark
The boundaries of residential neighborhoods like Barclay Downs and Foxcroft can be a bit vague, but SouthPark claims restaurant hotspots along Fairview and Morrison. Home to Piedmont Row, Phillips Place, and The Specialty Shops SouthPark, this retail-driven community boasts several notable meal options. High-status Barrington's and reputable Rooster's Wood-Fired Kitchen call SouthPark home, not to mention Baku Japanese restaurant, Treehouse Whiskey & Fork, and Café Monte. Head into Phillips Place for two additional star-quality choices: Palm Restaurant for top steak selections, and Upstream for fresh fish. Del Frisco's hold down the corporate dinner crowd in Piedmont Row; Terrace Café welcomes your lazy weekend mornings with abundant breakfast offerings; and Paco's Tacos & Tequila will become your steadfast response to those weekly Mexican cravings.
4. Dilworth
Dilworth has found the sweet spot – providing a hip and trendy vibe while simultaneously maintaining the homey, comfortable feel that Historic Dilworth is known for. From 300 East (an old home-turned-restaurant which has been serving Charlotte for over two decades) to Bonterra (a 19th-century church converted into a restaurant and wine bar), Dilworth exhibits an approachable refinement that distinguishes it among the city dining scene. Whatever you're in the mood for, you can find it alongside this bungalow-filled backdrop, which is also why it pushes past South End and into the top five. Not only does this neighborhood hold two of the best Italian spots in Charlotte (Dolce and Fiamma), but it holds its own in the Mexican food category with popular Bakersfield and Babalu. Hit Kid Cashew, The Summit Room, and Foxcroft Wine Co. if you're searching for small plates. Simply interested in a large, juicy burger to satisfy your stomach? You can head over to Big Daddy's to cure that craving. If you just want to heal your Saturday hangover with a massive breakfast spread, drag yourself over to Toast and have your fill of cornbread, quiches, and fresh-squeezed mimosas.  
3. Uptown
The sheer number of restaurants in the Uptown area earns it a top three spot, because basically you can't escape Uptown without eating. With a refreshing collaboration between old and new, our city center is chock-full of countless possibilities spanning from modern steakhouses to longstanding pubs to cover a wide range of appetites. Cherished historic dining establishments like Alexander Michael's and the McNinch House Restaurant paved the way for successful newcomers like Fahrenheit and Evoke. Choose to start your night off in style among chic settings like 5Church and Halcyon, or settle in at a reliable favorite like Aria or Bentley's on 27 with a menu set to impress. Just make sure to check out 7th Street Public Market while making your daytime rounds; this popular destination among Uptown's First Ward supplies locally sourced coffee, pizza, desserts, and more so you can give back directly to those providing your food fix.
2. Plaza-Midwood
Charlotte's foodie oasis is full of creative culinary surprises and some of the best dishes you'll find within city limits. What's best about this artsy hipster hood is that every establishment here offers up a humble, local feel with its food. Trendy spots like Soul Gastrolounge offer up artisan small plates to keep your senses guessing, while Midwood Smokehouse delivers all the mouthwatering barbecue you've been searching for. You can get your hands on unique flavor combinations and a much-loved brunch at Bistro La Bon, or enjoy breakfast all day at Zada Jane's Corner Cafe. Other favorites include the hand-tossed slices at Intermezzo and the fresh deli sandwich (and craft beer) at The Common Market.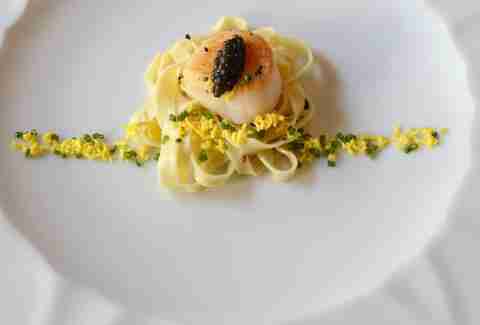 1. Elizabeth
Though it may contain fewer overall restaurants, this small-scale community exudes impressive culinary talent within its limits. The Elizabeth neighborhood is home to high-end options that crush the competition in terms of the quality game, with several of Charlotte's top restaurants joining forces here -- and all within a few blocks' radius. Passion8 Bistro, Customshop, and Carpe Diem all kill the date-night category with locally sourced ingredients making up intricate and elaborate dishes for the ultimate fine-dining experience. The Fig Tree alone has probably seen more proposals and anniversary celebrations within its 100-year-old walls than any other establishment in Charlotte. The more casual Cajun Queen has live jazz seven days a week to pair with its prized New Orleans specialities, while Earl's Grocery and Sabor Latin Street Grill round out the restaurant collection as winning selections for your everyday eating.
Sign up here for our daily Charlotte email and be the first to get all the food/drink/fun in the Queen City.