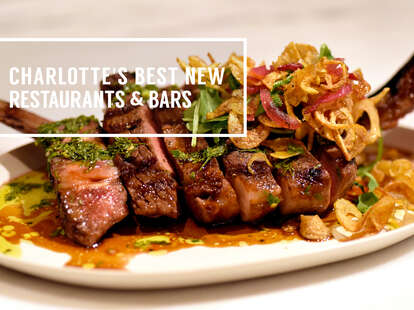 Stoke

| Michael Tulipan
Stoke

| Michael Tulipan
This year has been a busy one for Charlotte's culinary scene. Longtime chefs have switched restaurants, while others have brought new tastes to the Queen City and expanded the local palate. Restaurants are opening and shuttering at a more rapid rate, which may be a sign that Charlotteans have developed high expectations when dining out. Many new concepts have opened since January, so we've highlighted the best of the best thus far.
All of the restaurants on this list are part of our ongoing quest to find this year's best new restaurants in America, and we're combing through every opening in every Thrillist city. Get involved on Instagram -- #BestRest2016 -- to let us know your picks and your favorite dishes at each of these new spots.
Uptown
Located in the newly renovated Charlotte Marriott City Center, Stoke feels more like a gathering in someone's (very large) kitchen then it does a hotel restaurant. Chef Chris Coleman developed a menu of approachable, seasonal American cuisine with locally sourced ingredients. Pull up a seat and watch as Chef Chris and his team prepare meals in their large wood-fired oven. Start off with a ham and cheese board, then order the sticky pork shank and be prepared to make an awkward moaning sound as you devour this tender meat. Don't forget to get a cocktail from the bar -- the Bartender's Handshake is not to be missed.
Belmont
Just outside Charlotte's city limits is the town of Belmont. While it's worth a visit for the cute shops and places to eat, the opening of Nellie's Southern Kitchen took the town to the next level. Named in honor of Nellie Jonas and opened by her grandchildren, including Kevin Jonas, Sr. (yep, he's the daddy of the Jonas Brothers), the menu is based on good ol' Southern dishes, just like Nellie made for her family. Her namesake Nellie's Chicken N Dumplins and four-cheese mac with bacon and onions will make you want to slap someone -- but don't, Nellie wouldn't like that -- and be sure you don't leave without trying the banana pudding.
Steele Creek
Known for their Rock Hill restaurant The Yolk, chef Gregory Collier and his wife Subrina have finally brought their breakfast delicacies to Charlotte. There is something for everyone at @Dawn -- from vegan dishes such as crispy tempeh to the BEG (bacon, egg, and gouda) biscuit. Breakfast is the most important meal of the day, so indulge and then go home and take a nap.
South Park
Originally a Wolfgang Puck Pizza Bar concept, WP Kitchen + Bar was taken back to the drawing board to answer the challenges of Charlotte's evolving and expectant palate. The result is a menu of craft cocktails and standout items like the handmade meatballs and grilled prime rib-eye with house sauce that will make you want to lick your plate. While the menu focuses more on ingredients than pizza, the pies are still good -- especially the grilled chicken option with barbecue sauce.
Uptown
The folks behind Charlotte perennial favorites Crepe Cellar and Growlers Pourhouse finally brought seafood back to Uptown. The raw-bar menu changes daily, so call ahead if you want to know what options will be, or wing it by ordering order a few oysters and "fun food" to get to know Sea Level's style. The oyster slider and the shrimp & grits are stellar, and the truly brave will order an oyster shooter (your choice of vodka, gin, or tequila).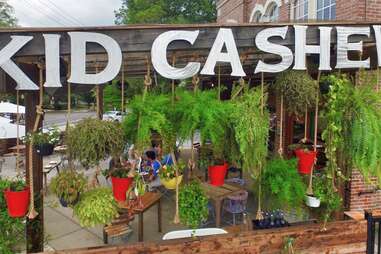 Dilworth
It's unlikely that a restaurant in Charlotte has received so much acclaim before it actually opened, but Kid Cashew did and it delivered. The Mediterranean fusion menu includes not-to-miss dishes such as the chargrilled octopus with lemon vinaigrette, forbidden rice & mushroom paella, and the lemon-oregano chicken. Although the inside is homey, grab a seat on the patio during a nice night for extra ambiance.
South Charlotte
Using a wood-fired oven shipped from Italy that cooks a pizza within 90 seconds, Inizio is as close to authentic Neapolitan-style pizza as Charlotteans will get without hopping on a plane. Grab a bottle of wine and order a large of one of its signature pizzas (because you know you'll want leftovers). You can't go wrong with any of the pizzas here, but know that you will be coming back. Start with Inizio's top seller, the pistachio pizza, made with rosemary, sea salt, ricotta, buffalo mozzarella, and a house-made pistachio-pesto sauce.
Uptown
Situated on the first floor of the Omni Hotel, Essex Bar & Bistro is another dining and cocktail option in Uptown -- and an excellent place for people watching on Trade and Tryon Sts. The gastropub features a menu with strong Mediterranean influences, and the falafel, lamb kefta sliders, and veal meatballs will have you thinking about another reservation before you've paid the bill. Don't forget to try one of the cocktails; the Rob Collins No. 2 with Hendrick's Gin, mint, and prosecco is a great way to start or end your dining experience.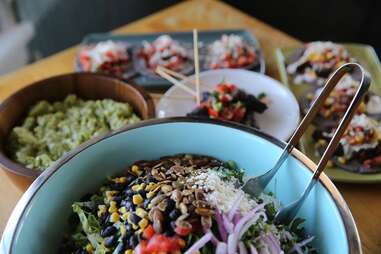 Dilworth
Tacos, and tortas, and tapas… oh my! Although Babalu is a chain, Charlotte ain't mad, which is apparent when you see the number of people waiting to be seated. Babalu may have some of the best tableside guacamole in Charlotte right now (get it with bacon and jalapeños). Other not-to-miss dishes include the beef empanada with cumin crema sauce, and the redfish taco with jalapeno-poblano vinaigrette. Babalu also offers weekend brunch, and the tortilla Española omelet -- made with potato, chorizo, bacon, and egg layered in a cast-iron skillet topped with Sriracha crema, fresh tomatoes, and scallions -- is worth waking up early.
Plaza-Midwood
What started as an annual food festival to celebrate burgers and beer is now ongoing at a brick-and-mortar restaurant. You will fantasize about the cheese curds and the rosemary, truffle, and sea salt fries. There are great salad options, but it's all about the meat here: the brew-braised mushroom and Swiss cheeseburger is just as mouthwatering as it sounds, and the backyard classic burger will have you thinking of summer cookouts even in the winter.
Fourth Ward
Nestled on a quiet street in a historic home, the delightful Poplar Street Tapas Café & Bar is good for date night, dinner with friends, or a night when you're flying solo. The menu is inspired by Peruvian cuisine and also features a simple but well-curated wine list and homemade desserts. Poplar's arugula, avocado, and orange salad with olive oil honey lime dressing will change the way you view salads, and the ceviche is fresh, with the perfect amount of lime and cilantro flavors. Order the signature cocktail, Lucia's Pisco Sour, and enjoy the ambiance.
Sign up here for our daily Charlotte email and be the first to get all the food/drink/fun in the Queen City.
Erin Maddrey loves writing about food, beverages, and all things Charlotte. She's frequently found at the gym, sweating off that love. Follow her and her Charlotte adventures on Twitter and Instagram: @ErinMaddrey.