C
harlotte's got some serious pizza game. Whether you're trying to find a quick takeout spot that's worth a damn, or a neighborhood restaurant perfect for slices and beers, you'll have no problem locating a great pie in the Queen City. We've got those divey joints with plenty of red and white checkered kitsch, and even a couple newer establishments with fresh, local spins. So take a look at, and grab a bite from, some of the best pizza places in town.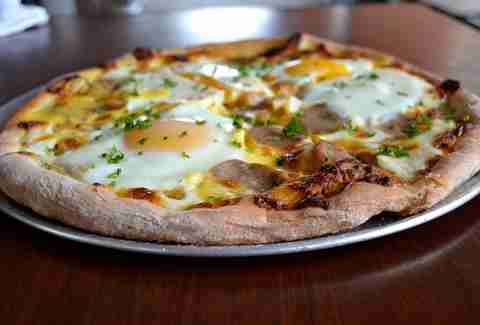 Uptown
NY-style pizza in a cozy setting
Libretto's Pizzeria has several brick-and-mortar locations, including one inside the EpiCentre in Uptown Charlotte. Instead of heading there, hit up the street pizza truck (nicknamed Lucille), which can be found roaming around town. The food truck is where you'll find out-of-the-box specials like the Pinkman Special, named after a security guard at a local music venue. It comes topped with ricotta, ground beef, mushrooms, roasted garlic, and a drizzle of truffle oil.
Multiple locations
Pizza made with ancient grain crust and farm-fresh toppings
Pure Pizza got its name from its holistic pizza philosophy, which involves a revolutionary sprouted ancient grain crust and farm-fresh ingredients. With an original location at 7th Street Public Market, Pure Pizza opened its second location in Plaza Midwood, complete with an urban greenhouse to produce its very own homegrown toppings. Try the margherita, which revels in its simplicity, or the Chorizo pizza, topped with shaved radishes, tomatoes, fresh tomatoes, cilantro, chorizo, and a squeeze of lime. The side of spicy honey it serves for dunking pizza crust is spot-on as well.
NoDa
Large, late-night slices and a bunch of beers
Finally! A late-night, by-the-slice spot amid the NoDa neighborhood bar scene (and a delicious one at that). The home of the "Virginia Slice" -- named after where the business began -- has now moved over to North Carolina to provide Charlotteans the chance to get their hands on that whopping 28-inch round pie that made Benny's famous... though if we're being honest, seeing as one slice takes up TWO plates, you might not need the whole pie. (But hey, why not give it a shot?) If you're looking for something to help get that pizza down, Benny's has more than 25 brews on hand, so you'll never go thirsty.
Madison Park
Hidden gem, $9 pizza buffet
Luisa's is a hidden gem near the Park Road Shopping Center that has been serving authentic Italian pizzas for over 20 years from its mammoth wood-fired oven. The Luisa, a crowd favorite, is topped with pesto, sliced tomatoes, fresh garlic, ricotta, and mozzarella cheese. Bust a gut on a tasting tour of Luisa's pizza selection at the weekday lunch buffet where you can sample at least 10 different pizzas.
Elizabeth
New York-style pizza with a variety of toppings
Hawthorne's on 7th Street is serving up New York-style pizzas with a heaping side of patio. Enjoy the view on the busy corner of 7th and Hawthorne while digging into the Crew Pizza, a thin-crust pizza topped with meatballs, Italian sausage, banana peppers, and red onion. The patio is nice, but so is the adjacent takeout window that makes for easy pie access.
Highland Creek
The most authentic New York-style pizza in Charlotte
If it's one heck of a New York-style slice you're after, Due Amici should be your next pit stop. The glorified favorites -- the chicken Parm or caprese pies -- will have you coming back to this casual, counter-service establishment time and time again, but the more adventurous ones will keep you talking. Try out a famous stuffed pie, filled with either meat or vegetables, for just $24. And be sure to get a side of the garlic knots, as the smell alone will probably have you drooling.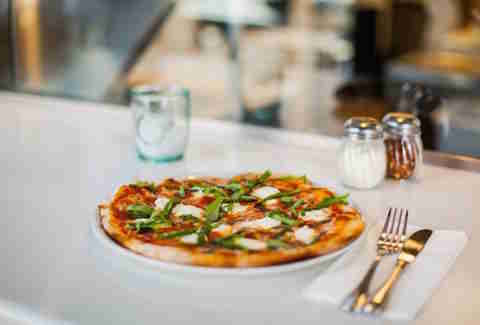 Midtown
Boasts incredibly unique pizza of the month options
This place is great for a number of reasons, one of which is that you can build your own personal pie, or take your pick of one of the 19 specialty creations. It also offers some unique pizza-of-the-month options, such as shrimp scampi, pear gorgonzola, and fior di zucchine, just to name a few. The chef packs his menu with ingredients straight from the neighboring farmers market, so you can be sure you're getting the freshest of the fresh at Pizzeria Omaggio when it comes to your pizza pie accoutrements.
Midwood (& other locations)
Italian-style pizza in a date-friendly location
Portofino's is where you go to get takeout on a lazy Friday night or any other night you want to eat an entire pizza in guilty isolation. Located in a sparsely populated shopping plaza, the family-owned business serves up a proper Italian pie. The Arrabbiata is a salty, savory dream layered with spicy marinara, prosciutto, mushrooms, tomatoes, Kalamata olives, and mozzarella cheese.
Midwood (& other locations)
New York-style pizza. Great for the family. Lawn games.
In the former lot of a run-down gas station, Pizza Peel opened in Plaza Midwood and created a new gathering space for the neighborhood. Grab a local beer on tap, and order the Updyke, a pizza covered in mozzarella, goat cheese, Italian sausage, caramelized onions, mushrooms, and topped with fresh arugula. After that, grab another beer and hit the lively front lawn for a game of cornhole.
Dilworth (& other locations)
The most authentic Neapolitan-style pizza in Charlotte.
Using a wood-fired oven shipped from Italy that cooks a pizza within 90 seconds, Inizio is as close to authentic Neapolitan-style pizza as Charlotteans will get without hopping on a plane. You can't go wrong with any of the pizzas here, but you should order Inizio's top seller, the pistachio pizza, made with rosemary, sea salt, ricotta, buffalo mozzarella, and a house-made pistachio-pesto sauce.
South End
Build-your-own pie joint with tons of options
Blaze Pizza is a create-your-own pizza mecca. With some signature pizzas, the real standout at Blaze is the BYO (Build Your Own) option for pizzas. Have you always wanted zucchini on your pizza? You got it. Want BBQ sauce instead of tomato? Done! Once you've selected your toppings or signature pizza, the pizza is flash fired for about 180 seconds. Fresh, fast, and delicious.
Mooresville
Large, Neapolitan pies that give you a great reason to leave Charlotte
Aliño Pizzeria is located about 30 miles north of Charlotte in Mooresville, and believe us, it's worth the trek for Charlotteans. Come hungry or prepared to share as there is only one pie size (16 inches) available. Get a bottle of wine and order the Toscana with sausage, San Marzano tomato sauce, fresh buffalo mozzarella, fresh basil, and fresh garlic.
Sign up here for our daily Charlotte email and be the first to get all the food/drink/fun in the Queen City.