Charlotte is a city that grows on you: approachable and friendly, uncrowded, and mildly mannered. The absence of gaudy flash and overt sizzle makes it a Southern city that often flies below the radar if you don't know where to look, especially, when it comes to food. We picked 15 essential restaurants that represent the dynamic pulse of the city, from longstanding neighborhood institutions, to high-end experiences, to ethnic gems, and greasy spoons.
Uptown
What you're getting: Charcuterie, spit-fire roasted chicken, pan-fried corn
Veteran Chef Jim Noble captured the hearts of Charlotteans when he opened the Rooster's wood-fired kitchen in Uptown. The den-like space, accented with wrought iron and wood, smells like a comforting campfire. The food is rustic and refined thanks to a wood-fired grill and a seasonal menu. Go for the spit-fire roasted chicken and pommes frites, and don't skip the buttery pan-fried corn, slightly charred and tossed with fresh herbs. Mouthwatering simplicity is the essence of the whole place.

Dilworth
What you're getting: Windy Hill Burger, soppressata pizza, fish tacos
The inviting patio alone is reason enough to visit 300 East, the neighborhood restaurant off East Blvd, family owned and operated for over 25 years. The menu's focused on local ingredients from area farmers, including a pasture-raised burger stacked high with your choice of toppings from onion marmalade to pimento cheese. Breakfast pizza at brunch is highly recommended as are the dessert specials.
South Boulevard
What You're Getting: Pulled pork, hushpuppies, banana pudding
Eastern Carolina barbeque is alive and well at Bill Spoon's, the red and white building that landed in South Boulevard long before urban development filled the roads with strip malls and condos. For over 45 years, Bill Spoon's has served hickory smoked whole hog barbeque laced with vinegar and red pepper, along with a punchy mustard slaw. Though you can't meet the restaurant's namesake anymore, Spoon's grandson, Steve Spoon III, can be found carrying the torch and a friendly smile at the cash register.
South Park
What you're getting: Handmade parmesan gnocchi, spring pea soup
After two decades in operation, Barrington's is still among the best restaurants in town. The intimate space has date night written all over it. The seasonal menu of classics is thoughtful, yet not overly complicated. Spring for a bowl of the pillow-soft Parmesan gnocchi doused in an all-consuming braised veal and porcini mushroom sauce.
Elizabeth/Myers Park
What you're getting: Chicken liver mousse, pork belly tacos, beef tartare
Block & Grinder is so easy to love. Maybe it's the duck ham, or the jars of chicken liver mousse, or the addictive bourbon and sorghum-glazed pork belly on cornbread pancakes. Whatever it is, the draw to return to this casual neighborhood space is strong. Of course, the rotating wild game burger and hearty steaks from the block make the case for repeat business too.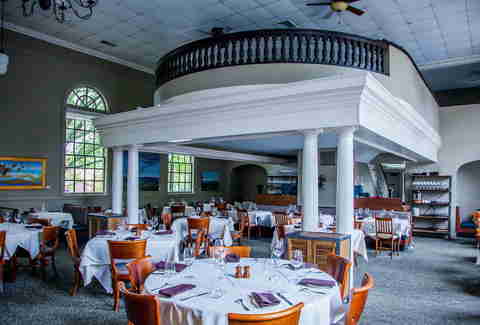 Dilworth
What you're getting: Border Springs lamb ribs, fried lobster tail, salted caramel trifle
Bonterra offers classic fare and the largest wine list in Charlotte (over 200 wines by the glass, 300 more by the bottle), all inside of a 110-year-old church space. Start with the Border Springs lamb ribs and then move on to one of the seasonal specials with of-the-moment ingredients like soft-shell crabs and Appalachian ramps.
Plaza Midwood
What you're getting: Pig Wings, Winky-dink Dog, Diamond Boy
Snag a vinyl-backed booth, put some money in the jukebox, and enjoy the hipster landscape and gritty charm of The Diamond. Daily specials will take you to lunch-lady land with marinated beef tips and comforting casserole-like sides. Try the Pig Wings late night, or grab a Winky-dink Dog covered in pimento cheese and chili at lunch.
Park Road
What you're getting: Steamed bun, Korean beef, P.E.I. mussels
The eclectic small plates menu at Good Food on Montford has helped earn Bruce Moffett previous James Beard nominations for best chef in the Southeast. Though the menu changes with the seasons, staples like the steamed bun stuffed with five spice rubbed pork belly, and the mussels in a green curry coconut broth remain undeniable favorites. If you're looking for conviviality, this is your place.
Central Avenue
What you're getting: Sarma, wood-grilled fungi pizza, beef burek
Intermezzo is the kind of place you run toward when the weather gets crappy. Emanating warmth and comfort from its brick facade, this Serbian-owned restaurant is just as much a pizza joint at it is a bistro. Go for some sarma, warm, fermented cabbage rolls stuffed with rice, ground beer, and spices, or spinach burek, the Serbian version of spanakopita. Locals have been known to keep the martini bar inside Intermezzo well oiled.
SouthEnd
What you're getting: Rawco Taco salad, Living Burrito, gingerade
Enlightened folks, or those looking to recover from a few bad decisions, flock to this popular raw-foods cafe centered around plant-based creations. Order a fresh-pressed juice with the Hola Granola bowl for breakfast which includes your choice of almond, hemp, or coconut milk. We also recommend the Rawco Taco salad for lunch: walnut-almond crumbles and cashew sour cream on a bed of greens served with avocado, pico de gallo, and Luna's killer house-made hot sauce.
Myers Park
What you're getting: Butter poached lobster salad, modern duck a l'Orange
Veteran Chef Tom Condron went for the gusto last year when he opened Lumiere, a classic French dining experience. It goes back to the glory days of dining when chefs donned toques and sauciers were necessarily employed. Here, there's duck l'Orange and whole fish sauced tableside. Prepare for a lavish experience laden with butter and foie gras dreams.
South End
What you're getting: Fried chicken
Grab a wad of cash and head to Charlotte's one-and-only fried chicken institution where not much has changed over 50 years. The chicken is deep fried, hot, and crispy, just be sure to keep to the right once you walk through the doors. White collar, blue collar, no collar -- the place attracts people of all types who find solidarity in the possession of the Price's coveted grease-stained takeout box.
King's Drive
What you're getting: Warm goat cheese dip, linguine alle vongole, pollo romano
Mama Ricotta's is one of Charlotte's well-loved spots owned and operated by Frank Scibelli, the Queen City's kingpin restaurateur. Mama's, as it's fondly called, is a place where groups can gather around big plates of pasta served family style, or an authentic wood-fired pizza. The food is as consistent as the day is long, which is why Mama's remains a city favorite after all these years.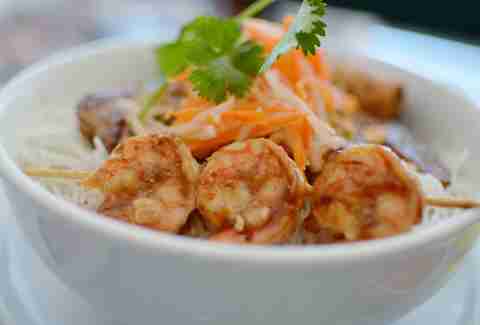 Shamrock/The Plaza
What you're getting: Fresh rolls, Vietnamese yellow pancake, vermicelli with shrimp and pork
If there was a Vietnamese restaurant version of Cheers, it would be filmed at Lang Van. While this ethnic gem is located off the beaten path, you'll still find a packed house full of locals, and an attentive staff and owner that can remember your order every time you walk in the door. The Vietnamese dishes are traditional and fresh, from bun, to pho, and Vietnamese yellow crepes, which are not to be missed.
Elizabeth
What you're getting: Tacos Autenticos, Dominican nachos, Elote Loco
Sabor is bringing joy to those craving Latin street food. It's Dominican-owned, which means that in addition to hand-held tacos on corn tortillas, you can get things like arepas stuffed with hot, melty cheese and Dominican nachos (Yuca fries topped with shredded chicken, cabbage, and Sabor pink sauce, aka ketchup and mayo mixed together). Order at the counter and then pick your poison at the hot sauce bar before your meal hits the table.

Sign up here for our daily Charlotte email and be the first to get all the food/drink/fun in the Queen City.