Durham has always had a lot going for it -- Duke University, The Triangle -- but it's only fairly recently that its restaurant scene has become a downright destination. And these 12 restaurants, with their authentic North Carolina BBQ and excellent early morning burritos, might just have something to do with that.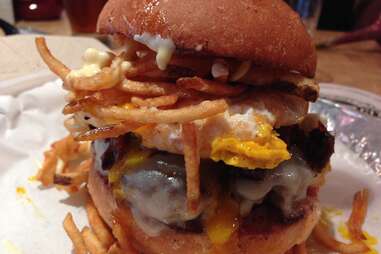 107 E Parrish St
From brewing the beer to baking the buns to grinding the beef, everything here is done in-house, including the duck fat frites that top the off-menu burger (yes, the fries are on the burger). Also on the secret burger? A fried egg and a healthy layer of house-made (duh) aioli.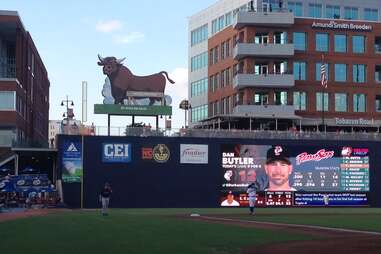 280 S Mangum St
Anyone who's seen Bull Durham knows that there's a giant bull menacing over left field of the Durham Bull's Athletic Park, but less known is that right beside that is the terrace at Tobacco Road. Watch a game from your table and maybe even catch a foul ball if your hands aren't too busy double fisting ribs and beers. Get there early -- tables go quick!

Best sophisticated Southern supper: Piedmont
401 Foster St, Ste B2
Good ol' Southern cooking -- grits and tea, peaches and field peas, mustard greens and pickled watermelon -- is upgraded with produce, meat, and eggs supplied from the restaurant's 55-acre farm. This place is so fresh it makes other self-proclaimed "farm-to-table" establishments look even more laughable.
1920 Perry St
Corn tortillas are made-to-order, there's a $3 burrito as big as a moderately sized child's head, 90% of its menu is under $8, and it stays open late. Real late. Like 5am late. So-late-it's-early late.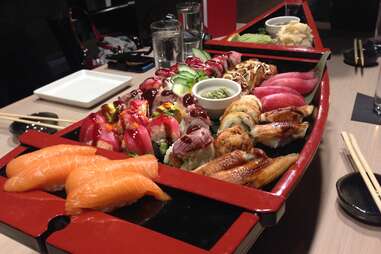 359 Blackwell St, Ste 220
Order whatever you damn well please so long as you get the kizami wasabi to go with it. It's sweet and sharp, and a far cry from the one-note, eye-watering, dyed green stuff they sell in grocery stores.

2701 Chapel Hill Rd
With a seasonal, seafood-heavy menu and classic French preparations, it's a classy spot to bring a hot, hot Tinder date, or your mom. When the weather's nice, sit on the porch that overlooks the garden.
105 E Chapel Hill St
Choose from a white or red sauce base, but don't bother with pedestrian pepperoni -- you want the venison sausage and caramelized onion pie. The wood-fired pizza is all you really need to feel satisfied, but in a weird twist, the baby lettuce soup is surprisingly delicious.
345 W Main St
Come here for authentic-ish panini, tramezzini (cold sammies without the crust), and crostini (toasted appetizer sandwiches you'll want to order four of), courtesy of a couple of Durham natives who opened the paninoteca in 2008. The vibe is casual but the three-cheese panini with Grana Padano, asiago fresca, pecorino, and truffle oil will make you feel lavish. As lavish as a sandwich can make one feel, anyway.

1104 A Broad St
If you haven't already (why haven't you?), introduce yourself to African curries and sides, like ugali, which is similar to polenta; and kachumbari, a simple salad/salsa of onion, tomato, and cilantro. Mostly everything on the rich menu is vegetarian or vegan.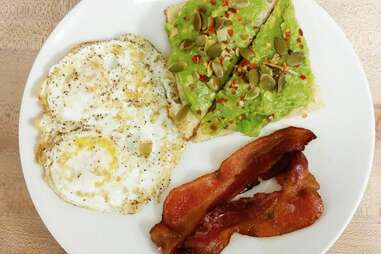 1002 Ninth St
It may be known for donuts -- absolutely delicious chocolate peanut butter cream donuts, to be sure -- but breakfast here is the real move. Try tacos with scrambled eggs and house-made chorizo, or the Breakfast Banh Mi, a bagel piled high with pickled veggies and avocado, topped with a fried egg and Sriracha mayo.

3001 Cameron Blvd
The menu calls weekend brunch "a three-course indulgence" and with dishes like corn flake challah French toast, beef tenderloin served with eggs and hollandaise over grits, crab cakes, and a take on eggs Benedict that might make you cry into your fancy napkin, you'll be inclined to agree.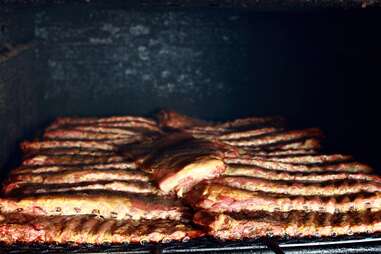 5122 NC Hwy 55
You can smell the oak and hickory smoke from the outdoor pit a mile away, and there's always a line out the door at lunch. Sloppy portions of baked beans, ribs, brisket, collard greens, and hush puppies are served on sectioned styrofoam plates with plastic forks, but presentation is irrelevant when the food's this authentic.
Sign up here for our daily Charlotte email and be the first to get all the food/drink/fun in the Queen City.