Courtesy of J. Sinclair Photography/Visit Winston-Salem
Even Demon Deacons have to refuel -- with all the partying and demonic deaconing(?) -- whether you're rolling in for the fall semester, passing through the picturesque campus for parents weekend, or descending just for the day at BB&T Field. Luckily for everyone involved, Winston-Salem is emerging as a food-centric town in its own right -- with options available for any budget.
630 S. Stratford Rd
Let's start with the basics. Despite the more-upscale items on the menu, head to Milner's for a juicy, decadent Joyce Farms beef burger piled high with pimento cheese, bacon, and onion rings.

101 W. Fourth St
Vegetarians and omnivores alike can find fresh, flavorful (and generously portioned) fare on this Lebanese menu. Try a larger entree of shawarma or falafel, or order a slew of small plates; with imported Lebanese tahini, the hummus and baba ghanoush are standouts compared to the typical versions. And luckily, among the many locally sourced ingredients, it's also pulled in desserts from nearby Camino Bakery for a sweet finish to any meal.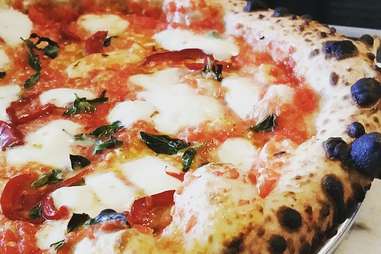 707 N. Trade St
Yeah, yeah, there will always be some Domino's delivery happening on a college campus. But for an authentic Napoletana experience, dig into the thin-crust, wood-fired specialties at Mission Pizza. Be prepared for a wait, but keep your eye on the red-clam-pizza prize and it will all be worth it.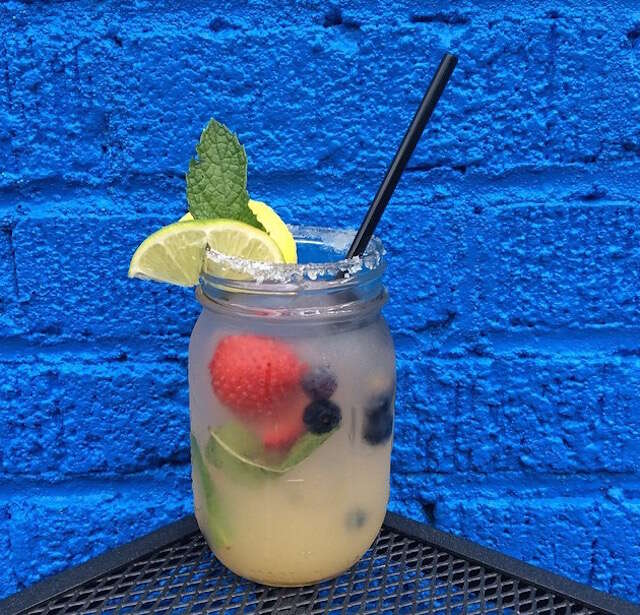 840 Mill Works St
Winston-Salemers have quickly embraced this spicy spot since its 2014 opening. The order-at-the-counter restaurant is laid-back in atmosphere, but bold in flavor -- like the inspired Texas banh mi with slow-roasted pork, cilantro garlic mayo, cucumber, ginger, and pickled slaw.
736 S. Main St
No visit to Winston-Salem is complete without at least a stroll through the quaint, living history village of Old Salem. At The Tavern, nosh on locally sourced specialties like stuffed quail, mountain trout, or lemon pepper catfish in the 200-year-old structure. Do it by candlelight, among wait staff in traditional Moravian garb.

301 Brookstown Ave, Suite 100
When you're searching for comforting, rich Italian, isn't it really all about the sauce? Chunky, garlicky marinara takes basic pastas and oven-baked dishes to the next level, and the pesto, vodka, and bolognese sauces are all standouts -- you may even need extra for dipping the freshly baked bread.
321 W. Fourth St
Enjoy people-watching in bustling Downtown from a second-floor table at romantic, low-lit Jeffrey Adams. Straightforward entrees like the seafood risotto are hits (especially when paired with the $8 specialty cocktails), and for more casual fare, check out The Old Fourth Street Filling Station -- its sister restaurant -- for a second date on the lovely patio.

318 S. Stratford
It's got freshly sliced meats and an abundant case of ready-made speciality salads and sides. The Carving Board is worth getting to, even through the slightly chaotic traffic and Thruway Center parking lots. Reward yourself for your trouble with a lemon bar or a slice of house-made carrot cake.
638 W. Fourth St
There are tons of fantastic bar-and-bites options, like Village Tavern, 6th & Vine, or even Finnegan's Wake Irish Pub. But when Foothills' Downtown Brewpub is fewer than three miles from campus, why not go right to the mothership? Get happy with a flight or two and a plate of classic hickory-smoked wings.

723 Trade St
What started as "Mary's Of Course!" in 2000 and transitioned to a new space and name in 2010 remains a favorite no matter the location, thanks to the completely from-scratch breakfast and brunch favorites. Simple concepts like cornmeal cakes and "Gritz Bowls" are made-to-order and best enjoyed on a leisurely morning with lots of coffee.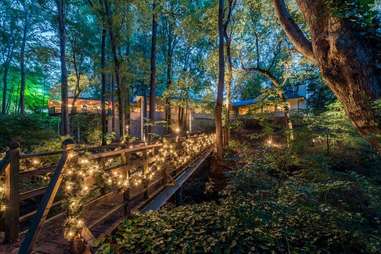 719 Coliseum Dr
Check's covered? Let's get the filet! Head to Ryan's for essential steak service -- nothing trendy, just tender, well-seasoned filets, ribeyes, and sirloins with a variety of rich sauces and sides. The forest views and rustic feel of the interior finish off the old-school luxury experience.

878 W. Fourth St
Brunch in a college town is critical to happiness, and lucky for the WFU family, Mozelle's steps up to the plate. For classic carb-loading with a distinctive Southern twist, go straight for the Benedict, with candied bacon, spicy collards, chorizo gravy, and fried egg, served with cheese grits. Then nap.
529 N. Trade St
If you don't think Brie and gravy-smothered fried chicken, three-cheese mac and cheese with ham, or "Mamma's Meatloaf" with mushroom-onion gravy qualify as the ultimate comfort food, then Winston-Salem is not the place for you. Simple as sweet potato pie.
Sign up here for our daily Charlotte email and be the first to get all the food/drink/fun in the Queen City.
Cristina Wilson is a Charlotte-based writer who likes dancing, eating, and road-tripping around the South -- usually at least two at a time. Follow her @themorningstir.