If you are a beer person, and you are married, and you didn't have your bachelor party in Asheville, you made a serious miscalculation that might reverberate through the rest of your life.
In my 24 hours in this glorious mountain town, I felt like 80% of the people I saw either worked in breweries, were casually wearing brewery gear, or just had foam in their thick beards from recently taking sips of a piney, hoppy IPA. Even if you don't like beer, Asheville is a glorious food town, and the burgers proved it. Each of the six burgers (recommended to me by local chefs and food writers) I consumed here were solid. There wasn't a single bad burger in the bunch.
In case you're new to my rankings, here are some guidelines: If the restaurant had multiple burgers, I tried to order its signature burger, or if that was too outlandish and stunt-y, the closest to a classic cheeseburger. If it came with options, I always picked American cheese and grilled onions. If you think I missed a place, please find someone to love for the rest of your life, ask them to marry you, plan an Asheville bachelor party, invite me to said bachelor party, and then stand up at the dinner on Friday night and give a toast that ridicules me for not including your pick. But until then, here are the six best burgers in Asheville:
6. The Rhu-Burger with Ashe County Cheddar
I went here for a late lunch on a Thursday, and the place was quiet. Prep cooks were working in the kitchen and servers were killing time. Point being, it wasn't the best time to order a burger. Maybe that was why I felt like the Rhu-Burger wasn't on top of its game. The choice meat had a loose grind but it was overcooked and salted, and the Cheddar was slightly under-melted on top, so it had some moisture and hardened quickly (one of the best things about the fake cheese glory of American is you rarely run into that issue). The bun tasted fresh and you could tell that it was an overall good burger, I just might not have gotten it on its best day. Great rabbit leek rillette though!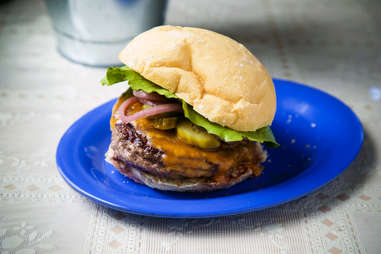 5. Local Burger with Cheddar
Eating a burger at HomeGrown almost seems like a waste because everything else on the menu looks so damn good. But I am a professional, and so, at around 11:30am, I got the Local Burger.

The large and fluffy bun was well-buttered and griddled, and you could taste its freshness. The homemade pickles and pickled onions were slightly young and didn't have quite enough acid to hold up to the Cheddar. The burger itself had a funky, almost aged flavor and good char, but the patty was dense and overcooked with too compact a grind, so the meat felt snappy, as if it had been formed awhile back. All in all still a good burger, but solving a few of the execution issues would likely make it great.
4. LP Burger
Regardless of whether or not you like burgers, you need to go to brunch at Local Provisions. The buttermilk fried chicken and waffle with honey and hot sauce is handsome and delicious and full of sweet and savory heat and -- wait, what was I doing? Oh right, burgers.

The LP Burger is a solid contributor to the Asheville burger scene. You can tell the beef is really high quality: The grind is loose, perfectly cooked, and the shaved onion almost melts into the meat, adding some bite as it partially cooks. My only issue is the choice of cheese. They opt for a Thomasville Tomme, which is a creamy cow's milk cheese from Georgia that's earthy and delicious on its own, but not quite my favorite on a burger.
3. The Worx Burger
I do not like the name of this place. Using an "x" in place of an "s" is one of those early aughts Internet moves you might find in the Sandra Bullock classic 'The Net.' I will forgive the name of this place, because I really, really liked the burger. The shredded lettuce and the mayo blended together for an almost slaw-like setup, which was a nice cooling contrast to the hot, thin, loosely ground patty and the melted cheese. The buttered, griddled bun was super-thin, and stayed well out of the way. It just might've had a touch too much raw onion, but otherwise, especially for a fast-casual place, this burger worx great. SORRY I COULDN'T STOP MYSELF.
2. The Vault Burger
There is a drink on the menu at Rankin Vault called Tip The Cocchi. It made me giggle like a teenager. And now that you know more about my lack of maturity, know this too: This place serves a damn good burger. The Hickory Nut Gap ground beef was cooked perfectly with a great sear, the Cheddar and spicy mayo gave it some nutty notes and subtle heat, and the peppery arugula was stacked perfectly so as to not just fall apart upon first bite. I'm not sure it needed the bacon, which added what I thought was an excessive salty element and -- unlike the arugula -- kept falling out, but man, I could probably eat this burger every week.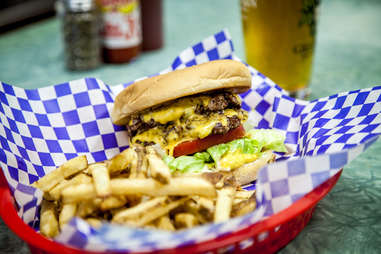 1. Double Burger with American cheese
I was not alive in 1946 so I can't speak to the quality of food at Tastee Diner when it started serving people on Haywood Rd. I can't even speak to the quality of food before the owner of the Admiral bought it last year. But I can speak to it now, and damn, it is good.

Modeled on the Southern dairy bars of old but refreshed to fit the palate of us new fancy folk, TD's $6 double burger is as basic as they come with lettuce, pickle, tomato, mayo, mustard, and onion. It is a diner burger plain and simple, and yet it is perfectly executed. The basic bun was fresh, well buttered, grilled, and warm. The onions were perfectly griddled. The Meyer Natural Angus beef was cooked well and salty with a relaxed grind that didn't snap like many pre-formed diner burgers. The bottom bun had a layers of mayo, lettuce, and tomato below the patty, which built a layer of protection from the burger's juices. It is, in my opinion, the best burger in Asheville. And that's before I even talk about the Tastee Fries with queso, chili, and jalapeños.
Sign up here for our daily Charlotte email and be the first to get all the food/drink/fun in the Queen City.
Kevin Alexander is Thrillist's National Writer-at-Large, chief burger critic, and biggest Chai Pani fan. Follow him to freedom/Twitter @KAlexander03.