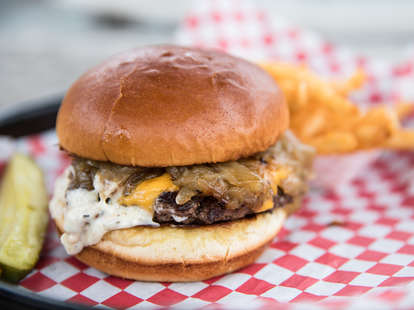 Kickstand Charlote Burgers N Bar

| Laura Sumrak/Thrillist
Kickstand Charlote Burgers N Bar

| Laura Sumrak/Thrillist
Charlotte surprised me. I've been to Charlotte several times before, and I must admit I didn't love it much in the past. Most of what I'd seen was new and sponsored by Bank of America -- the whole Downtown scene felt contrived and shaped out of some conventional vision of what a Downtown city should look like. And so I figured this would translate into some uninteresting cookie cutter burger joints. But man, I was very, very wrong.
In my 24 hours eating my way through Charlotte's burger scene, I was able to see a huge range of classic places with long histories in beautiful areas I'd never ventured into. And that doesn't even count my side trip to Davidson. After talking with chefs and food writers, I pared down a list to seven essential burgers.
In case you're new to my rankings, here are some guidelines: If the restaurant had multiple burgers, I tried to order its signature burger, or if that was too outlandish and stunt-y, the closest to a classic cheeseburger. If it came with options, I always picked American cheese and grilled onions. If you think I missed a place, please hold up a poster detailing the names of the places at the next Charlotte Hornets game, and attempt to hand deliver it to center Frank Kaminsky afterwards. He knows where to find me. In the meantime, here are the seven best burgers in Charlotte:
7. Small Block Burger w/ Cheese "all the way"
Plaza Midwood
You see the term "all the way" thrown around a lot in North Carolina burger joints, but as you'll see later, it doesn't always mean the same thing. Diamond, a sort of retro-refreshed diner that originally opened in 1945 and has been through three different ownership groups in the past 70 years, uses the term to mean "lettuce, tomato, onions, mayo, and pickles" on the burger.

My Small Block burger was good. The hand-formed, irregularly shaped patty had solid crust from the griddle and a pleasingly loose grind, but was overcooked and slightly under-salted. The composition of the toppings was balanced, but it lacked any sort oomph factor to move it higher. Still, if you're starting with this burger at the bottom, you're in pretty good shape.
6. Single beef burger w/ American, caramelized onion, and roasted garlic mayo on white bun
Plaza Midwood
Poor Kickstand. There was construction right in front of the building when I drove up, and it took me two passes to figure out how to actually get into the restaurant. All of the signature burgers here were too stunty, so I opted to create my own. The flavor of the beef in the patty was good, the meat was cooked to a perfect, pink medium, and the roasted garlic mayo blended in with the American cheese. The meat gave the burger a solid balance, but there were a few issues: the bun, though well toasted, was too big and bulky for the size of the patty; and the caramelized onions were slightly underdone. Much like Diamond, the burger was good, but lacked an "it" factor to push it even higher.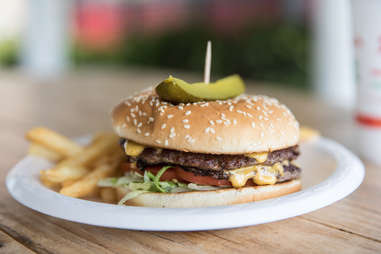 5. Jumbo Cheeseburger
Elizabeth
Man, I loved coming to this spot. As you drive up, you see a giant sign that says "serving Charlotte since 1955" in big red block letters. The billboards in the back of the restaurant alone are a reason to visit. Many of them hype the "Super Boy" burger, which is two patties, mustard, onions, lettuce, and tomato, but when I pushed the button to order, I opted for the Super Boy with cheese, which is sadly called the Jumbo Cheeseburger.

Post ordering, in one of the more meta moments of the trip I said, aloud to myself, "I missed my opportunity to say Super Boy aloud!"

As for the Super Boy with cheese, it is a very solid diner burger. The thin patties have great char, but not a ton of meat flavor. The main components you really taste are the mustard and onions, and that acid and tang could sometimes overwhelm the meat, but if you caught it just right, you'd get a delicious, salty, meaty balance, and feel pretty damn good about yourself. I am going to write Super Boy one more time just because it's so enjoyable. Super Boy.
4. Skillet Burger
Davidson
If you asked me to envision the most aesthetically pleasing neighborhood restaurant, it might not beat Davidson's gloriously handsome Kindred. Long a darling of the national media, Kindred has all the instantly Instagrammable touches: beautiful leather on its bar chairs, a perfectly scuffed brick back wall, white tiles on the floor, and the sort of blue door you'd find in Bermuda.

I'd been here once before for dinner and knew the burger was only available on the lunch menu, so I made a point to stop into Davidson for lunch as I drove from Charlotte to Asheville. The Skillet Burger is a double burger, and though the two patties aren't wide in diameter, they're of a sort of middle width between a steakhouse burger and the diner version. The meat itself was victual glory -- salty, perfectly cooked, and buttery with a loose grind. The cheddar had some age and nuttiness to it as well, but there were a few small quibbles -- the aioli lacked a lot of flavor (it served more as a lubricant for the bun), and the "quick pickles" were too damn quick to provide suitable acid to combat that rich beef and cheese flavor. I think some slower pickles would go a long way here.
3. The Bang Bang Burger, single
Elizabeth
I didn't want to like Bang Bang. For one, it was in a strip mall that seemed designed to make it impossible to find parking. Second, its Black Angus beef is from NYC's Pat LaFrieda, and that made me feel like it was a carpetbagger of sort ("Find some Carolina meat, dammit!" I shouted internally while looking at the menu, absentmindedly waving my fist).

But dammit if the burger wasn't pretty damn delicious. The bun was perfectly griddled, toasted on the inside and soft on the outside, and the homemade pickle and "Bangburger" sauce had just the right amount of acid to balance the meat. I'll be honest here, folks. There's a reason LaFrieda is the most famous butcher and meat purveyor in the US: He knows what the hell he's doing. That patty was seared up to a perfect medium, and the grind was spectacularly loose and salty and the beef flavor came through cleanly. Just a really, really solid burger. I just suggest you maybe walk there or something.
2. The Zack's Special
South End
Zack's was the first place I went after getting off the plane from Charleston. I got there by 11:30am, and there was already a line snaking around the back of the restaurant, filled in equal measure with office workers and construction guys in neon vests. I sighed audibly and thought that this would mess with my finely tuned schedule, but somehow, after about 10 minutes of waiting in line, I got my Zack's Special burger exactly seven minutes after ordering.

I sat under the red and white umbrellas outside and inhaled this burger, which tasted almost exactly like the homemade version of a Big Mac. Great grind on the patties, a well-toasted sesame seed bun that stayed the hell out of the way, shredded lettuce blending in with the sauce, hamburger dill pickles providing acid. Zack's is a legend for a reason: It makes one of the truly great diner-style burgers in all of North Carolina.
1. Burger with cheese "all the way"
NoDa
Have you been to Brooks' Sandwich House, friends? Have you pulled up to a dusty red shack behind an overpass across from trendy developments on a patch of dirt and shrouded by trees, and looked at this little house with black bars on the windows and wondered just what sort of culinary witchcraft was happening inside? Did you see 20 people of every stripe -- hipsters and office workers and auto mechanics still in their jumpsuits -- all standing outside, patiently waiting for a specific number? Did you go inside and order the burger with cheese "all the way" and realize belatedly that this meant something different than you'd originally thought?

When you finally heard your number called, did you let out a cry of glee and retreat to the standing tables outside? Did you make weird audible groans of ecstasy as you bit into a burger with some of the best char you've ever seen mixed with the rich meaty flavor of a thick, subtly smoky chili, the crisp tang of diced white onions, and the acid from yellow mustard? Did you raise your hands in victory after you finished the burger and proclaim to yourself in your rental car that this was definitely the best burger in Carolina, and maybe one of the best in country?

Well then, it seems we shared similar experiences at Brooks'.
Sign up here for our daily Charlotte email and be the first to get all the food/drink/fun in the Queen City.
Kevin Alexander is Thrillist's National Writer-at-Large, chief burger critic and biggest Frank Kaminsky fan. Meet him at Brooks RIGHT NOW @KAlexander03.