Charlotte If you expect every eatery in Raleigh, North Carolina, to be some variation of a Southern greasy spoon or BBQ joint, you'd be... mostly wrong. Some spots certainly are heavy and fried-forward, but others are surprisingly sophisticated, so long as you know where to look. Let us show you the way.
237 S Wilmington St There's not much more on this menu than the seven burger variations, which is fine because why would you consider anything else anyway? Opt for one of the sloppy big hitters like The Dirty South -- smoked pork shoulder, crispy tobacco onions, roasted tomato malt vinegar slaw, red pea chili, cheddar, and yellow mustard -- or keep it relatively tame with The High and Valley with crushed avocado, bacon-onion jam, and red peppers. More Stuff You Will Like
Recommended Video
Send Foodz: New York City Wine & Food Festival
  1813 Glenwood Ave More traditional flavor combos abound, like the Five Point pie (creamy pesto, roasted garlic, sun-dried tomatoes, mozzarella, Parmesan, and fontina) but the themed ones can get a little wacky, like the Thai Bhat (Thai curry sauce, grilled chicken, roasted garlic, chili pepper, baby corn, straw mushrooms, carrots, cheddar, Parmesan, fresh ginger, plus scallions) or the South of the Border (black-bean salsa, roasted garlic, cheddar, Monterey Jack, grilled chicken, onions, jalapeños, roasted chilies, and cilantro).
  1240 Farmers Market Dr Located right outside the State Farmers Market, this country breakfast-slinger has some of the freshest ingredients around… even though they all end up cooked in oil or griddled. Don't knock the fried bologna biscuit or the Streak O'Lean -- the most mysterious of mystery meat -- until you've tried 'em. Continue Reading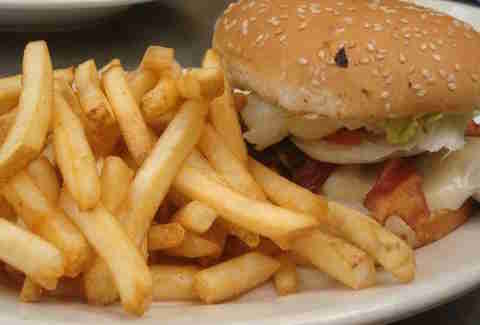 105 Oberlin Rd "Players" in this case, refers to anyone who's into hash browns, biscuits, pancakes at 11pm... or single-malt Scotch -- the PR has the largest collection in the state -- which should be basically everyone.
  220 Wolfe St The pancakes are the size of hubcaps, and if eat three, you get a free T-shirt. Any questions?
  428 S. Dawson St The food here might lead a carnivore to consider vegetarianism, but then they'll realize what a pain it is to cook that way every night, and just vow to eat here as often as possible instead. Which is actually pretty easy because the cornmeal-crusted oyster mushrooms and bulgogi seitan tacos are THAT GOOD.
Best for when your parents are paying: Angus Barn
  9401 Glenwood Ave You know who wants to pay $45 for a T-bone the size of a steering wheel? Your dad if/when you make the dean's list.
  235 S Salisbury St Take your latest flame on an afternoon date to a patisserie, order two espressos and some macarons to share, and come across as cultured.
  327 S Wilmington St Barbecue in North Carolina can be as divisive a topic as religion or college basketball. However, there's nothing to debate when it comes to Clyde Cooper's, which has been cooking hog shoulders nonstop since 1938. Generously splash the top-notch, $4 ($4!!) chopped BBQ sandwich with the pepper-laced vinegar sauce, and grab a bag of homemade pork skins on your way out.
  237 S Wilmington St The culinary sorceress behind Chuck's brings us a downright spellbinding experience with her crispy, honey-drizzled chicken and waffles.
Best tailgate truck: The Bread Truck Various locations
Most days you'll find the truck on NC State's campus selling banh mi, lamb sandwiches, and La Farm Dog -- a hot dog topped with cheddar cheese, bacon, and honey-maple dijon on a mini baguette dotted with chunks of white chocolate -- and sometimes, if you're lucky, the elusive Monte Cristo. Keep an eye out for it at Carter-Finley Stadium before, during, and after football games.
  222 S Blount St If you've never tried Lao cuisine, many flavors and dishes are reminiscent of Vietnamese and Thai, but are also wholly their own. The kali mark fuk kum (a rich pumpkin curry), or the mee ka tee (a crispy pork belly soup) make for a great introduction.
  7 S West St If you like your dogs topped with anything other than mustard, chili, and onions, you can just see yourself out; hot dogs, glass-bottled sodas, and long-necked beers are basically the only things offered at this counter service standby. You won't even find ketchup.
Sign up here for our daily Charlotte email and be the first to get all the food/drink/fun in the Queen City. Jason Frye is a freelance food and travel writer who relocated to North Carolina 12 years ago to pursue a graduate degree in writing and ended up being seduced by the BBQ, beaches, and Blue Ridge. Follow him on Twitter: @beardedwriter.