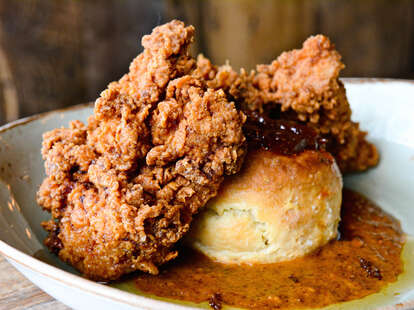 Aside from bailing for happy hour, lunch is likely the highlight of your workday. Before you scramble for the nearest office exit, check out this lunch spot compilation to ensure that you make the most out of your break. You may not win "Employee of the Month," but your co-workers will think you're pretty cool.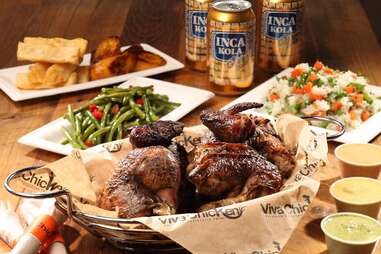 <em>Elizabeth</em>
This Peruvian rotisserie churns out some of the most flavorful, mouthwatering chicken in town with addicting sauces and sides to complement it (seriously, you'll want to drink the huacatay sauce). It's made fresh every morning with cilantro, black Peruvian mint, jalapeños, and some other secret stuff. Other must-haves include the sweet plantains, cilantro-infused rice, and quinoa-stuffed avocados. You might need to be rolled out of this place, but you won't regret it.
<em>Eastland</em>
It really doesn't matter what meat you choose to put in it, the pho at Lang Van is where it's at. The aromatic broth is made with fresh flank beef bones simmered overnight with herbs and spices. Each hearty bowl of pho is served with all the right accouterments like basil, bean sprouts, chili pepper, and lemon to spice it up however you like.
<em>Plaza Midwood</em>
Part deli, part grocer, and part wine/beer bar (bonus), this hip hotspot hosts all, from buttoned-up bankers to tatted-up hipsters on a quest for an awesome lunch. Its unique menu is chock-full of hot paninis and cold sandwiches (with whiteboard specials that change daily). And, its cold box is filled with essential sides like potato salad and country caviar, as well as some weird offerings like vegan chicken salad (even meat eaters love it). Whatever grub you choose, take it outside to the patio, which has a cool scene unlike any other.
<em>South End</em>
This long-standing Charlotte fixture continues to lure lunch-goers with its savory smells (seriously, you can practically taste the crispy goodness from blocks away). A to-go counter only, you'll have to take your Southern fried chicken and hit the road, but you won't find anything like it anywhere else in town. Have it your way with either dark or white meat and don't miss the hushpuppies on the side.
<em>Plaza Midwood</em>
Guy Fieri's face is plastered on the wall so you know this Southern kitchen has to be good. Serving up simple country cookin' just like mama's, this place does comfort food right. Their homemade entrees are super fresh and always come with a buttery biscuit, deviled egg, and a side of your choice (major "Mmm" award goes to the smoky lima beans and mashed sweet potatoes, but you really can't go wrong with anything you order).
<em>South Park</em>
Served with four pieces of its famous Guru roll (tuna, lump crab, and avocado topped with spicy aioli, flash baked, and sprinkled with fried garlic and shallots), this bento box is no joke. You'll also get sashimi, a ginger-dressed salad, fruit, and tempura shrimp on rice. You know how you're always hungry an hour after stuffing your face with sushi? Not happening here.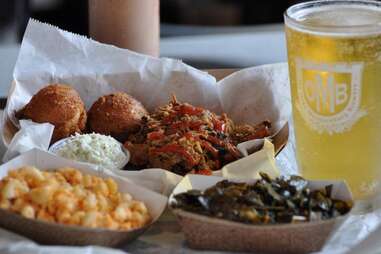 <em>South End</em>
If you're living in the South, one thing you must take advantage of is hickory slow-smoked pork. Get your fix at Sauceman's, where high-quality pork is cooked to perfection and served either chopped or coarse cut. Each piled-high plate comes with slaw, hushpuppies, and a side (go with deep fried corn or fried green tomatoes and worry about your diet tomorrow).
<em>NoDa</em>
This cinder block building is no looker, but it's what's inside that counts, right? Serving up greasy lunch fare since 1973, this place apparently has the recipe down for serving up a mean burger. You'll definitely have to wait in line (probably even out into the street) to have yours loaded all the way with Brooks' legendary chili, but it'll be so worth it. P.S. Where else are you grabbing lunch for less than four bucks?
<em>Uptown</em>
Housed inside of Uptown's 7th Street Public Market, this pizza stand offers a good and quick midday pick-me-up. If you're even mildly into eating right, you'll dig this place, as the handcrafted pizzas can be made with an organic ancient grain crust option, and its cheeses and farm-fresh toppings are sourced locally whenever possible. The zesty chorizo pizza is topped with the obvious as well as onion, sliced radish, cilantro, and lime. This pizza's so good you won't realize it's actually kinda good for you.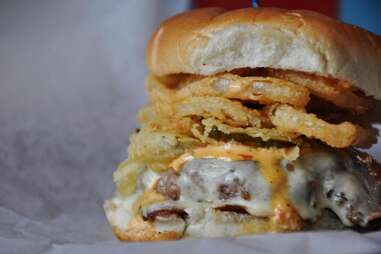 <em>Wesley Heights</em>
From the quirky design (there's a VW Beetle on top of the building) to the random assortment of burgers, sandwiches, and dogs, this place is just plain awesome. Everything on the menu is good but burgers reign here so go for the White Trash Burger, a 5oz patty topped with provolone, fried pickles, onions, and a spicy ranch sauce. You also can't go without the sweet potato fries or waffle fries with the infamous wasabi ranch dipping sauce.
<em>Yorkmont</em>
Unless you work at one of the corporate centers off of Tyvola, you've probably never experienced the goodness that is Anita's. It's practically inside of a gas station, but this authentic joint serves some of the tastiest Mexican fare in town. Every part of your meal will be good and fresh, from the handmade tortillas to the meaty, perfectly seasoned shrimp, and the ultra-fresh toppings like house-made guacamole and salsa. Get there by 11am or wait until the lunch rush is over, otherwise you'll be waiting in line with other folks who've sniffed out this hidden gem.
Sign up here for our daily Charlotte email and be the first to get all the food/drink/fun in the Queen City.
Lauren Blake enjoys writing about restaurants and bars just as much as she likes frequenting them. Well, almost as much. Follow her on Twitter and Instagram @palieblake.