In a city known for its financial powerhouses, there's certainly no lack of superior steak establishments to go along with the high demand for swanky after-work cocktails and corporate dinner meetings. But where can you really find the best of the best when it comes to quality cuts in the Queen City? Well, we'll tell you.
Second Ward
If you're considering a change from the classics, this new age steakhouse is your spot. Evoke is a recent addition to the Le Méridien hotel's upscale dining division, offering contemporary interpretations of standard steakhouse fare. Its innovative concepts, such as a New York Strip that has been dry-aged in Himalayan salt to create a one-of-a-kind crust, have helped secure its place as one of the best steakhouses in all of Charlotte.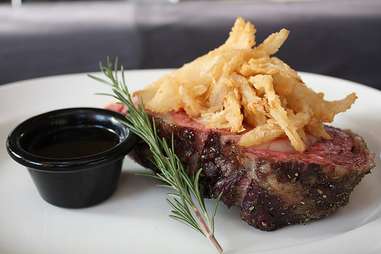 Belmont
If you're looking to catch a break from the city setting, take a trip about 15 miles west to the historic town of Belmont, NC. Here you'll find a local favorite offering all sorts of mouth-watering meats within the walls of the town's old police station, from a flavor-infused prime rib to a decadent lobster- & crab-stuffed filet. The charming Main St that this family-run restaurant calls home will definitely give you the breather you need from Uptown's business scene.
First Ward
Sitting in the Ritz-Carlton, BLT Steak is always guaranteed to deliver high-class service and a great steak. Decorative drink options and French fare offerings are complemented by a notable selection of naturally aged meats: juicy on the inside, crispy on the outside, and topped with melted herb butter. Plus, you get to feast on those signature golden puff popovers (filled with gruyère cheese) while you wait, so it's a win-win.
Foxcroft
Block & Grinder opened in 2013 and brought a relaxed farm-to-table concept to Charlotte's dining scene. Its modern twists on traditional favorites (take the duck eggs over easy atop a New York Strip, for example) may be an atypical technique, but the results are just as coveted. Fresh ingredients add immense flavor to seasonal sides, and every meat you'll find on the menu has been hand-cut by the staff. An added bonus: you can purchase meats cut to order at the restaurant's butcher counter to take home with you, whether it's a quick stop on the way home from work, or an order to go after your meal.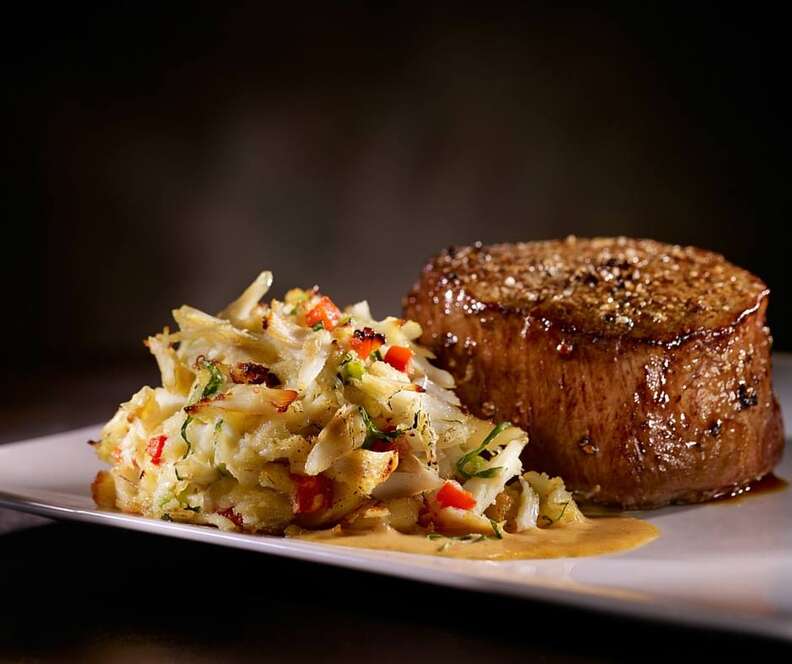 SouthPark
This is where Charlotte's powerful come to dine. Del Frisco's knocks it out of the park with classy decor and unmatchable steaks. After checking out the welcoming grand staircase, cruise through the menu and take your pick between choice after choice of prime cuts, from filets and porterhouses, to an $89 wagyu Tomahawk chop. Be sure to take advantage of the wine cellar as well; you'll be offered a wine connoisseur who will gladly help you with any indecision. If you're looking to save some money while still getting all the goods, look into the $55 prime pair menu, offered on Sundays.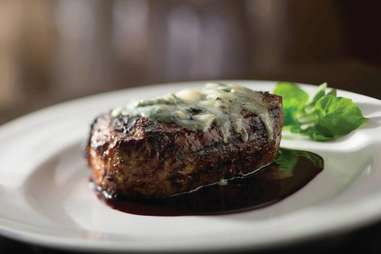 Fourth Ward
With elaborate features like a kona-crusted dry-aged sirloin with caramelized shallot butter, or the New York Strip with black truffle and gorgonzola butter, it's no wonder The Capital Grille tops steakhouse rankings across the US. Of course, that large wine cellar filled with world-class selections doesn't hurt, either. And sure, the impeccable service to fully equip your fancy night out on the town is pretty great as well. So, really, why wouldn't you come here?
Collingwood
This Charlotte institution has been serving steaks on South Blvd since 1958. Though the exterior looks pretty much the same as it did back then, it's this old-school appeal (and yes, the fine selection of rib eyes, New York Strips, and sirloins) that wins over longtime regulars and business travelers alike. If you're looking to get a little surf with your turf, throw in a cold water lobster tail for $19. Whatever you choose, top your steak with either bleu cheese crumbles, horseradish, or brown mushroom gravy. Sure, the meat alone is delicious, but the toppings are an added bonus.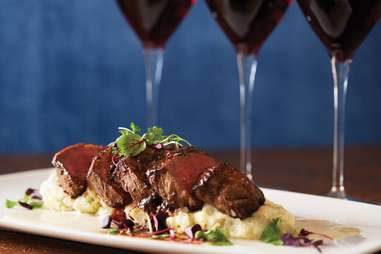 Second Ward
If your soft spot is a great steak and wine combo, you're in luck. Order the pair in style at Fleming's. You'll have your choice of 100 different wines by the glass, and can use the custom iPad at your table to select whichever one matches your mood. Try and nab a seat at the bar to get your hands on a "filet and flight" grouping for just $39.95, and definitely make sure to round out your meal with the molten chocolate lava cake.
Sign up here for our daily Charlotte email and be the first to get all the food/drink/fun in the Queen City.
Lacey Muszynski is a Milwaukee writer who could use a little dumpster punch right now. Follow her on Twitter @worthhersalt.