Shed a tear for the Chicago bars and restaurants that died in 2013
Let's face it, moving beyond the pain of losing someone is hard, especially when that someone makes a twice-cooked turkey sandwich with stuffing and gravy mayo (why, Grahamwich, WHY!?!?!?). You might wanna grab a box of Kleenex, 'cause it's time to pay our respects to 10 awesome Chi bars and restaurants that closed this year.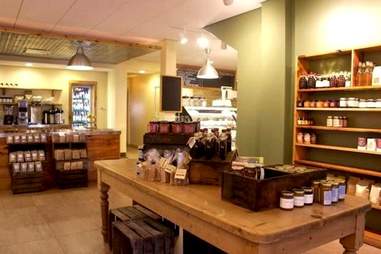 City Provisions
Lincoln Square
We'll miss the localvore deli with house charcuterie, the pigs/beer/whiskey farm dinners, and Cleetus Friedman (at least, when we're not over at his new spot Fountainhead).
Great Lake
Andersonville
We'll miss the pizza so beloved, even Jay-Z and Beyonce were forced to wait in line. Uh oh, uh oh, uh oh, oh no no.
Grahamwich
Near North Side
We'll miss sandwich concoctions from the MasterChef judge, like Thanksgiving dinner on a bun or a pastrami reuben with Gruyere fondue. The loss is compounded by Graham Elliot closing his tit(!)ular West Loop space, as well, before it relaunches in the Spring.

Glunz Bavarian Haus
Lincoln Square
We'll miss breaking out our lederhosen at this former Oktoberfest-must.
Bel 50
River North
We'll miss fried chicken waffle sandwiches with honey mustard glaze and slaw. It's now up to you, Wafel, to carry the Belgium torch.
West Town Tavern
West Town
We'll miss fried chicken Mondays, pot roast, and the excitement from when you re-opened as Chicago Taco for two days... only to close down again.
Bennigan's
The Loop
We'll miss… um… wait, hang on… uh… Irish food?
Nick's Uptown
Lakeview
We'll miss $5 shots & PBRs from one of the outstanding-est Bad Decision Bars around Wrigley.
Cans Bar & Canteen
Bucktown
We'll miss your house-infused bacon vodka, and affordable beer can menu. You had nice cans.
Indie Burger
Lakeview
We'll miss being inside you, and putting your tasty organic burgers loaded with beef, bacon, mushrooms, and jalapenos inside us.