Chicago's 10 most ridiculous burgers
When it comes to making the most ridiculous burgers in Chicago, stuffing a patty with cheese no longer gets the job done. These days, if you wanna crack our Top 10, you've gotta use waffles for buns. Or stack meat like Legos. Or build a MOAB. Or do literally any of the things that these burgers -- ranked 10 to 1 -- did.
10. Amazing Grace at Leadbelly (click here for address and info)
Portage Park, Gladstone Park
You don't want to mess around when it comes to a burger place that'll shove a personal deep dish pizza into a burger, as they did for their Anniversary Burger (pictured above). Bacon gives burgers a good shot at this list, but smoked pork belly makes it a sure thing. Add in crispy onion straws and homemade, spicy Sriracha pickles, and the Amazing Grace was a no-brainer.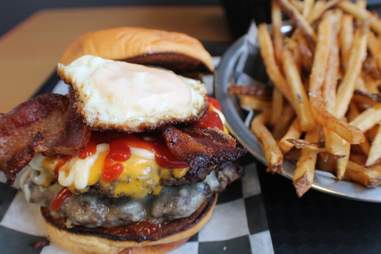 The Burger Point
9. The Savage at The Burger Point (click here for address and info)
South Loop
The Savage might not be the biggest burger on the list, but being named after UFC fighter Shawn "The Savage" Jordan makes it the craziest. This 3/4lb, grass-fed hamburger is topped with pepper Jack, extra American cheese, double-smoked bacon, and a cage-free egg all on a potato roll. The cage-free egg is an interesting choice considering the profession of its namesake, but I dare you to say anything bad about it. I dare you.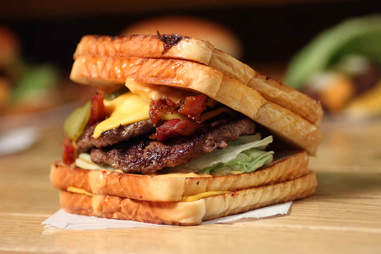 Sean Cooley
8. Roman Style Burger at M Burger (click here for address and info)
Multiple Locations
I like buns as much as the next Sir Mix-a-Lot cover band, but not even the lusted-after pretzel roll can beat a burger built between two grilled cheese sandwiches. The best part is that you can have anything on the menu "Roman-style" (granted, you're familiar with the secret menu) so that 3rd Degree Hurt Burger just got even better.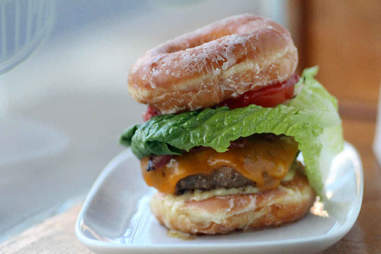 Sean Cooley
7. Donut Burger at Buzz Bar (click here for address and info)
North Center
The outside -- two glazed donuts -- screams State Fair, but the inside -- truffle aioli and caramelized strawberries atop beef, cheese, and smoked bacon -- whispers Metropolitan Club. Not a donut fan? Buzz Bar also slings an awesome Ramen Burger.

Sean Cooley
6. Waffle Burger at On The Bun (click here for address and info)
Lakeview
When Waffles opened a burger shop next door, this Waffle Burger became inevitable. It's a 1/2lb patty between two Brussels-style waffles -- so not only are you getting your daily protein intake in one burger, you're also getting a little bit of culture. 

Rockit Burger Bar
5. Mac Attack Burger at Rockit Burger Bar (click here for address and info)
Lakeview
No Chicago burger has gotten more hype -- Good Morning America LOVES Billy Dec -- than the Mac Attack from Rockit Burger Bar, and it's well deserved. It was originally only going to be around for a week, but people loved this burger sandwiched between two pieces of fried mac 'n cheese so much, that it's become a regular menu item.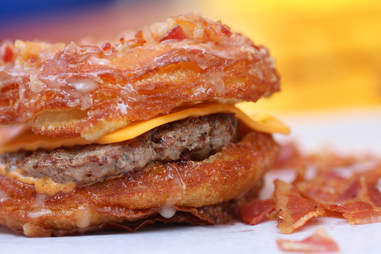 Sean Cooley
4. Demon's Delight at Devil Dawgs (click here for address and info)
Lincoln Park, South Loop
America went wild for Cronuts, so it was only a matter of time before they got put to better use. Demon's Delight Cronut is maple-glazed and covered in bacon, then used as the bun for a steak burger with cheese and spicy remoulade. I don't know if it's meant for breakfast or dinner, so I just stick with both.

bopNgrill
3. Father at bopNgrill (click here for address and info)
Rogers Park
Any burger that can claim paternity over its consumer deserves a spot on this list, and the Father Burger does just that. This big daddy features a double patty, fried egg, beer-battered onion rings, bacon, sharp cheddar/American, BBQ sauce, and mayo. There's a reason bopNgrill caught the attention of my culinary hero, Guy Fieri.

The Bad Apple
2. Wagyu Wednesday at The Bad Apple (click here for address and info)
North Center
This 45-day prime rib Wagyu is brought in from renowned New York butcher Pat LaFrieda. It's currently topped with citrus butter and arugula to keep it sexy and classy, and it will cost you a whopping $26. Not counting comically oversized options, that's the most expensive burger in the city. It's also the most delicious. Lest you think this is just for tourists, it's only sold on Wednesday night (obviously).

Colin Joliat
1. 8lb Monster Burger at Jake Melnick's Corner Tap (click here for address and info)
River North
Let's face it. Size matters, and there's nothing bigger than this 8lb Monster Burger. Rumor has it that Jake Melnick was terrible at Jenga, which is why he created one huge chunk of meat instead of a multi-pattied cheeseburger. This beast comes with all the fixings, and somehow manages to be cooked as well as if it was a mere half-pounder. They say it's meant for eight people, but I have no doubt you could handle it on your own.
Colin Joliat is a freelance food and booze writer best known for watching 47 episodes of Epic Meal Time in a row. Follow him @FlintSkinny.