Despite its sordid reputation as the shortest, most 'r'-filled month of the year, February ended up doing pretty well for itself this year, especially when you take into account these 12 must-visit Chicago bars and restaurants that opened.
SideDoor (click here for address and deets)
River North
This inconspicuous gastropub from the people behind Lawry's has taken up residence in the storied McCormick Mansion, where it's setting up shop as Chicago's new go-to for a laid-back interior and lamb shank pie. Pro tip: arrive early to steal seats in the nook (hello, views of the beautiful, open kitchen), and snack the night away on charcuterie and some fluffy IPA beer pretzels.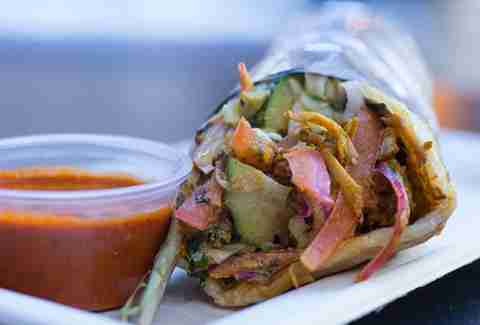 Naansense (click here for address and deets)
The Loop
Amidst a sea of status quo sandwich shops and chains, this fast, casual Indian restaurant is doing no-nonsense naan (alliteration bonus, +2) that's made fresh-to-order in a traditional tandoor clay oven. Their build-your-own menu option will please the lunch crowd, but the move is their weekly Chef Creation... especially if said creation is pastrami on warm, dark rye naan with turmeric sauerkraut and home-made mustard.

Bottlefork (click here for address and deets)
River North
Exec Chef Kevin Hickey and Rockit Ranch Productions have joined forces to bring life to this American kitchen and bar, whose menu colors outside the lines with stuff like "popcorn" sweetbreads and chorizo-stuffed squid. Oh, and dude, order the "Bill Brasky", which comes with Journeyman rye, moonshine, Buffalo Trace bourbon, Bank Note Scotch, Hammer & Tongs vermouth, orange bitters, and a vintage playing card frozen in a large ice cube. A vintage playing card. Frozen. In a large ice cube.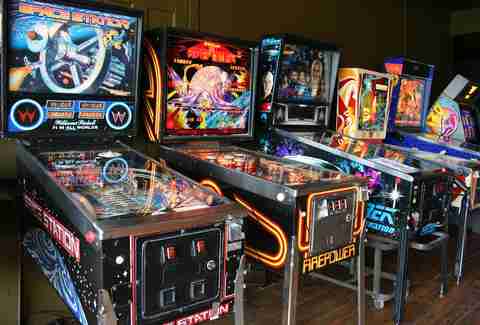 Logan Hardware Arcade Bar (click here for address and deets)
Logan Square
Logan Square's favorite record shop just opened an arcade that's stacked with more than 25 fully restored vintage pinball machines (including a signed edition of Star Trek: The Next Generation), 40 video games, and nearly 20 beers on tap.

Sticky Rice (click here for address and deets)
Wicker Park
North Center's favorite one-stop-shop for Northern Thai cuisine's second location was inevitable/is also super delicious. The new 55-seat, BYOB spot has a substantially smaller menu than the OG space, but you can still gobble up old favorites like the behemoth tilapia/apple salad and the crab fried rice.

Stan's Donuts (click here for address and deets)
Wicker Park
We know this city is overflowing with drop-dead-sexy donuts, but there's always room for more -- especially when "more" means California-based Stan's. The spacious donut and coffee shop sports a kitschy, retro vibe, and serves everything from cinnamon pretzels and apple fritters to chocolate glazed old-fashioned donuts, and their signature pockets stuffed with peanut butter.

Q-BBQ (click here for address and deets)
Lakeview
After snagging back-to-back Big Gourmand wins for its Naperville and LaGrange outposts, Q-BBQ has finally brought its brisket burnt-ends, deep-fried corn fitters (Q-Pups!), and diverse array of signature sauces to Chicago, where it'll pull inspiration from Texas, the Carolinas, Memphis, and Kansas City traditions.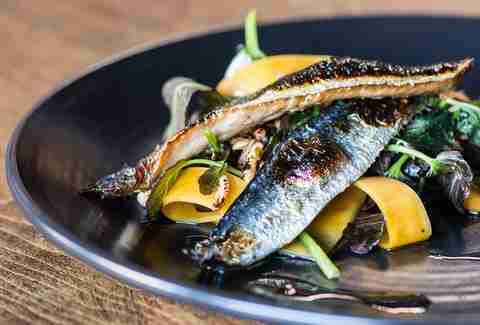 Kinmont (click here for address and deets)
Near North
Named for (duh) an artisan fly-fishing lure, Kinmont blends fishermen's nostalgia with a Midwestern hunting club aesthetic, to create a seafood dining experience you won't find elsewhere in Chi. Standout dishes include Chef Duncan Biddulph's preparations of roasted sardine and cobia, as well as a 24oz dry-aged ribeye sourced from a cow... fish?

I|O Urban Roofscape (click here for address and deets)
Near North
Situated on the fourth floor of The Godfrey Hotel, I|O is considered the largest indoor/outdoor lounge in Chicago, complete with a state-of-the-art retractable roof, two full-service bars, and plenty of comfortable lounge seating. Aviary vet Chef Riley Huddleston oversees the food and cocktail programs, which showcase blended Brandy Alexanders (Courvoisier, crème de cacao, vanilla ice cream, and nutmeg), truffle mac & cheese, and BLTs with pork belly, roasted tomato, and arugula.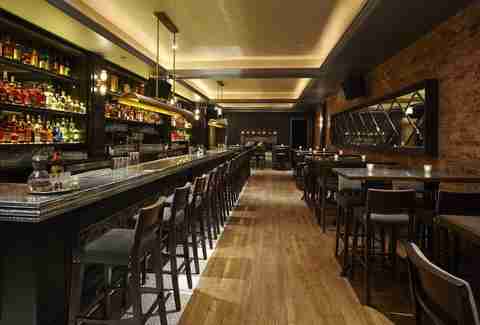 Celeste (click here for address and deets)
River North
Given its glamorous space with monogrammed glass walls & iron work, meticulously crafted beverage program, and refined seasonal menu, this astronomy-inspired dining concept kinda lives up to its heavenly nickname. Sip the sophisticated Constellation cocktail with rum, Sherry, strawberry, and citrus, and pair it with baby octopus served alongside crispy chickpeas and blood orange.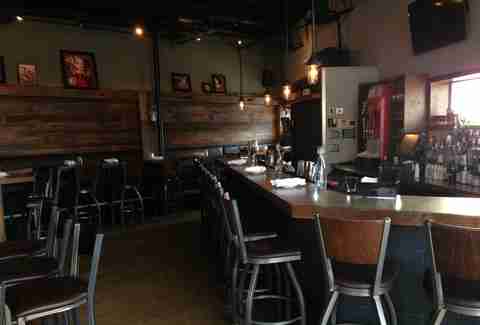 G & O (click here for address and deets)
West Town
G & O -- short for Grand and Ogden -- is the latest cocktail project from the guys who brought you Aberdeen Tap. Along with a libations menu that balances craft cocktails with classics, they're also offering in-house liquor infusions, an array of local brews, and elevated bar fare like game hen, scallops, and gourmet burgers. Be sure to scope out the 40-seat patio when (if?) patio season gets here.
Kailley Lindman is a contributing writer for Thrillist Chicago, as well as a food blogger, bacon enthusiast, and devout user of the Oxford comma. Follow her at @KailleysKitchen.