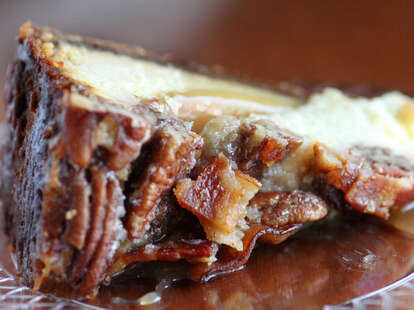 With 20 home cooks preparing 300lbs of bacon, Lincoln Hall played host to the festival of nitrates known as the Bacon Takedown last Saturday. Like Shang Tsung gathering Mortal Kombatants, Matt Timms tours the country seeking out amateur chefs to battle with key ingredients like lamb, curry, and other things that're vastly inferior to bacon. Here's the best that the bacon contenders had to offer, starting with a bacon-pecan cheesecake that has a graham cracker & pecan crust, vanilla cheesecake, and bacon topping.
Fat Elvis Bacon Cups
Hopefully, you meet a more dignified end than The King if your diet allows for a cup made of bacon carrying a waffle, peanut butter mousse, bananas, and chipotle-maple candied bacon sprinkles.
Piggy-oza
The pork gyoza is teeming with bacon jam, shallots, maple syrup, red miso paste, and Mandarin juice served with soy garlic reduction sauce.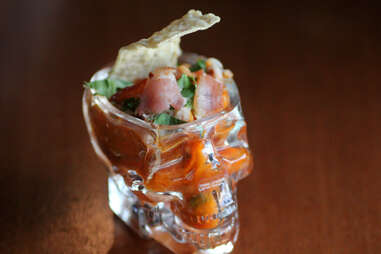 Hevin Bacon
You wouldn't want to be more than one degree away from this skewered bacon-wrapped risotto (especially since it took down the people's choice vote) packed with shiitake mushrooms, bacon grease-soaked onions, and gruyere that is then deep-fried and coated with maple syrup.
Apple Maple Bacon Parfait
This parfait comes with a bacon-butter crust topped with chocolate and pistachio-covered candied bacon.
Sas-Pig-Rilla Gelato
The next best thing to a bacon root beer float, this sasparilla gelato is garnished with a bacon-wrapped Medjool date, bacon vanilla powder, candied cocoa nibs, and candied orange peel.
Cheesy Bacon Breadsticks
The two-time Takedown champs Joshua Gutzwiller and Nick Angel placed second with these bacon breadsticks coated in parmesan, mozzarella, everything bagel seasoning, bacon crumble, and a dipping cup of bacon marinara sauce.
Rosemary Bacon Chocolates
This cupcake cup contains a mashup of rosemary, walnuts, marshmallows, and bacon.
Smoked Pork
This citrusy smoked pork shoulder has spiced bacon, pickled red onions, and a pretzel crisp (you looked like you needed more sodium).
Bacon-Wrapped Dates
Because the dreamiest dates are always ones dressing bacon and jalapeno bacon jam.
Bacon Fritter
These deep-fried potato cheddar fritters with adobo mayo earned the judges' choice award.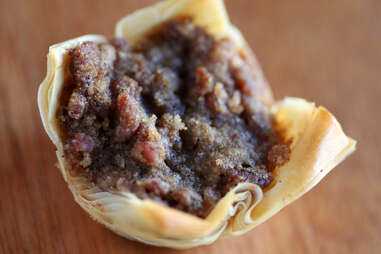 Bourbon Bacon Apple Bites
These bites are wrapped in a phyllo pastry with bacon sugar crumbles on top.
A Boar Named Jack
Probably not as deleterious as naming your boy Sue, A Boar Named Jack is bacon- and almond-infused whiskey with rosemary orange juice and a bacon salt rim.
Great Balls of Bacon
Goodness gracious, there's a ground ball of bacon with diced onions, dates, and honey sitting in a balsamic/brown mustard sauce!