A rundown of this year's letdowns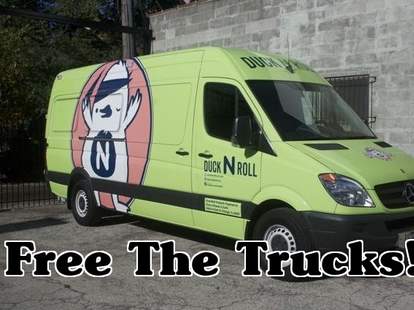 In Sweden you'd never know if chefs are disappointed because you can't understand what they're saying, despite them being so handsome. But that isn't the case in Chicago, mostly because the chefs speak English, and vary wildly in handsomeness. And now, in English, find out what this year's biggest bummers were in the eyes of the culinary elite
Kristine Subido, Chef/Owner, Pecking Order "That I didn't win 1st place at the Belly Q Karaoke Chefs challenge."
Jared Van Camp, Executive Chef, Nellcote "I'm pretty disappointed that food trucks still aren't fully legal in Chicago. Street food is an important part of a city's culinary identity, however in Chicago it's stifled because of bureaucracy. I'm hoping in 2013 that the tide will finally turn to keep up with the rest of America's big cities."
Audarshia Townsend, 312 Dining Diva "I was bummed that Bruce Sherman (of North Pond) was overlooked for a Michelin star. If anyone deserved one it was this hard-working chef. He's a pioneer and the snub was unacceptable."
Charlie McKenna, Chef/Owner, Lillie's Q "Blatant copycats who lack originality. You know who you are. Also, the Michelin Guide is an absolute joke — it's really just a parody of a parody."
Jason Hammel, Chef/Owner, Lula Cafe/ Nightwood "That there is still no movement for a central market in Chicago like in Cleveland. That the Mayor hasn't made access to healthy food a centerpiece of his administration. That the summer ended too soon."   Tony Mantuano, Chef/Owner, Spiaggia "I was rooting for Sarah Grueneberg, executive chef at Spiaggia, to win Top Chef. We're all so proud of all she accomplished while on the show and being named runner-up. Also, barrel-aged cocktails. I'm mostly a wine drinker, but when I drink a cocktail, I prefer a fresh one."  
Mike and Pat Sheerin, Chef/Owners, Trenchermen "The Cubs."