No longer just something Bears fans occasionally muttered under their breath during the Paul Edinger era, Little Goat is Stephanie Izard's morning to late-night diner situated just across the street from older sib Girl & The Goat. LG seamlessly combines the open-kitchened vibe of an all-night greasy spoon with a bit of Randolph St. class thanks to walls split between vintage wallpaper and butcher block below a skylit ceiling. Breakfasty indulgences are served all-day, like the banana 'n peanut buttered Fat Elvis Waffles with bacon maple syrup, or this more concisely named savory option dubbed the Asian Style Breakfast Tasty Thing, a hearty amalgam of kimchi and bacon & eggs, layered with savory pancakes. Blurring the lines between morning and evening is the Breakfast Spaghetti 'n Clams, in which a base of noodles & eggs set the stage for shellfish accompanied with guanciale and bok choy. You'll find plenty of sandwich choices like the Sloppy Goat topped with rosemary slaw, but they're also putting together serious suppers like this trout paired with spaghetti squash, pepitas, tarragon butter sauce and almond crunch, also a Hershey-Nestle collab that absolutely needs to happen. Speaking of desserts, they're obliging with Blood Orange Meringue Pie, though the options from the bar (situated in the adjacent Little Goat Bread) are equally sweet with cocktails like Late In The Afternoon (gin, Lillet Blanc, orange bitters), and 14 drafts that include Haymarket collab Girl & The Goatee, which Paul Edinger might need to grow if people are to believe he can purchase it.
Recommended Video
This Fried Chicken Sandwich With Sushi Rice Buns Is the Best of Both Worlds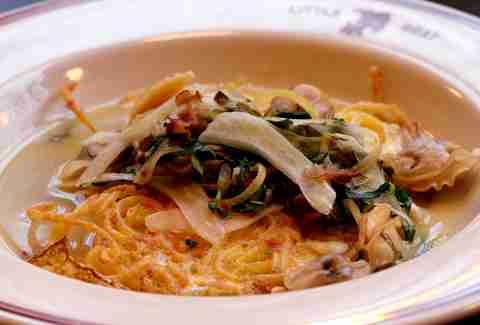 Previous Venue
Next Venue
Venue Description
1. Little Goat
820 W Randolph St, Chicago, IL 60607
Right across the street from its upscale sister Girl & The Goat, Stephanie Izard's Little Goat is an all-day upscale diner that serves insanely creative takes on classic American comfort food. Split between a sit-down restaurant and a bakery, Little Goat is the place to go for over-the-top breakfast (breakfast spaghetti, banana peanut butter waffles), exceptional burgers (you can choose between a beef, goat, and veggie patty), and crazy desserts (smoked pork & toffee crunch milkshakes, Cheez-It sundaes). If you can't sit and stay -- or handle the long weekend waits -- then hit the "Grab and Goat" take-away area.