The same folks who brought you long-running, now-shuttered Sushi Wabi have resurfaced just a block down Randolph St as Sushi Dokku. Translated as 'Sushi Dock', the restaurant has bathhouse-style stools that sit below ceilings covered in cedar planks meant to simulate a Japanese fisherman's pier, where they sit on the dokku of the bay, wondering what Otis Redding is singing about between all that whistling

The Hot Daisy's more than just eye candy to compensate for Boss Hogg, featuring albacore, spicy mayo, and lime juice, wrapped in soy paper, a lighter alternative to the traditional seaweed rolls.

The Tuna Microgreens know it's not the size of the greens that matters, but whether or not they're paired with black pepper unagi sauce (they are)

The spicy tako features ground beef, shredded cheese, and little packets of fire sauce... Oh, tako. Make that octopus, chili sauce and black tobiko

Specialty nigiri bites include the tuna truffle (yellowfin, white truffle sauce, avocado) served on a custom-made Japanese cutting board

The bar's stocked with more than 15 brands of sake, which also makes its way into cocktails like the Sakerita, a Japanese riff on the classic using house-made sour mix and cucumbers, an experience almost as cool as listening to Otis Redding with a bunch of Japanese fishermen.
Recommended Video
Wil Puts Ranch Dressing On Everything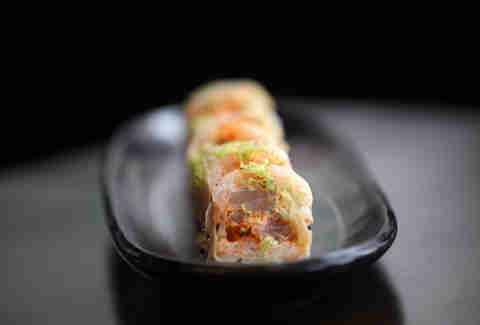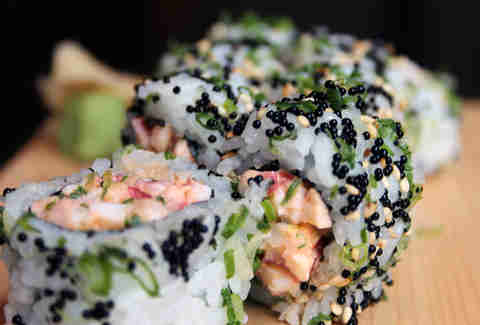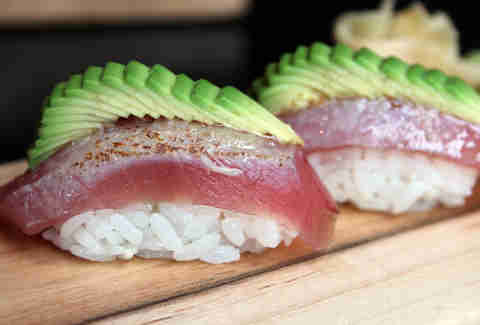 Previous Venue
Next Venue
Venue Description
1. Sushi Dokku
823 W Randolph St, Chicago, IL 60607
From the team behind Sushi Wabi, Sushi Dokku is a small, modern restaurant in the West Loop offering traditional and contemporary Japanese cuisine. The diverse menu features classic cuts of sashimi, signature maki, creative nigiri bites (as well as traditional, for the less adventurous of diners), and grilled fish, chicken, and steak (for the less raw fish-inclined of diners). Their cocktail menu boasts Japanese-inspired cocktails -- many with sake foundations -- and a sizeable sake list, as well. And the Booze Box -- the bonus bar located below Sushi Dokku -- features live music and drinks (and izakaya-style small plates if you're still hungry) for your after dinner entertainment.