We all know the French are at their best when surrendering to other cultures. So it's understandable for Little Market Brasserie to go beyond Gallic, serving the likes of three-cheese ravioli and New York strip steaks in a sleekly appointed 150-seater run by the Tavernita team

Dust off your finest denim jacket, vest, and jeans and know that they'll soon be way too tight thanks to this Montreal-style poutine taken up a level with braised short ribs, or opt for sandwich action like baja lobster rolls with chipotle cabbage slaw

They have a lineup of Italian-inspired pastas to boot (!) like this puttanesca with shrimp and capers in a spicy tomato sauce, and further entree-ness like monkfish w/ lentils, squash & bacon in a Bordelaise sauce

Ever have the urge to punch a redhead in the face? Stay away from Danny Bonaduce and instead quench your bloodlust with this Ginger Smash (bourbon, lemon, mint, and candied ginger), or take a self-directed approach and choose from 17 spirits and mix with one of five housemade sodas like hibiscus vanilla or cinnamon & blood orange, the sight of which will immediately cause any Frenchman to surrender.
Recommended Video
Potato Skin-Breaded Queso Balls Will Make All Other Apps Obsolete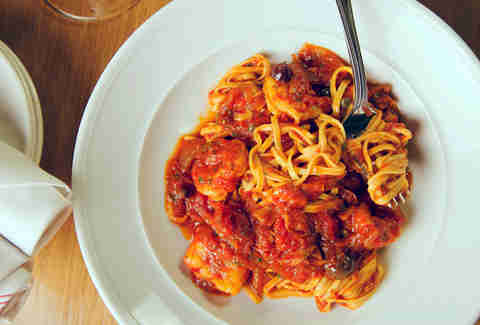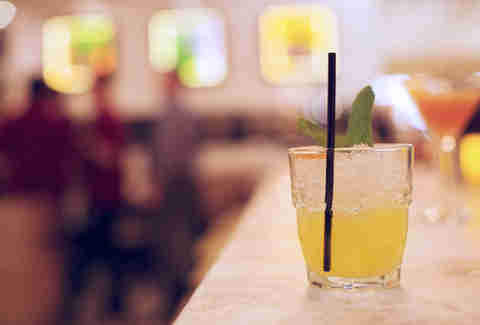 Previous Venue
Next Venue
Venue Description
1. Little Market Brasserie
10 E Delaware Pl, Chicago, IL 60611
Little Market Brasserie serves a combo of cuisines, including French, American, and even Italian. Among our favorite dishes are the Montreal-style poutine (with braised short ribs!), baja lobster roll, and puttanesca with shrimp and capers in a spicy tomato sauce. If you're feeling cocktail-y, rest assured you're in the right place.