The over-stuffed sandwich shop's expanded to Wicker Park, carving out a space twice the size of the original in the former home of Plan B, making some room for bar games to keep your hands occupied after you two-fist a couple of Pittsburgh-style sandos. Also, they have napkins. Fear not, they're still stuffing pillowy bread with salty skin-on French fries and mounds of vinaigrette cole slaw. Enough of these corned beef, pastrami & fried egg Two-Baggers is likely to have you also dating them. One of the few things they don't pack into a sandwich is these breaded and deep-fried hunks of provolone, but that doesn't mean you can't, you disgustingly creative sandwich devil, you. Fredo may be nothing to Michael Corleone, but it's impossible to miss this version packed with ham, salami, capicola, swiss & hot peppers. They're still offering up the wall-of-fame-worthy task of polishing off three sandwiches in less than an hour to get a free meal, but if competitive eating/ gastric bypass surgery aren't hobbies of yours, there're also darts and this 14ft shuffleboard table for less-caloric competition.
Recommended Video
How to Hack Taco Bell's Naked Chicken Chalupa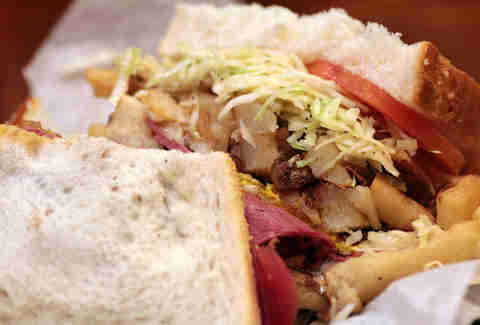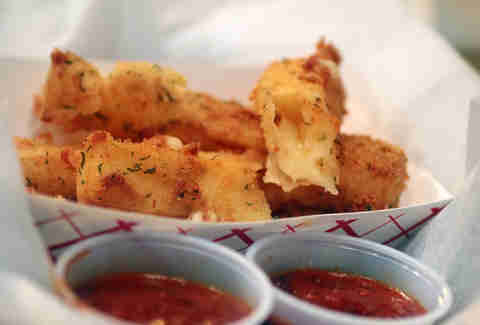 Previous Venue
Next Venue
Venue Description
1. Lucky's Sandwich Co.
3472 N Clark St, Chicago, IL 60657
Lucky's serves up Pittsburgh-style sandos that'll fill ya up, especially if you get a side of their deep-fried hunks of Provolone. Attempt the Lucky's Challenge, because why opt for just one Pittsburgh-style hulk sandwich with fries and coleslaw in it when you could have THREE stacked with different kinds of deli meats? Devour all overstuffed sandwiches within an hour, and all of 'em are on the house and your pretty mug will live on wall of fame style, which is just as cool as doing it for Man v. Food, right?