The burger bar is getting deep into the bird game with a Sunday special featuring a platter of fried chicken sided with appropriate Southern specialties like collard greens or mac and cheese packed with four types (Vella Toma, 4yr cheddar, blue, and Weinless cheddar), but that clearly isn't enough cheese, so it gets a Parm-breadcrumb crust on top.
Recommended Video
Meat Flowers Are Here to Give You The Best Valentine's Day
Previous Venue
Next Venue
Venue Description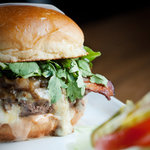 1. 25 Degrees Restaurant
736 N Clark St, Chicago, IL 60610
Named for the temp difference between rare and well-done, this burger bar from the West Coast offers a robust selection of build-your-own add-ons (jalapeno bacon, burrata, tarragon remoulade), non-burgerness like bacon-wrapped, green chili 'n pinto bean'd Sonoran hot dogs, and boozy Guinness milkshakes.