How much deeper would the ocean be without sponges? Can you be a closet claustrophobic? These are the conundrums adorning the walls of Milt's Barbeque for the Perplexed (attributed to the owner's late philosopher-uncle for whom the place is named), where there's no debate about whether or not a BBQ joint can be kosher, because... that's what it is. Milt's non-porcine meats hang out in a 1000lb smoker before making their way into dishes like this brisket chili with a mini skillet of corn bread. The titular Milt Burger is topped with said chili along with crispy onions, though in keeping with dietary restrictions, no cheese. Or Milt. But there is a side basket of sweet potato fries. These beef short ribs come with your choice of Memphis, Carolina, or Kansas City sauce, and cole slaw presents further choices: mayo- or vinegar-based. Not an option: bacon slaw. The Twixter (vanilla, chocolate and salted caramel liquor) fits into your "two for me, none for you" drinking philosophy, or nab a bourbon-enhanced Arnold Palmer. Once you're so full you're staring into space, divert your gaze to this all-Jewish All-Star team signed by baseball greats like Sandy Koufax, Kevin Youkilis, and Ryan Braun, whose tests came back negative, so everything's totally kosher.
Recommended Video
You Can Fit This Grill In Your Backpack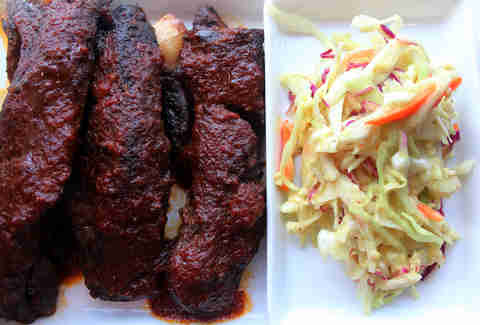 Previous Venue
Next Venue
Venue Description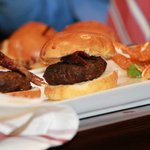 1. Milt's Barbecue for the Perplexed
3411 N Broadway, Chicago, IL 60657
If you think that a barbecue without pork is no barbecue at all, think again. In a city saturated with rib joints, Milt's Barbecue for the Perplexed is a smoky standout not only for adhering to strict kashrut dietary law, but also for holding your tastebuds hostage just long enough to make you forget that fact. Upon arrival, each table is gifted with a plate of sweet, crunch pickles. You'll want to immediately get your hands dirty with the BBQ slider sampler, with miniature pulled chicken, brisket, and beef sliders. For those with endless appetites, opt for the Turkey Dinner, served with smoked and sliced turkey breast, smashed potatoes, green beans, and the greasiest, most artery-clogging, most perfect homemade gravy.