Just when you thought All-American Girl was the most joy a Korean family would ever bring you, along comes Dak. This counter-service joint is literally family-style (son runs the front of the house while his parents and bro head up the kitchen), and gets its name from the Korean word for "chicken", a nod to the delicately crisped wings in which they specialize. Said wings are taken from hormone-free birds (also, wing-free!), then twice-fried to achieve the trademark Korean-style, thin 'n crispy skin before getting sauced in either soy-garlic or the spicy BBQ seen above. If you want to go even bigger than wings, Paul McCartney says go to hell, but that shouldn't keep you from some veggie- 'n egg-packed bibimbap, here seen with bulgogi but also avail with spicy chicken, pork, or tofu. For a different way to treat your meat, skip the Gold Bond and snag these dukbokki, a spicily sauced rice cake. In a bit of a cultural departure, the bottled Coke is of the Mexican variety (real cane sugar), but they also have these Milkis (yogurt-spiked carbonated drinks) and Sac Sac (juice with bits of fruit) if you want to keep things Korean, also how Mrs. Kim reacted whenever Margaret brought home some tattooed biker dude to hilarious cross-cultural results!
Recommended Video
This Outdoor Food Hall Serves Up All Things Deliciously Asian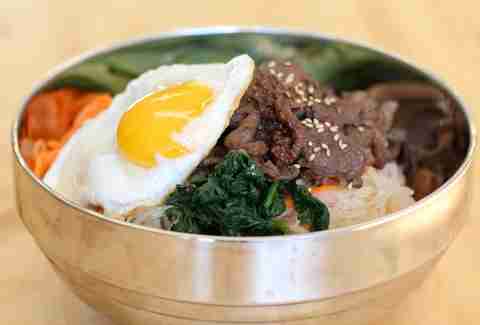 Previous Venue
Next Venue
Venue Description
1. Dak
1104 W Granville, Chicago, IL 60660
Dak takes its name from the Korean word for "chicken," a nod to its specialty: delicately crisped wings. Food is made to order, so it's guaranteed to be fresh, and portion sizes are generous. Though it's fast-foodish, Dak makes you feel right at home with wood and tile accents in a contemporary setting. Try the wings, wings and more wings. Indulge in as many mild or spicy sauces you can handle.