Finding a great donut shop in Chicago is like shooting fish in a barrel -- they're everywhere, and they're usually pretty obvious, thanks to the out-the-door lines of shameless sugar addicts. But what's the fun in limiting yourself to the familiar? From a dulce de leche-soaked donut at an Indian-inspired pub to a French cruller at a family-owned suburban joint, here are eight under-the-radar donuts worth seeking out.
French cruller
Spunky Dunkers (address and info)
Palatine/Arlington Heights
Think the 'burbs don't know a thing or two about the art of donut-making? Think again. Family-owned Spunky Dunkers slings hand-cut, handmade donuts that are made fresh daily, including delightfully airy, lightly glazed French crullers, blueberry cake donuts, yeast-raised honey-dipped rings, and more.
Drunkin' donuts
Boiler Room (address and info)
Logan Square
Treat yo'self by heading to this Logan Square pizza joint for powdered sugar-and-cinnamon-coated donut holes paired with boozy Jameson soft-serve for your donut-dunking pleasure. Just don't blame us when you find yourself chasing lesser donuts with a shot of Jamo at home in a pitiful attempt to recreate this bar-raising experience.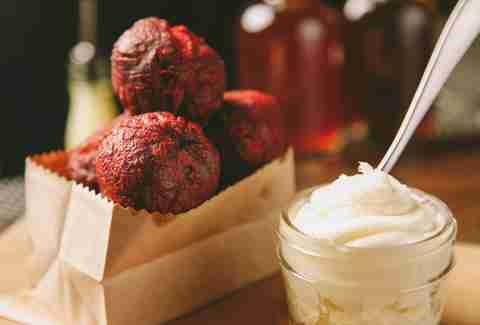 Bag of lemon poppy seed donut holes
Bottlefork (address and info)
River North
In keeping with the restaurant's knack for glorious gut-bombs, this bag of donut holes is an unrelentingly rich brunch option. Flavors are subject to change, but recent kinds include red velvet with a jar of cream cheese frosting and lemon poppy seed with lemon-rum glaze. Pro tip: sharing an order may seem like the logical, responsible thing to do, but it's not; be selfish and crush every single one of those bite-sized wonders yourself.
Malt shoppe donut
Seven Lions (address and info)
Loop
Pastry chef Karianne Soulsby's creative sweets have garnered tons of attention since Seven Lions opened earlier this year, and after you sink your teeth into the warm strawberry malt donut, you'll understand why: the brunch treat tastes like just like an old-fashioned malt, triggering both nostalgia and the need to stuff your face with a second and third order.
Chai dulce de leche donut
Pub Royale (address and info)
Wicker Park
Doused in a dulce de leche glaze and dusted with delightfully peppery chai spice, the twisted yeast-raised donut at this modern Indian concept is a welcome change from Chicago's usual deep-fried dough suspects. Be sure to sop up every last drop of the glaze pooling on the dish.
Donuts
Bohemian House (address and info)
River North
These petite pastries are so mouthwatering that the team behind BoHo decided to include them on both the weekend brunch menu and the dessert menu. The brunch rendition includes Bavarian crème, raspberry jam, and vanilla sugar, while the dessert spin goes coffee-and-donuts style with a scoop of Bow Truss Coffee Roasters gelato sprinkled with hazelnut brittle.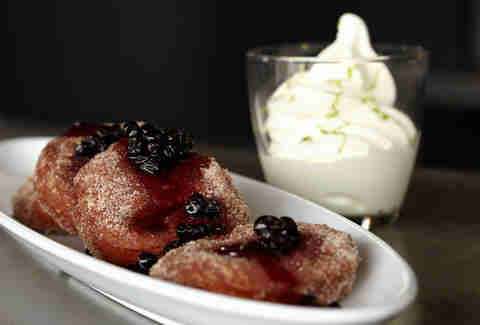 Vietnamese cinnamon donuts
bellyQ (address and info)
West Loop
Punctuate a Korean barbecue feast with Chef Bill Kim's warm Vietnamese donuts, which are encrusted with cinnamon and sugar and laden with blueberry jam. Pro tip: order a side of vanilla soft-serve for a little hot-meets-cold dipping action.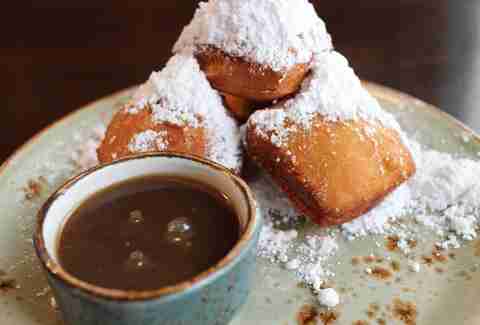 Beignets
Carriage House (address and info)
Wicker Park
These delicate Lowcountry-inspired donuts, which come buried beneath a tiny mountain of confectioner's sugar alongside a ramekin of espresso-infused butterscotch sauce, taste like they were plucked from a deep fryer somewhere in either New Orleans or an ethereal, donut-filled afterlife.
Sign up here for our daily Chicago email and be the first to get all the food/drink/fun in town.
Kailley Lindman is a contributing writer for Thrillist Chicago, as well as a food blogger, bacon enthusiast, and devout user of the Oxford comma. Follow her at @KailleysKitchen.