Bacon sausage, bacon mustard & more porky goodness from a Filipino smoke shack
Maybe it's not a Sandlot-themed restaurant (copyrighting that now), but with a meaty menu powered with protein like this cherrywood-smoked pulled pork sandwich, this Smalls is killing it. The snug BBQ stop brines their pork in garlic, jalapeno, brown sugar, and Squirt, smokes it for 12hrs, and then serves it on a grilled bun with green papaya slaw accompanied by five-spice frites and your choice of Sriracha mayo, bacon mustard, or banana ketchup (the preferred dipping sauce of the Philippines).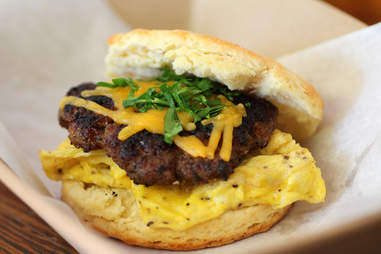 They've got your breakfast covered with this cheddar'd & egg'd honey-butter biscuit sandwich made with maple-bacon sausage, for people who can never make up their mind on breakfast meats. Have it with a cup of Asado Tanzanian peaberry coffee.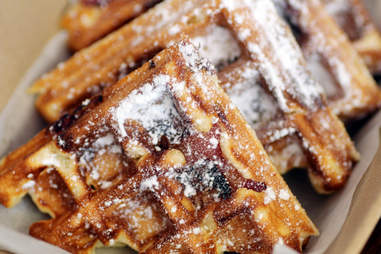 Whether you're walking the dog or doing the walk of shame, the walking waffle is a grab-and-go buttermilk waffle with powdered sugar, maple bacon and candied walnuts.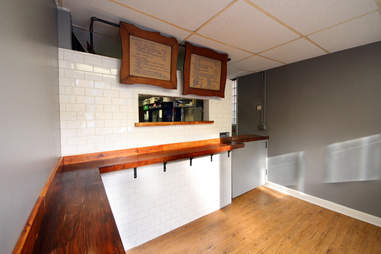 Or you could eat in, but the 480sqft interior of the aqua blue building only seats about 5-7 depending on girth, so get comfy as you browse the menus framed by Narra wood from the chef's hometown of Manila.
Didn't get enough buttermilk in your waffles? How about some buttermilk-brined fried chicken, spiced with paprika, ginger, and red onion, with a side of house-made cucumber slaw and Texas toast brushed with bacon fat.
Or you can check your Cardinal hatred and chew on some St. Louis-style ribs, a half slab of which will spend 4½hrs in the smoker and come with sides like these charred elotes sprinkled with cotija cheese, ensuring that you'll only get the nickname "Smalls" ironically.