Have you ever felt like, no matter how many spicy tuna rolls you put down, the average a la carte sushi joint just can't fill your gaping pit of a stomach? Yeah, we've been there too. Stay shameless and target your nearest unlimited sushi deal in Chicago.
Recommended Video
Thrillist's Best (and the Rest): What's the Perfect Fast Food Meal?
Lakeview
Between its seven-days-a-week $21 all-you-can-eat deal, available from 4-8pm Sunday-Thursday and 4-10pm Friday and Saturday, its 4am closing time, and nonexistent corkage fee, there's not much left to want for at this BYOB Thai and sushi resto.
Hyde Park
BYOB? Check. Unlimited sushi for the price of a cool, crisp Andrew Jackson? Check. Ice cream included in said deal? Check.
Lakeview
Score unlimited sushi, apps, soup, and salad during lunch service at this spot on Diversey. The bargain meal includes everything from edamame and gyoza to seaweed salad, wonton soup, and specialty rolls like the Spicy Windy roll packed with spicy salmon, cucumber, and jalapeño and topped with avocado and salmon chili sauce.
Lakeview
If you've ever thought, "Man, I could really use some marinated beef short rib to go with my sushi," then the $21 limitless Korean barbecue and sushi offer at Yuki Hana is for you.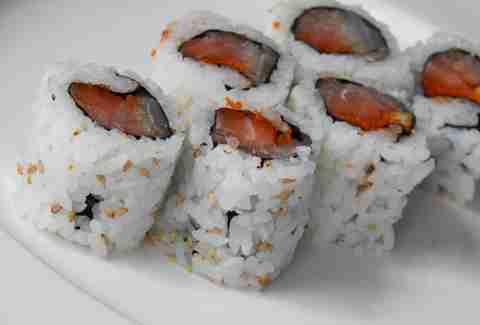 Lincoln Park
Have your pick of over 70 items, including chicken skewers, spicy tuna rolls, maguro nigiri, and more, at this unassuming BYOB Japanese kitchen in Lincoln Park; the unlimited promo is $21 on Mondays and $24 the rest of the week. If you're taking advantage of the BYO option, expect to pay a $4/bottle service fee for wine or sake and $5.50/bottle for the hard stuff.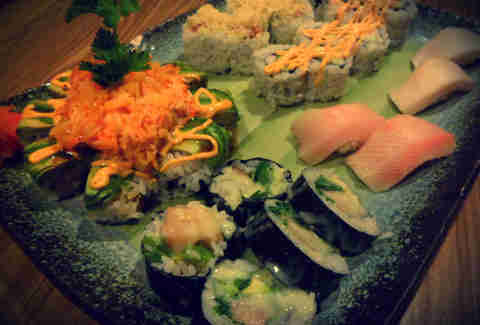 Lincoln Park
The only thing better than heaping platters of sushi? All-you-can-drink sake bombs to complement all that sushi -- for two straight hours. So grab a group of equally hungry/thirsty pals, throw down $45, and let the debauchery begin. The sushi platters aren't technically unlimited at this sushi bar's sake bomb parties, but if you're still hungry and you ask nicely, chances are good that they'll bring out a little more.
Lincoln Park
Stop by this Clark St mainstay for an endless supply of sushi during both lunch ($16) and dinner ($19). The deal stands for dine-in customers only, and includes everything from yellowtail sashimi to the Supersonic roll, which comes with spicy scallop, avocado, shrimp, and smoked salmon.
Lincoln Square
No matter when your sushi craving hits, this Western Ave Japanese resto has you covered: $17 for AYCE sushi during lunch hours and $23 at dinnertime. The special is up for grabs for dine-in eaters only, so plan on staying a while and pacing your sushi intake accordingly.
Loop
$20 earns you all-you-can-eat maki and nigiri at this casual spot on Wacker. The dine-in-only promotion runs from 2:30-9:30pm Monday-Friday and 11:30am-9pm Saturday and Sunday, making it ideal for both a post-work meal or a weekend sushi binge in lieu of the usual brunch plans.
North Center
Finally, a reason to carry cash again: enjoy a $2 discount off this BYOB sushi bar's unlimited sushi deal, which normally ranges from $20 (Monday-Thursday 5-9pm) to $22 (Friday-Saturday, 12-9pm; Sunday, 4-9pm). The buffet includes appetizers, nigiri, and plenty of rolls.
University Village
Swing by this BYOB neighborhood destination for a great value AYCE option that clocks in at under $20 per person. If the weather's nice, enjoy your cheap eats out on the café's small patio.
Evanston
If you find yourself in Evanston on a Sunday or Monday night, hit this pan-Asian bistro for all-you-can-eat sushi under $25; the selection is fairly diverse, and the fish is remarkably fresh (not that you should have any preconceived notions about the quality of AYCE sushi).
Norridge
Swing by the liquor store across the street from this BYO sushi joint to procure liquid provisions, then indulge in an endless supply of maki for a mere $16. Pro tip: the top of the menu clearly states, "extra charge for leftover food items;" we can't confirm if the place follows through with this or not, but to play it safe, make sure to check your case of eyes-bigger-than-stomach at the door.
Sign up here for our daily Chicago email and be the first to get all the food/drink/fun in town.
Kailley Lindman is a contributing writer for Thrillist Chicago, as well as a freelance food photographer, food blogger at KailleysKitchen.com, and recovering vegetarian. Follow her at @KailleysKitchen.