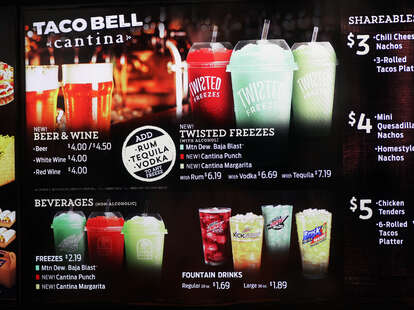 Every other Taco Bell is about to be rendered obsolete.
After months of Doritos Locos-level anticipation, the first boozy Taco Bell restaurant in America will finally open its doors today for a soft opening in Chicago's Wicker Park neighborhood, according to a company spokesperson, with a grand opening event set for September 22nd. You'll now be able to experience Taco Bell arguably the way it should have been since its inception.
Unlike your typical T Bell, this first-of-its-kind location will serve up alcoholic beverages like Twisted Freezes, frozen drinks that will come spiked with vodka, tequila, or rum -- all of which come in black cups that distinguish them as boozy. The drink menu also includes sangria, draft beer (Dos Equis and a rotating seasonal draft) and Merlot and Chardonnay from Steelhead Vineyards.
The boozy Taco Bell will be open until 2am on weekdays and extra late until 4am on weekends. There will also be liquor protocols to follow, so only one alcoholic drink per customer and no walking out to the sidewalk with a frozen margarita in hand (no matter how sly you think you are). There will be a Taco Bell bouncer enforcing the policies Thurs-Sun nights.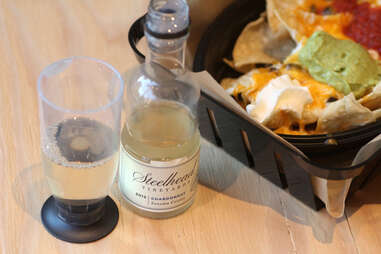 For food, you can expect typical menu items like Crunchwraps and Doritos Locos tacos along with new "shareables" like mini quesadilla nachos and chicken tenders that come served in nice baskets in lieu of the signature wrappers, you know, like the ones crumpled up next to your couch (you should probably take care of those).
You'll find the tipsy Taco Bell at 1439 N. Milwaukee Ave open at 7am. Bummed you're not in Chicago? Don't cry into your Chalupa just yet. Another boozy location is in the works in San Francisco later this month and the company's CEO recently hinted at similar restaurants opening in NYC, Boston, and Columbus, OH. Sounds like your weekend commute between tequila and "fourth meal" is about to be zero feet.
Sign up here for our daily Thrillist email, and get your fix of the best in food/drink/fun.
Sean Cooley is Thrillist's senior editor and he's not ashamed to cry into a Chalupa. Follow him on Twitter @SeanCooley.
Tony Merevick is Cities News Editor at Thrillist and thinks we might be witnessing a boozy fast food revolution. Send news tips to news@thrillist.com and follow him on Twitter @tonymerevick.