The 14 Most Essential Places to Eat & Drink in Andersonville
Paid Content For
San Pellegrino
Courtesy of Bonnie & Clyde Photography
Courtesy of Bonnie & Clyde Photography
Considering there were once more Swedes in Chicago than any city outside of Stockholm, it's no wonder that this North Side neighborhood has retained its rich heritage through museums, bakeries, and even a former speakeasy that still serves glögg. But as strong as this tradition is, there's still a bevy of worthwhile bars and restaurants that are notably not-Nordic, like these 14 best places to eat and drink.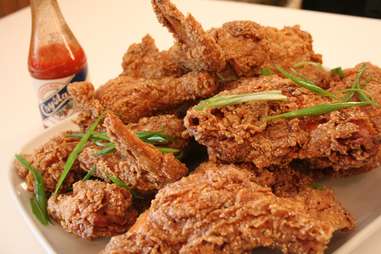 5347 N Clark St
If Big Jones' award-winning Southern fried chicken isn't enough of a draw, come for Chef Paul Fehribach's Cajun fare, like fresh-baked Sally Lunn bread or rich and smoky Gumbo Ya-Ya with chicken, pork, andouille, and Arkansas rice. The complimentary brunch beignets and the super-strong Hurricane add to that French Quarter feel.

5707 N Clark St
Fluffy hotcakes with blackberries and vanilla mascarpone cream topped with a brown sugar crust are the Holy Grail of sweetness, but the savory Fannie's Killer Fried Egg Sandwich -- two over-medium eggs, applewood bacon, sliced plum tomatoes, Gorgonzola, and thyme on toasted sour bread -- is equally spiritual.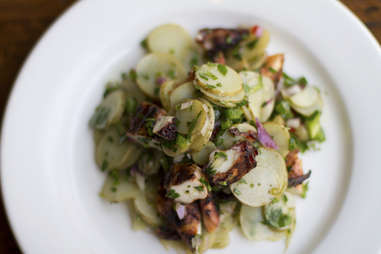 5316 N Clark St
This cozy, rustic Italian restaurant features a three-course $30 prix fixe menu from Sunday-Thursday. The move: start with the grilled octopus, then go for the lamb or the tagliatelle with pancetta ragu. If you want to be branded as a desserter, try the hazelnut chocolate torte.

1509 W Foster Ave
The most expensive item on the menu is $7.50, which means you can eat like Super Bowl XX champion William "The Refrigerator" Perry for under $10 in this tiny, dine-in storefront. The lentil soup, chicken shawarma, falafel, lamb kabob, and baklava are served fast and authentic.
5449 N Clark St
With wood-paneled walls and fluorescent lighting, this one-room Japanese BYOB might make you feel like you're eating in your grandma's den, except no one's going to ask you to program the VCR here. Hit up the Jewel across the street for some booze on your way, then settle in with a big, steaming bowl of beef soba.

1477 W Balmoral Ave
No standard Chicago dogs here -- yours is coming topped with fancy, premium ingredients like duck confit, pork belly, chorizo, goat cheese, paprika-dusted sweet corn, and maple mustard. Try the Hawaiian Hot -- pork teriyaki, pineapple relish, crushed avocado, queso Cotija, and cilantro aioli -- or revel in a poutine variation featuring fries, deep-fried cheese curds, and beef gravy.
1541 W Bryn Mawr Ave
Though the owners of Burger Philosophy recently reconceptualized their space into this new cocktail lounge with an exceptional food menu, do not fear! The original restaurant's beloved Bad Burger -- two patties with American and house-made pickles -- still made the new menu, along with a bunch of interesting baos. Get multiple orders so you can try 'em all, starting with the BBQ pork or shrimp with avocado and a ginger soy reduction.

1706 W Foster Ave
This cash-only BYOB seamlessly melds Korean and Mexican cuisine to churn out flavorful tacos stuffed with honey chili shrimp, Kalbi (Korean barbecued beef short ribs), or spicy pork topped with vinaigrette slaw and roasted sesame seeds. Pair with the kimchi fried rice or the stand-out Beef Barba "Korea" Fries, which're covered in super-tender, braised short ribs, grilled onions, cheddar, and sour cream.
5203 N Clark St
Bring your next right swipe to this modern candlelit space for a traditional Korean Dol Sut Bi Bim Bap rice dish and the popular (and potent!) Asian Pear and Jinjer Sojutini cocktail. Share the sweet and spicy fried chicken wings or Mandoo steamed dumplings, and savor every bite, no matter how many times you run to the bathroom to furiously Tinder someone better for later.

5420 N Clark St
There's nothing better than drinking on your patio… except drinking on a patio that you don't have to power wash. The bartenders start slinging their speciality cocktails around 3pm, which is exactly when you should migrate your brunch group to the picnic tables. Try the High Thyme -- rye, thyme, fresno chili, and cucumber -- or the bourbon-based Kentucky Mule with lime, rosemary, and ginger beer.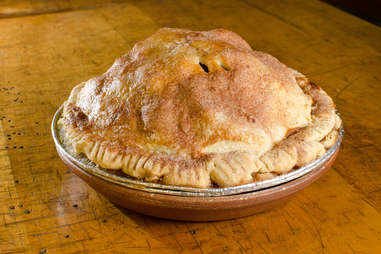 5357 N Ashland Ave
Every time you shove your face with a forkful of one of the many pie options (most notably, the double-crusted apple variety), you're doing good, as this charming corner café is committed to serving 4,000 meals each month to Chicago's hungry through outreach programs.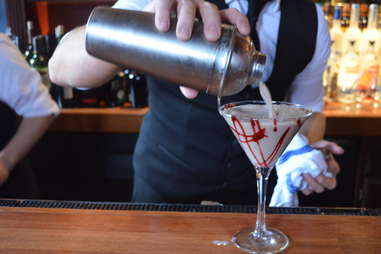 1511 W Balmoral Ave
Satisfy a sweet tooth with a boozy Crème brûlée, Black Velvet, or Pineapple Upside-Down martini, or take it dirty -- the Dirty Bird will knock you off your feet. The Toulouse-Lautrec-styled setting can get crowded as the night goes on, but the patio opens up in the warmer months to give everyone a little breathing room.
5148 N Clark St
One of our 33 best beer bars in the country, this perpetually packed gastropub has an extensive selection of 350 bottles and 68 taps, including Jolly Pumpkin, Surly, and 3 Floyds (obviously), plus plenty of Belgian offerings. The food is pretty impressive for a beer bar -- the mussels cooked in Wittekerke white ale served alongside crispy frites and tangy aioli are an excellent option.

5210 N Clark St
Look for the neon sign of a fish drinking a martini, then head into this Swedish stalwart that Al Capone was rumored to supply with bootlegger whiskey during the Prohibition. Now, the bar's friendly atmosphere, Viking paraphernalia, vintage Schlitz advertisements, and seasonal glögg continue to make it a neighborhood staple. Get yourself a can of Schlitz and a well shot for $7, put something on the jukebox, and try to snag a couch in the back.
Sign up here for our daily Chicago email and be the first to get all the food/drink/fun in town.
Nicole Bruce is a contributing writer for Thrillist Chicago who loves a solid BYOB but also appreciates when the cocktails are made for her. Follow her on Twitter at @nicoleabruce.