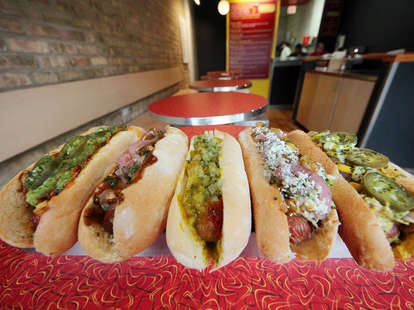 The team behind Ravenswood bruncherie Over Easy has gotten into the encased meats game with Hoppin' Hots in Andersonville, filling the void left by Great Lake (the only pizzeria that could make Jay-Z and Beyonce wait like commoners) with enormous specialty Hebrew National dogs topped with everything from duck confit to deep-fried pickles.
The Sassy Hot tosses more sass than Pam Grier in her prime with chorizo, jalapeños, cheddar sauce, crushed avocado, pepitas, and a fried egg all atop a sturdy potato bun nestled next to a batch of hand-cut fries.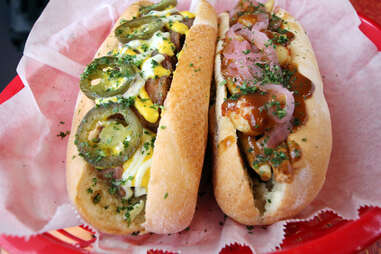 Arizona and Montreal don't have much in common, but they come together on Hoppin's menu. The Sonoran Hot is covered in deep-fried sous-vide pork belly, pinto beans, and jalapeños, while the Poutine Hot's deep-fried cheese curds, pommes frites, and house-pickled red onions are all drenched in beef gravy.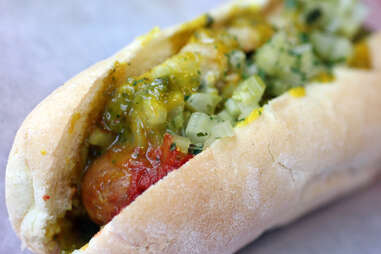 The Modern Chicago Hot replaces traditional Chicago hot dog ingredients with tomato jam, a deep-fried pickle spear, jalapeño mustard, and pickled celery in the coolest variation we've seen since Graham Elliot's Chicago 2.0 dog.
The Hawaiian Hot gets teriyaki pork, pineapple relish, red onions, crushed avocado, and queso cotija. It would have been a perfect post-smoke treat for a certain president back in his younger days.
Needless to say, you can't pair such decorated dogs with an average milkshake. They serve three varieties: salted caramel, ancho-chocolate, or this roasted-strawberry Grand Marnier. It beats the selection at The Weiners Circle.