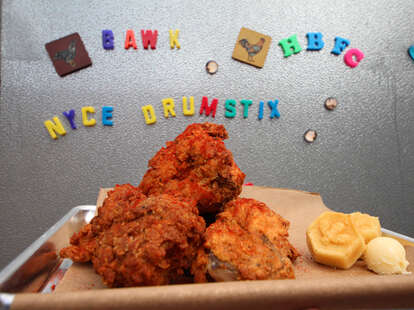 In an origin story that's somehow even better than Wolverine's, the folks behind Sunday Dinner Club happened upon a marvelous recipe when, at a supper six years ago, a tray of honey-buttered corn cakes happened to spill over on a plate of fried chicken. Now the happy accident (hopefully not a nickname your parents gave you) is the namesake of their new brick 'n mortar restaurant representing possibly the four most beautiful words in the English language: Honey Butter Fried Chicken.
The 50-seat interior is covered with reclaimed barn wood and customized yellow pine furniture with hexagonal honeycomb wood grain patterns, assuring that even the furniture will make you hungry.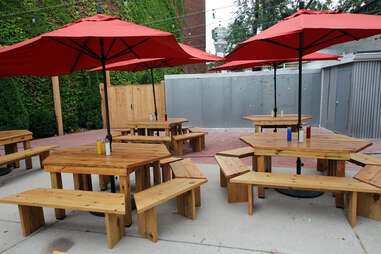 There's also a back patio that seats 100 on hexed benches beside a giant magnetic wall which patrons are encouraged to decorate (except for you, Magneto -- just back off, okay?).
There's that honey butter, a whipped ball of magic you'll find nestled next to honeycomb corn muffins which make for a great pairing, although the pros know…
... to slather the butter on the fried chicken. Glorious.
Available for dining in or take-out, a chicken platter will net you two pieces of white and/or dark meat, corn muffins, and three sides. Going around the horn, there's...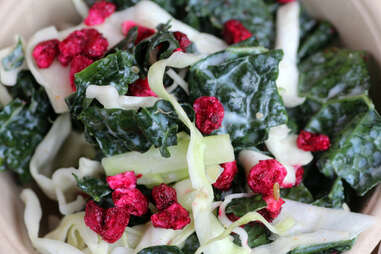 Kale and cabbage slaw with dried pomegranates and yogurt cumin dressing. You did just put butter on fried chicken, after all.
These roasted sweet potatoes are tossed with cilantro and a lime vinaigrette.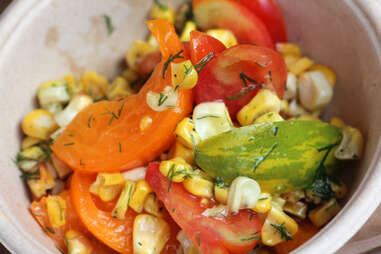 Seasonal sides will rotate, like these heirloom tomatoes with toasted corn and dill vinaigrette.
Beverage-wise, they have homemade iced tea & lemonade, Boylan's colas, and Goose Island root beer... but more importantly, there are also canned brews (Revolution, Two Brothers) and cocktails including a coriander sangrita (tequila with Co-op hot sauce, tomato juice, and toasted coriander with a can of Tecate) and this Avondale Ginger Mule made with molasses, a good approximation of the speed you'll be moving with upon leaving.