Delicias Natural is a Mexican scoop shop that can take you one step closer to realizing your dream of having guacamole for an appetizer, entrée, and dessert, or ripping tequila shots without the hassle of pouring, because avocado and tequila are just two of 36 flavors (your time has passed, Baskin-Robbins) the creamery offers along with an assortment of icy paletas and chocolate-covered fruit.
In order to make this delightfully spicy mole ice cream, the owners bring four types of chili peppers from Michoacán Mexico, grinds 'em up, and peppers (!) them in with a chocolate base.
For the person who's addicted to Fireball Rumchatas (looking at you, Aunt Millie), the chocolate abuelita (aka Mexican hot chocolate) has a sweet cinnamon flavor intermingling with creamy cocoa.
Order an avocado, which, according to sources, is a fruit, and it's like licking sweet, creamy guacamole off a cone, as Delicias mixes vanilla with fresh market avocados turning it as green as the Hulk looking to smash. The hunks of avocado are surprisingly pleasant.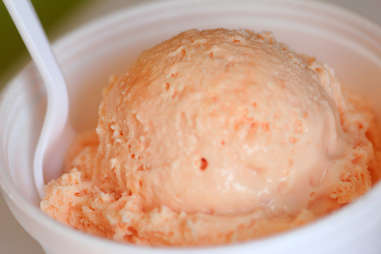 Repress any memory of sniffing week-spoiled milk as you dig into some chongos, because even though the ice cream contains curdled milk and cinnamon, it's more like a tasty flan than a bad choice made by Ron Burgundy.
While the Twinkie empire has been crumbling, Mexico is still churning out snack cakes called Gansitos. These chocolate-covered, strawberry- & cream-filled snack cakes take quite well to ice cream form, kinda like someone ground a bunch of strawberry shortcake into chocolate chip ice cream.
Following along with Pee-wee's favorite pastime of visiting adult movie theaters dancing on bar tops with platform shoes, feel free to lick some salt and rip a cone of tequila ice cream. They'll even take special orders for alcoholic batches.
Chomping into a rose bouquet may be an acquired taste, but the locals back home swear by rose petal ice cream and its perfume-y scent (and after-taste). You won't be sure whether to eat it or give it to Grandma for her birthday.