Pickle tots & bacon candy: Chicago's best bar snacks
For those moments when you don't necessarily want to commit to a full meal, yet you feel like if you don't get sustenance soon you're likely to fall off your barstool, mankind invented the bar snack. Was it Thomas Edison? It was probably Edison. Ponder that while you perch at the bar and devour these delicious drinking companions.
Best Sliders: Flight Risk
Lockdown Bar, Humboldt Park
What could be better than Lockdown's legendary burgers like the Fat Elvis (peanut butter with bananas, flambéed in Grand Marnier and brown sugar), Lockdown Warden (bacon, cheddar, and fried leeks with truffle oil), or Green Mile (bacon and Guinness sauerkraut, corned beef, and mustard aioli)? Well how about getting three of them (it's chef's choice) shrunk down to mini-size, which is what the Flight Risk brings along, with a side of hand-cut fries... and an air of MYSTERY!
Sean Cooley
Best Use of Bacon: Bacon Candy
Honky Tonk BBQ, Pilsen
As you work your way up to Honky Tonk's slow-smoked pulled pork, the perfect pig gateway drug is a plate of maple syrup-coated, thick-cut pork belly. Available in limited supply, it pairs even better with an Old Style than a dog at Wrigley.
Most Addictive: Pickle Tots
Trenchermen, Wicker Park
The Sheerin Brothers engineered these deviously addictive snack cubes: a mashup of fried pickles and tater tots with some protein in the mix, too. The block tots hold their briny pickle flavor, which matches up with a thin cut of bresaola chicken and a tangy red onion & beet-yogurt dip, that will make you forget about Ranch dressing altogether.
Best Free Snack: Chips and Nuts
Bernard's Bar, Near North Side
Don't let the suede-covered haute interior fool you; this second floor bar of the Waldorf Astoria has a great freebie to accompany their craft cocktails. Chase an Aviation with complimentary house-made malted vinegar potato chips, olives, and mixed nuts (and no one will treat you like a neurotic Larry David should you request more cashews).
Sean Cooley
Best Use Of A Deep Fryer: Scotch Egg
Owen & Engine, Logan Square
Owen & Engine has the next-level, British-style pub fare thing down pat, and their Scotch egg is a perfect example -- boiled and rolled in peppery sausage and breadcrumbs before being deep-fried and served with sweet stout mustard. Wash it down with whatever cask brew they're offering.
Best Crunchy Item: Spicy Pork Rinds
The Publican, West Loop
As if a wonderful madman had spliced pork and spicy Cheetos, Publican's rinds are dehydrated before being fried in pig fat, seasoned with Espelette peppers, malt vinegar & cheddar cheese powder, then brought to you in a paper cone that will be empty in seconds.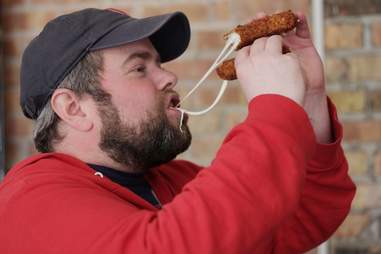 Most Dippable: Mozzarella Sticks
Roots Pizza, Ukrainian Village
"Mozzarella Sticks" doesn't do these justice. "Flawless Logs of Cheesy Glory" would be better. Constructed from house-made blocks the size of a stick of butter (before being coated in herbed breadcrumbs and fried), it's easy to house a whole order by yourself before you even know what happened.
Best Companion For Beer: Bacon Fat Popcorn
Revolution Brewing Co., Logan Square
When you're not double fisting pints of Double Fist pale ale or cheers'ing with a Bottom Up Belgian wit, you can nosh on this bacon fat popcorn, which's tossed in salt, fried sage & bacon fat, and then topped with extra bacon chunks and grated Parmesan cheese. It's enough to make Orville Redenbacher cry (for not thinking of it first).