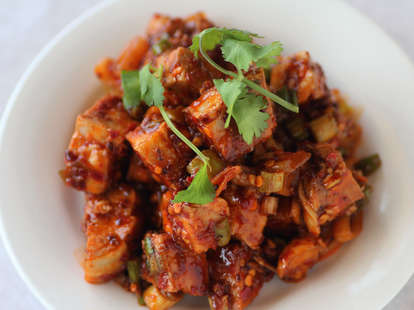 In a city like Chicago, Asian food is everybody's other comfort food from another mother. There's so much good authentic Asian food around that it's high time you got off the California rolls and bourbon chicken, and dug into the real stuff. Here's our guide to 16 things you should be eating, and the places you should be eating them at. Know these starter dishes and you're on your way to a successful meal at restaurants from all over the world -- right here in town.
Beef short ribs
Cai (address and info)
Chinatown
Fried short ribs are one of the key dishes of dim sum, the Chinese brunch, along with barbecue pork buns (sweet-sauced pork in fluffy flour balls), shrimp har gow (dumplings), and chicken feet. Okay, you don't have to love the latter, but most of the rest are top-notch at this Chinatown spot -- which also makes it easy for you with a point-to-order picture menu.

Char siu (barbecued pork)
Sun Wah BBQ (address and info)
Uptown
You know it's a Hong Kong-style barbecue joint by the ducks, big hunks of pork, and bright orange, alien-looking squids hanging in the window. Order by the pound, along with some rice and whatever vegetable tossed in a wok looks good, and watch them chop it to order with a meat cleaver wielded at no-kidding-around speed.
Ma po tofu
Lao Sze Chuan (address and info)
Multiple locations
Want to blow your General Tso's chicken-eating mind? Silky tofu in volcanically thick, spicy sauce, with or without bits of pork, is nothing like the Chinese food you grew up on -- and neither are a couple hundred other things on Lao Sze Chuan's menu.
Xiao long bao
Lao You Ju (address and info)
Chinatown
Of all Chinese dumplings, xiao long bao -- soup dumplings -- surely draw the most fanatic fandom. They should have a delicate texture, yet be strong enough that you can pick them up out of the basket without breaking them and spilling the soup, knocking them back in one bite like an oyster. Lao You Ju cheats a little by putting them in a little foil container to prevent spillage, but they still taste good.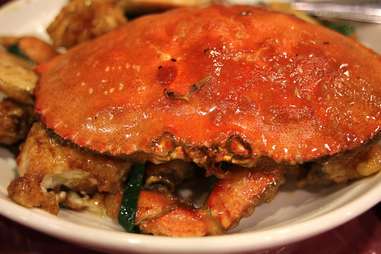 Dungeness crab
Go4Food (address and info)
Chinatown
Chinese restaurants are your go-to spot for fresh seafood on the cheap -- though not just any Chinese restaurant; you have to pick one that specializes in it and has the turnover to guarantee freshness, like this Chinatown spot which offers a whole spicy-savory dungeness crab for an absurdly low two-figure price.
Ramen
Furious Spoon (address and info)
Wicker Park
Hard to find in Chicago a few years ago, ramen has suddenly became everyone's favorite Asian comfort food and now everyone's a connoisseur. So we don't have to tell you to look for a rich pork stock (for tonkotsu ramen; other styles are built on miso or chicken stock), noodles with some tooth, some tender bites of pork belly or cheek... and not so much of anything spicy that you lose the soup's flavor. Or that you shouldn't be ashamed about slurping the noodles up quickly -- ramen is about eating noodles out of soup, then drinking the soup. But you knew that. Because you're a connoisseur.

Takoyaki
Kai Zan (address and info)
Humboldt Park
Okay, let's just say it: octopus donuts. That's what takoyaki are, bits of chewy octopus inside a fried ball of batter, but unlike a chocolate sprinkle donut, they're a savory and addictive drinking snack food in Japan, like potato chips are here.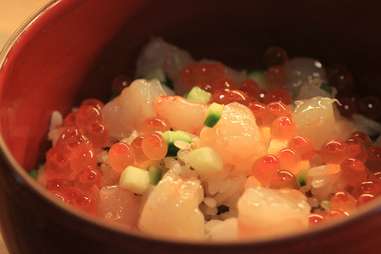 Donburi
Momotaro (address and info)
West Loop
Donburi literally means "bowl," and generally means a bowl of rice and fish or other ingredients cooked together. It can be as humble as porridge -- or as posh as the version at Momotaro served with caviar, uni, or other high-dollar ingredients flown from Japan's Tsukiji market.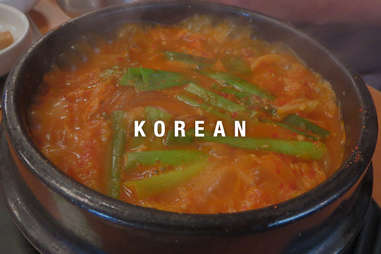 Kimchi jjigae
Cho Sun Ok (address and info)
North Center
Koreans don't live on barbecue any more than Americans do; they live on kimchi, the spicy fermented cabbage which makes the base of many dishes, like kimchi jjigae, a bubbling-hot bowl of spicy soup that's good for whatever ails you.
Bibimbap
En Hakkore (address and info)
Bucktown
If you want a dish that's hearty but health-giving, it's tough to beat bibimbap, in which beef bulgogi and egg top a bowl of rice and fresh veggies. En Hakkore's is the most beautiful in town; other places offer dolsot bibimbap, in which the egg is runny and the rice is served in a blazing-hot ceramic bowl so it crisps up the edges while you eat.

Kalbi, daeji bulgogi
Gogi (address and info)
West Rogers Park
Everybody in this city has had Korean BBQ at some point. But it's not about drunkenly stuffing your face with meat. Well, it is, but there's an art to it built on traditional Korean ideas of how to balance flavors and textures. For kalbi, marinated beef short rib, or sliced beef bulgogi, you take a piece of cold iceberg lettuce, hit it with some ssamjang (red miso paste), add the sizzling meat, and top it with some green onion. But for pork, daeji bulgogi, dip it in the sesame sauce and eat it with a bite of kimchi for a sweet-spicy-funky pork bomb. Then take a drink.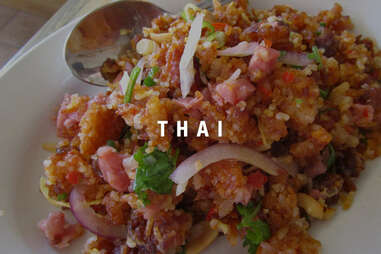 Nam khao tod
Rainbow Cuisine (address and info)
Lincoln Square
There are more famous authentic Thai dishes you should try here, boat noodles or nam tod (grilled beef salad), but it's hard to think of one we would have loved to grow up eating more than this comfy mix of crispy fried rice, bright peppers and lime juice, and chunks of store-bought Thai ham.
Beef ball and tendon soup
Aroy Thai (address and info)
Lincoln Square
Thais love sour flavors, and nothing will open your eyes more to the surprising variety sourness can bring to the party than this pungent soup with funky bits of meat in it.

Crispy onchoy
Andy's Thai Kitchen (address and info)
Lakeview
Onchoy is one of those greens that, if you ask what it is, they say "like spinach." Hey, we'd eat our spinach if it came deep-fried and doused in funky fish sauce like this does.
Pho
CoCo Vietnamese Sandwiches & Pho (address and info)
Ravenswood
Vietnam's national soup is a beef bone broth heavily perfumed with spices like clove and five-star anise, but where ramen broth aims to be substantial, everything about pho should be light -- delicate rice noodles, fresh herbs you toss in yourself, and thin slices of beef, fish balls, or whatever else you choose to be in it. P.S. It's pronounced "fuh"; go ahead and start thinking up "Pho Q"-type jokes now.

Bánh mì
Nhu Lan Bakery (address and info)
Lincoln Square
Other sandwiches seem cold and lifeless when you have a bánh mì, the French-Vietnamese hybrid of crusty bread, pork pate or lemongrass tofu, crisp vegetables, and bright, spicy jalapeño. They're slowly becoming an American thing, but for Chicago, bánh mì pretty much started at this tiny, authentic-feeling Vietnamese storefront.
Sign up here for our daily Chicago email and be the first to get all the food/drink/fun in town.
Mike Gebert is a James Beard Award-winning food video producer and writer and founder of SkyFullofBacon.com. Follow him on Twitter: @skyfullofbacon.