Burger. Fries. Burger. Fries. Burger. Fries. Sometimes it feels like we're stuck in an infinite loop where every drinking establishment has a menu that's about as exciting as going to prom with a sack of onions. Fortunately, we can always visit these 12 spots to get our fix for great bar food.
Recommended Video
Acquired Taste: Blood Rice Cakes With Timothy DeLaGhetto and Justina Valentine
Logan Square
Cocktails and Cajun is something you'd expect from a Nawlins mainstay, not some local hang that isn't even concerned with putting up a sign outside its bar. Nevertheless, the staff at Analogue is working double-time by crushing it behind the bar, as well as in the kitchen. Case in point: you can order up a variety of fishbowls, cocktails, and purls (beer with bitters) alongside crawfish hash and chicken-fried pork chops.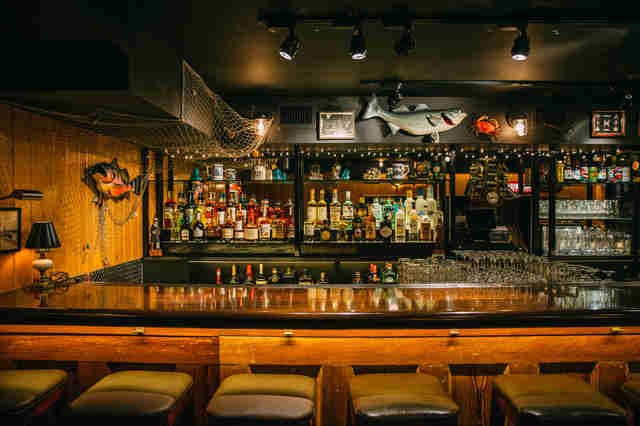 Lincoln Park
In the basement of Oyster Bah, Crab Cellar is the kind of spot where you just want to grab a seat next to a bearded stranger and hear him tell tales of the high seas... or at least anything besides his fantasy-football team. We can spend hours here drinking Anchor Steam and cocktails such as the Nor'easter, made with rye, Vermont maple, ginger beer, lime, and Boston "bittahs." The top-notch food is an added bonus, and includes crispy rainbow trout and a variety of oysters that are as fresh as a sailor's language.
River West
This oft-overlooked gem is just a fax machine's throw from Downtown, but has a tendency to stay off people's radars. That just means more elbow room whenever you swing by to sample picks from the beer menu, which proudly reads that it has "no crap on tap." So order up some steak tartare or fettuccine Bolognese, wash it down with a La Trappe Quadrupel, and top things off with chocolate stout pudding for dessert.
Lakeview
Lowcountry is the type of bar where you just need to go pedal to the metal in order to have the complete experience. At 10pm, picnic tables start getting cleared off for beer pong and "bro country." Downstairs, there are several private karaoke rooms that are available for rent. At the bar, you can order up a bucket of six beers for $20, as well as margaritas and daiquiris. You should experience all these things, but not without ordering a bag -- yes, a bag -- of shrimp, corn, potatoes, and sausage boiled with Cajun spices. Roll up those sleeves and get to work.
Humboldt Park
Haywood Tavern is the kind of neighborhood tavern that you wish you had in your neighborhood. No worries, you can still visit Humboldt Park and see what all the fuss is about. (It's mainly a lot of booze and crazy-good food.) Drinkers with blue-collar tastes can stop in for a can of Astra and shot of Bird Dog bourbon ($5), or mix it up with a 2 Towns Outcider draft ($7). Meanwhile, the menu offers plenty of snacks and bites that go hand-in-hand with drinking at the bar, including salt cod croquettes, smoked whitefish dip, and serrano ham.
Andersonville
Honestly, you've heard about the food at Hopleaf. Haggard men living in caves on the shores of Greece have heard about the mussels at Hopleaf. It's a fact, according to science. You've also heard about the beer selection, which includes a Tongerlo Blond Abbey ale that won the "World's Best Beer" award. Actually, this is just a friendly reminder that you should probably visit Hopleaf soon.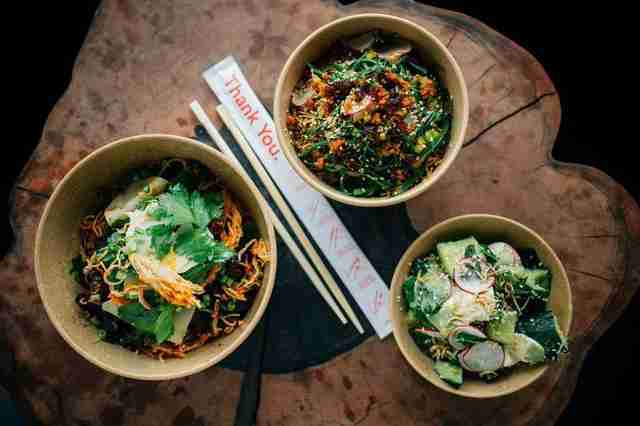 Avondale
Though you might think that serving up Chinese food with tiki drinks is unusual, Won Kow in Chinatown has been doing it since before you were born. So, yes, it's a thing, and the folks at Lost Lake and neighboring Thank You are doing a bang-up job at it. Just order a Lost Lake (rum, passionfruit, lime, pineapple, Campari, Maraschino) with sesame and cilantro BBQ chicken wings and chicken dumplings with chili oil and be at peace.
Pilsen
Skylark looks like the type of place where ordering food would be like buying a one-way ticket to Northwestern Memorial. For real: there's a photo of the urinal on their website's menu page. And yet, somehow, the food here is pretty darn good! Every Skylark regular you'll ever meet swears by the tater tots, and you can also order up fried chicken and a plate of pierogi. Wash dinner down with some cheap drinks, and you've just had yourself a fancy night out on the town.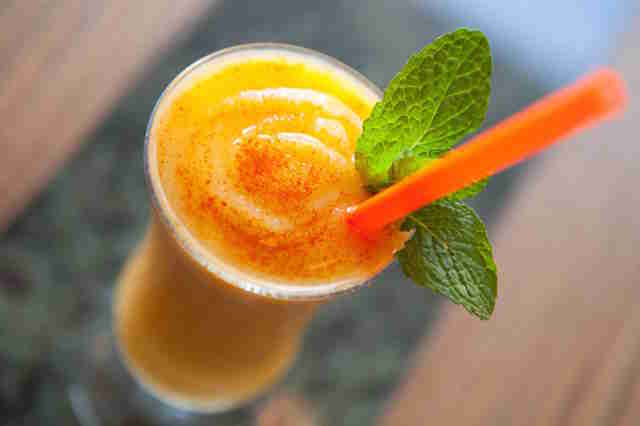 Ukrainian Village
Samosas are great drinking food. As are lamb dumplings. And beef cheek pie. Actually, pretty much everything on the menu at Pub Royale is great with drinks, which include a messy, somewhat-crazy "dressed" can of Hamm's. You'll love it or you'll hate it -- but you won't forget it.
Lincoln Square
Dancen is small, dark, and has a bunch of stuff on the menu that you're probably not familiar with. It's also the kind of place where you should start drinking first, and then ask questions later. Grab a seat at the bar, get a cold pitcher of Hite, order some fire chicken and crispy pork skins to start, and just see how weird things get after the bartender-slash-cook whips up your meal right at the bar.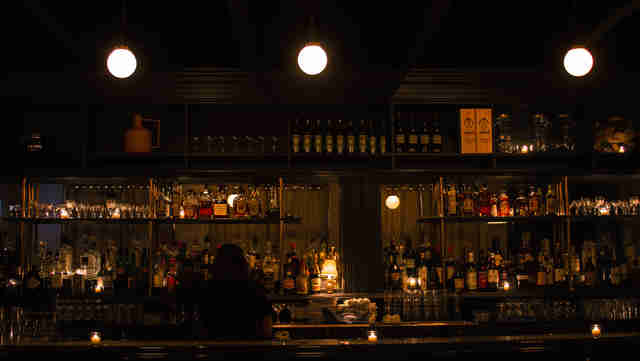 Humboldt Park
Bar Marta is a dim, sexy wine bar with an unassuming façade. It's full of surprises and is an ideal spot for a date, or just stopping in and downing way too much wine and being completely fine with the fact that you don't have a date. The food here is excellent, and including dishes such as salmon crudo, chicken liver toast, and a pork chop with roasted garlic that may make you swear off vegetables forever. And don't sleep on the classic cocktails either.
Old Town
Old Town Social can get a little loud, which makes for an interesting dining experience if you're not into a buzzy scene. Yet, it also sometimes doesn't get its due for putting together a great bar menu that also features some of the best charcuterie in Chicago. Beer-battered cheese curds, deviled eggs, fried pickles, and spicy duck wings all pair well with some cold brews. Yet, serve us a board of mortadella, pate, pepperone, and chicken liver moussem, and we're ready to kick off our shoes and take a nap in a booth.
Sign up here for our daily Chicago email and be the first to get all the food/drink/fun in town.
Raf Miastkowski just wishes he could order ham off the wall at every bar, just like in Barcelona. Holler at him: @RafFoSho