A musician picks out Willie Dixon notes. A pitmaster stands over a metal drum cut in half, coals blazing. It's Saturday night, somewhere on 79th street or Stony Island, and you follow your nose from the bus to the impromptu barbecue stand, telling the pitmaster what you want. He pulls a foot long strip of rib tips off the fire and drops it onto a wooden table, quickly chopping it into pieces with a cleaver. He sets the meat in a cardboard box on top of a couple of slices of Schulze white bread, douses it all with a ladle of mild sauce, and you take off with it under your arms, knowing it will warm your soul. That scene from the 1930s or 1940s is the beginning of Chicago barbecue on the South Side -- a style unique to the African-American parts of Chicago that combined cooking techniques from the Delta with scrap meats from Chicago's stockyards.
Meanwhile, on the North Side, they would still be dousing parboiled ribs in barbecue sauce, wrapping them in foil and baking them in ovens for decades -- what BBQ aficionados sneer at as "Boil-B-Q." But times have changed, and today there's regionally influenced, wood-smoked barbecue all over the North Side -- while Chicago's own historical style struggles to hang in there on the South and West Sides. Here's our assessment of the state of genuine barbecue in Chicago right now.
Grand Crossing
The trailblazer doing Delta style since the '50s
Different sources give you different years for when the Lemons brothers from Indianola, Mississippi first started serving barbecue, but no matter when it is, Lem's is the oldest BBQ stand in the city by a long ways, serving smoky, chewy ribs and rib tips to a steady line of customers all day and night.
Irving Park
The standard-setter for Texas style in Chicago
With Hot Doug retired, Smoque chief Barry Sorkin reigns as the champion of high quality regular guy food in Chicago. His team turns out superior ribs, pulled pork and Texas style brisket (as well as smoked sausage straight from Mikeska's in Taylor, TX) in far-from-the-foodie-spotlight Old Irving Park -- and now in trendy Revival Food Hall downtown, too.
Wicker Park (& other locations)
Trophy-winning BBQ from a high-end chef
Charlie McKenna spent time in fancy kitchens like Tru -- but he also took home trophies at BBQ competitions like Memphis in May. You can taste it all in his pulled pork and authentically Southern sides like pimiento cheese hush puppies and Kool-Aid pickles, and especially in the smoky yet amazingly tender tri-tip.
Grand Boulevard
A modern classic for Chicago style
Honey 1 had to move twice to find its perfect location on 43rd street, but pit master Robert Adams Sr. (and his son Robert Jr.) are happier than ever working the Chicago "aquarium" smoker to turn out mammoth, juicy rib tips and links, as well as being one of the few South Side barbecue spots to dabble in brisket.
West Loop
A Texas roadhouse in the West Loop
A lot of places do the faux-roadhouse design, but no place in Chicago can make you feel like it's a rowdy Saturday night on a Tuesday afternoon quite like this Brendan Sodikoff ride, whose simulacrum effect, happily, extends to solid smoked brisket, ribs, chicken and -- surprisingly -- salmon.
Grand Boulevard
A late Chicago great's family carries on the family tradition
The late Mack Sevier of Uncle John's, regarded by many as Chicago's best pitmaster when he died in 2015, passed his legacy to several Chicago BBQ joints. But this one, owned by his stepdaughter and with the pit run by one of his former employees, is his best heir in the city -- faithfully representing his smoky, satisfying tips and links while adding turkey to the menu.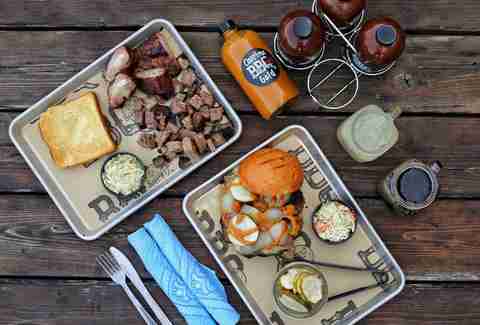 Rogers Park & Hyde Park
BBQ U. is part of this school of meat
Besides his barbecue joint (which originally opened as Rub BBQ), Jared Leonard has tinkered with Nashville hot chicken (the result being The Budlong), and now he's opening food halls in Chicago and Denver. But it all comes back to this Rogers Park location where besides serving mighty fine pulled pork and ribs and Southern sides, he's taught thousands the principles of successful barbecuing in his classes.
Jefferson Park
Business casual BBQ on the Northwest Side
The Northwest Side is light on restaurants, so it's no surprise when you see a whole dress-shirted crew from a local office sitting at the park bench tables, digging into favorites like pulled pork, ribs, smoked Polish sausage and best of all, brisket. Bonus: there's Cheerwine on the drink machine.
Morgan Park
A South Side name just off the highway
I was standing in line at Lem's once and started getting my balls busted a little about what someone so white was doing there. I responded by asking them what other barbecue places they went to -- and suddenly I had ten people trying to tell me which was the best (besides Lem's). The favorite was easily I-57 in Morgan Park, for its textbook-perfect rendition of classic tips and links.
Lakeview
Barbecue without treif
What's BBQ without pork? Well, it can be kosher that way, for one thing, and that's what it is at Milt's, offering beef and chicken smoked meats with a sense of humor that's more 5th Avenue than Sweet Home Alabama.
Bucktown & Logan Square
Korean BBQ -- but not the kind you expect
Korean-born, Southern-raised Bo Fowler is working her way through a good-times empire -- she and her husband opened the English pub Owen & Engine next door, and she's opened an Asian-influenced brewery, BiXi, in Logan Square. But it started, years before Smoque or anybody else, with real BBQ from a Southern Pride cooker in this down-home feeling place perfectly placed for after-movie dining.
Various locations
Surprisingly credible BBQ in a grocery store
Laugh if you want, but you'll smell Todd's BBQ as you're parking on the rooftop at Lawrence and Ravenswood, and the pulled pork and brisket are about as real as southern BBQ's going to get in a food court where they also sell sushi and slice pizza. Kevin Pang at the Tribune investigated, and apparently there really is a Todd, putting an end to speculation it stood for "Total Olfactory Diversionary Directive" or something.
Avalon Park
A hidden gem in Avalon Park
The name notwithstanding, nobody seems to have heard of this place, though you'd think the smoke billowing out the top on Stony Island would be advertisement enough. Pitmaster Kevin Warner plays his cards close to his vest -- the smoker is placed where you can't see what model he's using -- but the proof is in the savory, smoky tips and links.
Avondale
Classic Chicago foods made new
At the tiny food stand inside Avondale's Ludlow Liquors (one of our city's best bars, by the way) chef Nick Jirasek reinvents the Chicago food he grew up on, from "Crab Dragoon" to the pot roast sandwich at The Depot Diner. His take on rib tips starts by smoking them, then takes a turn toward carnitas by frying them and serving them with both a house-made version of mild sauce and a spicy coriander chutney. It's a whole city in a chunk of pork.
Sign up here for our daily Chicago email and be the first to get all the food/drink/fun in town.