When it comes to smoking meats, Chicago has two distinct BBQ cultures you ought to keep tabs on -- the traditional pork-packed South Side style and the newer fusion-y North Side style that combines elements of the other famous types of 'cue. Whereas our Southern counterparts may have more storied histories, our diverse BBQ culture ensures the scene is changing -- a lot. Over the past year, we lost two OG South Side pit masters of long renown, Mack Sevier and James Lemons and one of the mainstay BBQ joints, Barbara Ann's, closed as well. On the plus side, an old favorite made a South Side comeback, and the scene overall is still alive and healthy. (Or at least smoky and tasty.) These 12 spots let you experience the entire multitude of Chicago's very best meaty flavors. 
Recommended Video
Why Haven't You Made Yourself Korean BBQ Tacos Yet?
I-57 Rib House (address and info)
Morgan Park
I was in line at Lem's last summer and started asking people where else they go for BBQ. Every single person who had a second choice at all named I-57 in Morgan Park as their other regular stop. So I went down to the south edge of the city, just off the expressway, and sure enough, it's old-school, no-frills BBQ all the way, and damned good rib tips and links.
Uncle J's Bar B Que (address and info)
Grand Boulevard
Mack Sevier of the great Uncle John's passed away in 2015, but his daughter and her family as well as one of his former pit masters keep his flame alive at this spot just off the Dan Ryan on 47th. The rib tips and sage-tinged smoky hot links are close to dad's, and so is the sweet hot sauce -- while those looking for a healthier alternative to pork can find good smoked turkey here (though bird's still no serious competition for pig in my book).
Crazy Bird Chicken (address and info)
East Garfield Park
As you might guess from the name, this is a fried chicken and soul food-sides place first and foremost, but owner Larry Tucker was one of Chicago's great names in BBQ in the '90s, and he fires up a glass smoker for tips and links on weekends to recall those glory days (call ahead to make sure -- or don't, the worst that can happen is you wind up with some tasty fried chicken).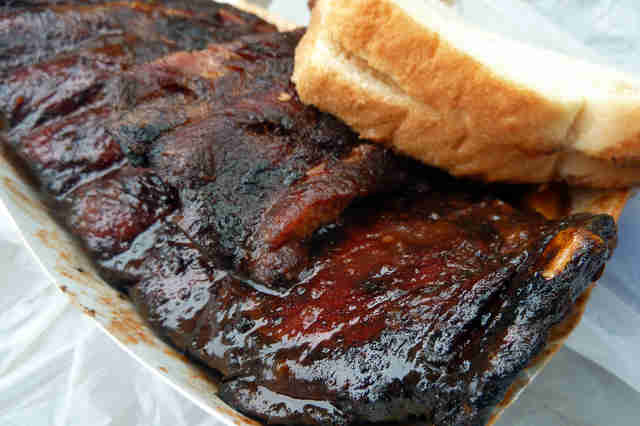 Lem's Bar-B-Q (address and info)
Grand Crossing
The city's oldest BBQ stand lost the last of the Lemons brothers who founded it -- James Lemons passed in December at age 87. But the restaurant is still going strong as ever. Rib tips and links are good, not surprising since Lem's helped establish the rib tip as Chicago's bargain BBQ meat of choice, but the real glory here is a stack of juicy, smoky spare ribs in the vinegary-spicy sauce that put Lem's on the map back in the 1940s.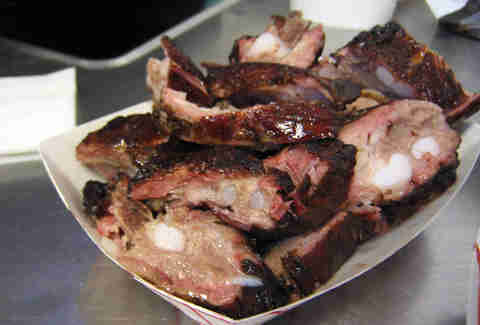 Honey 1 BBQ (address and info)
Grand Boulevard
The former Bucktown favorite moved to the South Side, too recently for last year's list. (You have to give a pit master time to settle in.) But I went there recently with no less a wingman than Daniel Vaughn, barbecue editor for Texas Monthly, and we were in agreement -- pit master Robert Adams is at his peak making great Chicago-style barbecue in the classic style. Along with a Southern meat you don't often see on the south side, brisket. It's a pleasure to give him the number one slot as the place to go and see what South Side-style BBQ is all about.
Rub's Backcountry Smokehouse (address and info)
West Rogers Park
Great, smoky Texas brisket and ribs belch forth from a big black furnace of a smoker, truffle mac and cheese and baked beans are there for sides, while house-made root beer and desserts counteract the cholesterol with a heaping helping of sugar high.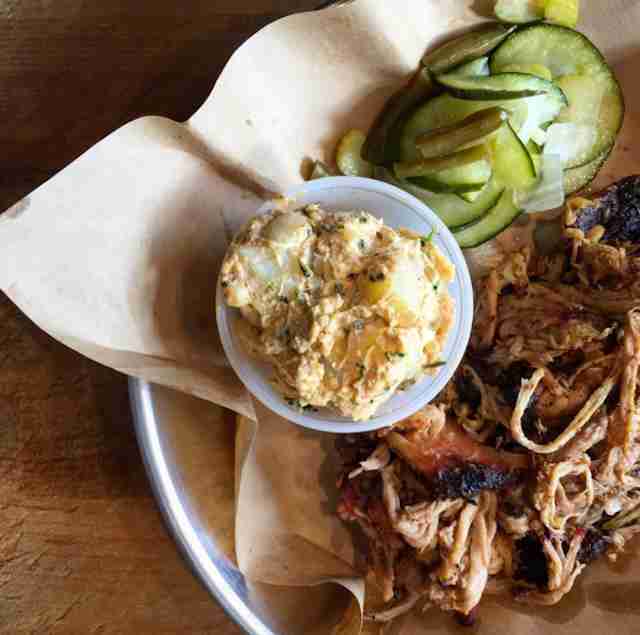 Blackwood BBQ (address and info)
Loop (& other locations)
At first Blackwood BBQ astounded us merely by smoking real barbecue in the Loop. But if that wasn't enough, now they're quietly becoming an empire, opening first near Union Station and now on Lakeview, with more locations planned in what will be our first real BBQ chain on the north side. Hit it for freshly smoked brisket, pulled pork, and more, all good.
Lillie's Q (address and info)
Wicker Park (& other locations)
Charlie McKenna worked at swanky places like Tru while winning barbecue competitions on the side, and combines his two heritages in the unique, gently smoked tri-tip steak. Besides the standards, he also has a nice line in authentic Southern sides, like pimento cheese spread and Brunswick stew.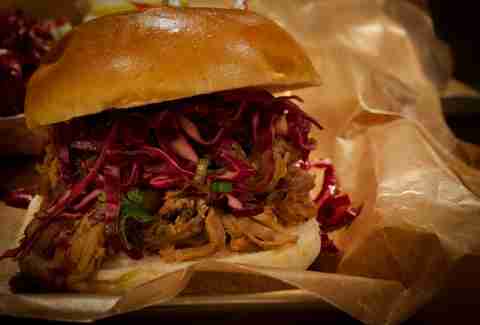 Green Street Smoked Meats (address and info)
West Loop
Restaurateur Brendan Sodikoff breaks out the honky-tonkyest faux-roadhouse a city of eight million ever saw. Brisket, pulled pork, the juicy hot link, and even smoked fish are all first-rate -- the ribs less so -- but if you just want a trashy quickie from the bar, get the Frito pie loaded with the brisket chili.
Pork Shoppe (address and info)
Avondale (& other locations)
The pork belly sandwich -- thick slices of smoky bacon-to-be piled on a sandwich -- is the OMFG on the menu, but beyond that, this is a good spot that does quality brisket (including brisket tacos) and pulled pork, apparently well enough to land a second location in Andersonville.
Smalls (address and info)
Irving Park
Texas barbecue with Asian sides proves to be an inspired combination (who really needed cole slaw, anyway?), and it's no disrespect to the brisket, or the fusiony brisket bibimbop, to say that it's also the one BBQ place where I could also be tempted away by fried chicken -- it's great, too. Nearly no seating, but you can head over to the bar next door and have your 'cue brought over.
Smoque (address and info)
Irving Park
Smoque kicked off the BBQ movement on the North Side not quite a decade ago, delivering great Texas-style 'cue, including brisket, pulled pork, St. Louis ribs, and Rudy Mikeska sausage. It still has lines out the door today, but it's a model for customer service in a busy joint. No Chicago BBQ tour would be complete without a visit to this spot.

Sign up here for our daily Chicago email and be the first to get all the food/drink/fun in town.

Mike Gebert is a James Beard Award-winning food video producer and writer and founder and editor of Fooditor.com. Follow him on Twitter @skyfullofbacon.