The Best Chicago Barbecue for Pickup & Delivery
You can still celebrate summer.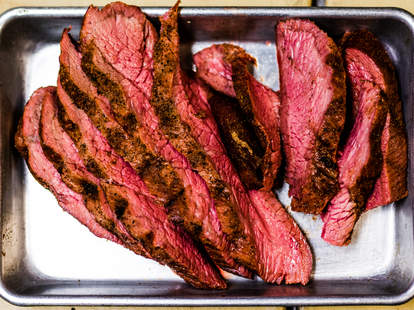 If you're anything like us, summer cuisine means one thing and one thing only: barbecue. But with dine-in restaurants shut down and Mayor Lightfoot patrolling park cookouts with the eagle eye ferociousness of a social distancing assassin, this season's meaty joys will have to come in the form of home delivery and curbside pick-up. Good thing our city is home to dozens of tried and true sauce shacks ready and able to quench your carnivorous cravings.
Lem's BBQ House

| Jim Vondruska/Thrillist
Grand Crossing
When Mississippi-born brothers Bruce and Myles Lemons first opened their modest Southside BBQ shop back in 1954, they had no idea they'd be launching a Chicago institution. Fast-forward 65+ years and the pair's fall-off-the-bone ribs, tender smoked rib tips, crispy fried chicken, and tangy original BBQ sauce continues to elicit a near-constant (and now socially distanced) line out the door.
Call 773-994-2428 for takeout, or order delivery from PostMates or GrubHub
Irving Park
If Texas-style is your thing, this venerable Northside smoke shack has your slow-smoked cravings covered. Unsurprisingly, succulent, perfectly rendered, and bark-topped brisket tops the menu, followed by ribs, pulled pork, and juicy smoked sausages shipped all the way from Taylor, Texas. And save some room for dessert. The pecan bread pudding, thick and velvety beneath a generous drizzle of bourbon caramel sauce, is a true sleeper hit.
Call 773-545-7427 or use Toast for takeout, or order delivery from Caviar or DoorDash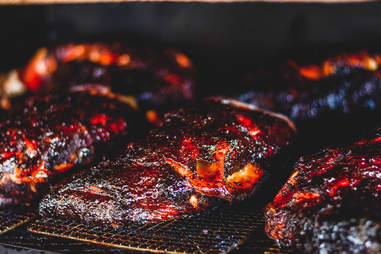 Courtesy of Lillie's Q
West Town
A maestro when it comes to Southern-style seasonings, Chef Charlie McKenna proudly presided over his saucy empire's original North Avenue flagship for a full decade before it permanently shuttered several weeks after the statewide virus-induced lockdown went into effect. Lucky for us, though, the pulled pork specialists are back in action as of this week, setting up shop inside West Town's District Brew Yards and once again wooing us city folk with a diverse array of meaty delights and comfort classic sides. And while we're sad to see the OG location close, we'd be lying if we said we weren't stoked on all the fresh beer and 'cue pairings patiently awaiting our order...
Order takeout and delivery from Caviar or Toast
Courtesy of Green Street Smoked Meats
West Loop
Rustic, rock 'n' roll roadhouse vibes meet cheffy precision inside this West Loop hideout. You might not be able to recreate the atmosphere at home -- depending on your apartment's particular level of late '80s Patrick Swayze aesthetic, of course -- but at least you can eat like a badass with a full bill of brisket, hot links, pulled pork, smoked chicken, ribs, finger lickin' sides, and cold canned beer available for pick-up and delivery. It's a dirty job, but somebody's got to do it.
Order takeout from Toast or delivery from Caviar
River North
This country-fied Lettuce Entertain You staple has transitioned to pick-up and delivery life with unparalleled ease. Stock up on backyard cookout bliss like hickory smoked chicken wings, dreamy baby back ribs, brisket-topped nachos, and waffle fries loaded with pulled pork and molten hot cheese, then wash it all down with a bottle of bargain-priced single barrel bourbon or a refreshing tropical cocktail kit from neighboring tiki icon Three Dots and a Dash.
Call 312-610-4200 for takeout, or order delivery from ChowNow, GrubHub, Caviar, PostMates, or Tock to GoPilsen
Accomplish pitmaster Willie Wagner helms this homey woodclad Pilsen saloon, complete with a stage for live acts, a lavish mahogany back bar, and more hokey cowboy art than an Oklahoma flea market. And while quarantine has silenced the Hank Williams cover bands for the time being, there's nothing stopping you from pulling on your finest wranglers, grabbing a dusty guitar, and jamming away in your living room to a backdrop of peppery dry-rubbed brisket, meaty St. Louis-style ribs, and some of the most flavorful pulled pork this side of Memphis.
Call 312-226-7427 for takeout, or order delivery from GrubHub, Caviar, or ChowNow
Brighton Park
This no-frills Southside counter-serve has been serving up copious amounts of classic Chicago rib tips, chicken dinners with all the fixings, and fiery hot links plus buckets upon buckets of plump Gulf shrimp for the past 75+ years. And like any good BBQ joint worth its rub, fussy dine-in service was never the draw -- a perfect recipe for surviving the shutdown fully intact.
Call 773-247-4360 for takeout, or order delivery from PostMates or DoorDash
Jefferson Park
This old-school 'cue shop offers more than a few incentives to make the trek out to the far Northwest side. For starters, there's the requisite pulled pork, baby back ribs, buttermilk fried chicken, and brisket, all prepared with the signature touch of a seasoned pitmaster. Add to that smoked salmon, overstuffed burritos, Nashville hot chicken sandwiches, smoked Polish sausage, and Cheerwine on draft and you'll wonder why any other joint even bothers serving lunch.
Call 773-628-7870 for takeout, or order delivery from their website, GrubHub. or PostMates.Avalon Park
Pitmaster Sam Gilbert knows his rib tips. Heralded far and wide as some of the city's very best, Gilbert begins by marinating the prized Southside original at length before rubbing them down with a proprietary spice blend and letting them roast slow and low in a giant hickory smoker. Last but not least, he throws the juicy pork nubs atop a fiery grill for the ultimate charred, flame-kissed bark and toothsome bite. A heap of fresh-cut, made-to-order fries serves as a worthy supporting act.
Order takeout online or delivery from GrubHub or DoorDash
Old Town
An Old Town fixture since Old Town was young, this handsome barroom has been quietly dishing up some of Chicago's finest baby back ribs for nearly a century. Old-fashioned fish fry, slow-roasted chicken, stellar BBQ wings, and melt-in-your-mouth hand-pulled pork add some color to the downhome Midwestern nostalgia.
Call 312-266-1616 for takeout, or order delivery from GrubHub or DoorDash
Chicago q

| Courtesy of Neil Burger
Gold Coast
Fine dining barbecue? You betcha. Celebrity chef Art Smith is behind this seemingly contradictory Gold Coast destination, a culinary idea so crazy that it just might work -- and work it does. We're talking brisket meatballs, fried green tomatoes, brisket burnt ends, hanger steak burgers, pulled pork shoulder, and more, each bearing the mouthwatering mark of a bonafide high-end chef. Skip the coat and tie and pitch your own white tablecloth by taking advantage of their expanded delivery and pick-up service.
Call (312) 642-1160 for takeout, or order delivery from GrubHub, Uber Eats, or CaviarSouth Shore
Another Southside favorite, this relative newcomer continues to make a serious play for the area's top barbecue destination with massive smoked turkey legs, spicy rib tips, bold and juicy sausage links, and crunchy fried chicken wings, all glistening under a blanket of invigoratingly zesty yet expertly balanced housemade sauce. And don't sleep on the sides, either -- potato salad, creamy slaw, and hand-cut, never frozen fries drive the whole thing home.
Call 773-966-5018 for takeout, or order delivery from GrubHub or Uber Eats
Sign up here for our daily Chicago email and be the first to get all the food/drink/fun in town.