When it comes to deciding where to go to brunch, we all could use a little help. First of all, you're probably not in the shape to be deciding much of anything on those hungover mornings, and second, the sheer number of restaurants in this city makes it difficult to pick a spot for some weekend indulgence/recovery. Luckily, brunch has become such a part of our culture that one of Chicago's best restaurants is guaranteed to be serving Benedicts and Bloodys in your neighborhood. We've handpicked the best of those for you, so you can pretty much just roll out of bed -- no debating, deciding, or traveling required. 
Andersonville
Big Jones
Comfort food classics with Southern charm
Big Jones is focused on Southern cooking with heirloom and heritage ingredients, which are studded throughout its brunch menu. The cozy and charming dining room is the perfect place to enjoy Southern classics like shrimp & grits in a house tasso gravy with creamy heirloom cheese grits, or corn cakes with peas, Hook's Cheddar, tomato gravy, avocado, creme fraiche, and eggs. Enjoy Big Jones' famous fried chicken in sandwich form with the sweet and spicy chicken sandwich topped with pickles and a sunny egg on a biscuit. Add a side of popovers or skillet cornbread to complete your brunch.
M Henry
Hot cakes, pastries, and Benedicts with a hidden patio
Try any version of M Henry's bliss cakes: hotcakes topped with fresh fruit like rhubarb or mango, plus mascarpone cream, brown sugar, and crunchy oats, or their famous Breakfast Bread Pudding: a bowl of vanilla and egg custard brioche bread pudding, topped with warm peaches & blackberries. Savory options include two varieties of Benedicts, such as a shrimp and corn cake version and a prosciutto and asparagus option. The huge patio tucked away behind Clark Street is a welcome respite from city life and a perfect spot to take advantage of M Henry's BYOB policy.
Gold Coast
Somerset
Seasonal American plates inside the Viceroy Chicago
Executive Chef Lee Wolen's brunch menu is vast, meaning you'll need to make some tough decisions. Consider the fried chicken & French toast with sriracha honey and whipped butter or baked eggs with spicy tomato, feta, merguez sausage, and grilled bread. Here you must try plenty of pastries like the Gooey Butter coffee cake or Nutella pop tart from talented pastry chef Meg Galus. Feeling festive? Share a punch bowl with your brunch companions like the Competitor's Punch with vodka, raspberry, lime, and soda water, plus a full bottle of cava.
Walton Street Kitchen + Bar
Unlimited booze and indulgent brunch plates in an expansive Gold Coast dining room
The team that brought you Gemini and Coda Di Volpe is crafting massive, tasty brunch dishes in the heart of the Gold Coast. Start with a flight of seasonal breakfast pastries like the apple pie bar with candied walnuts, the raspberry jam donut, or the perfect cinnamon roll. Savory standouts include the breakfast sandwich piled high with bacon, egg, cheddar, and tomato jam on a soft English muffin, and blueberry pancakes with oatmeal crumble and chantilly cream Tack on unlimited brunch cocktails like mimosas, Aperol spritzes, or house wine, for $22.
3 Arts Club Cafe
The perfect scrambled eggs with a side of people watching
While more than a special occasion brunch rather than a staple in your brunch rotation, 3 Arts Club Cafe delivers a quality scene along with quality food. This restaurant housed inside Restoration Hardware's Gold Coast store features a menu of decadent dishes like the RH Scramble with farm eggs, creme fraiche, avocado, and chives. Feeling extra decadent? Top it off with fresh Australian black truffles. Other standouts include the brunch-only truffled grilled cheese, smoked malmon with charred sourdough, and the favorite RH burger with Dijonnaise, sharp American cheese, pickles, and onion.
Maple & Ash
An over-the-top steakhouse with a hearty brunch buffet
Maple & Ash goes all out on Sundays with its station-style brunch. Eat to your heart's content with options including a meat carving station, an omelet station, fruit and pastries, and traditional brunch accouterments like potatoes, bacon, sausage, and waffles. A la carte options like a seafood tower and steaks can be added on if you're feeling extra indulgent. Wash it all down with mimosa service.
Hyde Park
Virtue
Southern hospitality from Chef Erick Williams
Dining at Virtue is a lesson in hospitality, where the food is as comforting as the service. Start with the cinnamon roll with cream cheese icing or the crunchy French toast with banana pudding, fresh bananas, and nilla wafers. Don't leave without trying the green tomatoes & shrimp with fried green tomatoes, shrimp, remoulade, and egg. Other standouts include biscuits & gravy and chicken & waffles served with boneless fried chicken, strawberries, and whipped cream.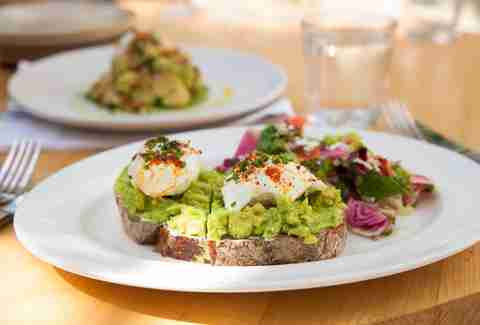 Lincoln Park
Summer House Santa Monica
A taste of California in the heart of Lincoln Park
When you're looking to escape Chicago in the middle of winter, look no further than Summer House. The West Coast-inspired vibe and menu features a wide selection of breakfast sandwiches, omelets, pancakes, and lighter fare. Summer House's famous homemade English muffins provide the perfect canvas for its Commuter sandwich served with tomato, Cheddar, spicy mayo, and bacon, sausage, or avocado. Try the Mexican Hashbrowns with Oaxaca cheese, charred tomato salsa, avocado, and sunny side eggs, or the chocolate chip waffle with fudge syrup and cocoa whipped cream. Be sure to save room for big-as-your-face cookies and Rice Krispies Treats at the bakery counter.
Lincoln Square
Luella's Southern Kitchen
Southern eats meet soulful treats in an intimate neighborhood dining room
Here you'll find the usual suspects like shrimp and grits, and biscuits and gravy, but it's the more unique dishes like Kale Ambrosia with kale, citrus segments, pineapple, goat cheese, candied pecans, toasted coconut, and cranberry vinaigrette, or the Nashville hot chicken & waffles served with a Belgian liege waffle. Sweet offerings include brown sugar and bourbon French toast made with homemade challah.
Logan Square
Lula Cafe
A Chicago classic that keeps things simple, yet superb
Lula Cafe keeps its brunch menu constantly shifting, reflecting seasonal flavors and ingredients. What the limited menu lacks in number of menu items it makes up in quality of ingredients. Savory items include a buckwheat crepe with duck confit, turnip, spring onion, burrata, and sunny eggs, as well as a rotating breakfast sandwich with ingredients like pork cutlet, smoked gouda, napa cabbage, cherry vinaigrette, and a sunny-side egg. Seasonal pastries round out the menu with the likes of a blueberry galette and beet and hazelnut tea cake on a recent menu.
Pilsen
S.K.Y.
A playful take on weekend dim sum
Every weekend, S.K.Y. offers a three-course dim sum menu for $28. Choose your own adventure from a selection of 12 different dishes like warm maitake mushrooms with lemon vinaigrette and goat cheese, bacon & egg fried rice with ginger-garlic butter and hot sauce, or coconut pancakes with coconut maple syrup. Add on a la carte items to round out your experience including dishes from S.K.Y.'s dinner menu such as the Maine lobster dumplings or black truffle croquettes.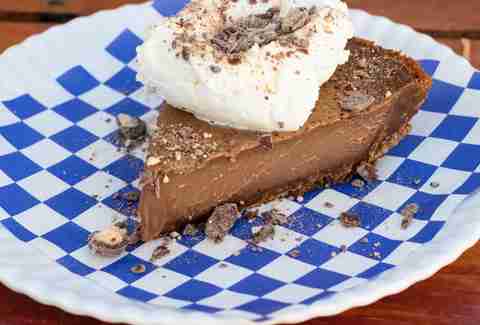 Ravenswood
Bang Bang Pie & Biscuits
Flaky biscuits, indulgent biscuit sandwiches, and decadent pies
You know what to do here: order biscuit sandwiches and pies (and biscuits to-go). The avocado biscuit with cucumber, tomato, red onion, tahini, feta, and parsley is an amped-up version of avocado toast, and you can't go wrong with the pimento biscuit with maple-glazed ham, pimento cheese, jam, and a pickle. Once you feed your savory craving, indulge in a rotating line-up of pies by the slice like the chocolate malt with malted dark chocolate custard, whipped cream, malted milk balls, and graham crust, or the seasonal peach with peaches, brown sugar cornmeal crumble, and leaf lard pastry crust.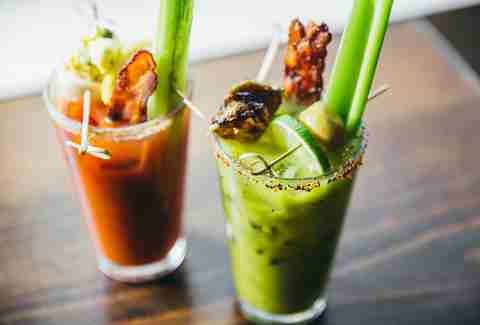 River North
Beatrix
Better-for-you fare meets an irresistible pastry case
At Beatrix you don't need to compromise flavor for healthy eats. Choose from a selection of flavorful brunch dishes like the quinoa cakes with poached eggs served with tomato-basil sauce, poached egg mayo and herbs, or cauliflower grits & eggs with fried eggs, crispy Brussels sprouts, and Parmesan. A trip to Beatrix is not complete without paying a visit to the pastry case where you can pick up a cinnamon bun, coffee cake, or Beatrix's outrageously decadent Oh My! Caramel Pie.
Pizzeria Portofino
Coastal Italian vibes on the Chicago River
Hot spot Pizzeria Portofino recently introduced weekend brunch, giving you more opportunities to snag a coveted reservation. Start with pastries like the homemade cornettos (aka Italian croissants) with your choice of lemon curd, vanilla custard, or Nutella filling. The simple menu is rounded out with egg dishes like Eggs in Purgatory and eggs Florentine, as well as brunch-inspired pies like the Carbonara & Farm egg with pancetta, bucatini, and black pepper.
South Loop
Manny's Deli
A cafeteria classic with hearty deli staples and diner-style breakfast
This Chicago classic has been around since 1942, meaning they know a thing or two about keeping locals well-fed. Shuffle down the cafeteria line picking up dishes like Manny's famous corned beef hash & eggs or breakfast Reuben with eggs, corned beef, sauerkraut, swiss cheese, potato pancake, and a side of Thousand Island dressing. Other classic include matzo brie and babka French toast.
West Loop
The Publican
Pork-centric plates and pastries when you really want to treat yourself
With one of the most creative brunch menus on this list, you're bound to find a dish you've never tried before at The Publican's brunch. The pork belly hash is a stand by, but don't knock the blueberry smoked salmon with brown butter caper cream cheese, or the breakfast spaghetti with basil sunflower pesto, Calabrian chili, and a poached egg. Pair it with a fresh pastry like the cinnamon streusel coffee cake or pull-apart rolls with salami, chive, and Parmesan. In the industry? Check out the industry brunch offered on Mondays.
Saint Lou's Assembly
Kicked-up brunch classics with a killer patio
While Saint Lou's is well-known for its meat-and-three combo plates, it also serves up a mean brunch menu. Options include a Tamale Hash with masa, black bean pico de gallo, queso fresco, carnitas, jalapenos, ancho chilies, and poached eggs, as well as its famous fried chicken bucket served with waffles, maple syrup, and butter. A selection of rotating brunch specials keep things interesting.
Roister
Proving the Alinea Group isn't just about fine dining
If you know anything about Roister, it's that it makes a killer fried chicken. If you're not able to snag a dinner reservation, stop by for brunch when you can try the famous chicken in sandwich form with togarashi hot sauce and chamomile mayo, or atop a waffle with honey butter and whiskey syrup. Other elevated brunch options include foie gras toast with strawberry jam and Marcona almonds. Boozy brunch beverages add a bit of intrigue; you'll find a mimosa with orange marmalade and brioche, as well as a take on a Bloody Mary with heirloom tomatoes and savory black garlic.
Little Goat Diner
Elevated diner food from celebrity chef Stephanie Izard
If a hangover helper is what you're in need of, Little Goat Diner will fit the bill. The huge all-day breakfast menu is globally inspired and has something for everyone. Try the sesame Cheddar biscuit with sunny side eggs, Sichuan pork sausage, chili garlic chive sauce, and gooseberries, the everything seasoning crumpets with tzatziki cream cheese, lox, and fried egg salad or the Parathas Burrito with chili pepper sauce, avocado-bean salad, sunny side eggs, and MontAmore cheese.
West Town
Beatnik
A boho-styled restaurant where the plates are almost as colorful as the decor
What's better than a cinnamon roll? A caramelized banana cinnamon roll with miso caramel sauce and cream cheese frosting. After starting brunch on a sweet note, opt for the Spanish tortilla with uni and smoked trout roe or the shakshuka with duck eggs. Wash it all down with a bourbon and coffee cocktail or a pisco slushie.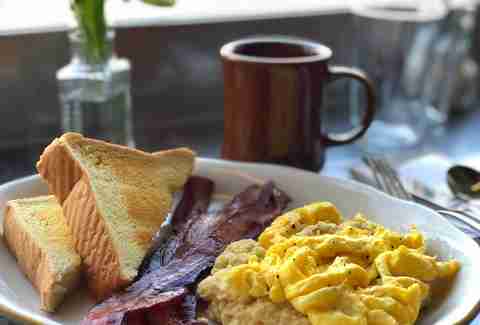 Wicker Park
Dove's Luncheonette
Hearty Southern-inspired Mexican plates in a '60s-inspired diner
Mex-Tex is the name of the game here, and you can't leave without trying the burnt ends hash with crispy potatoes, brisket burnt ends, poblanos, cheddar cheese aioli, queso fresco, fried eggs, scallions, and Texas toast. Other favorites include the chicken fried chicken with chorizo verde gravy and the pozole rojo with carnitas. Don't forget to lather on that house hot sauce. It'll kick up anything on your plate.
Mott St
French toast to Benedicts, with an Asian flare  
If you're the last person in Chicago to try the famous Mott burger, you'll get your chance during brunch at Mott Street. But it's the playful dishes like pork belly Benedict with oyster mushrooms and miso, or the kalbi and eggs with kimchi that make brunch at Mott a special treat.
Sign up here for our daily Chicago email and be the first to get all the food/drink/fun in town.