You already know where to find the best brunches in Chicago, and where to find the booziest brunches in Chicago, but you still don't know where to find the neighborhood...iest brunches in Chicago. This should help: here's the best brunch in 19 different Chicago 'hoods.
Andersonville
Big Jones (address and info)
Hearty, Southern heirloom cooking rooted in traditional techniques and flavors is the name of the game at this quaint restaurant along Andersonville's main drag. Go for the Bayou Teche omelet, bursting with crawfish and andouille; stay for the cornbread muffins and artisanal popovers.

Bridgeport
Nana (address and info)
Farm-to-table brunch never looked as good as it does at Nana. Most of the menu changes on the regular, based on what's in season, but you can expect a handful of signature dishes -- like the "nanadict" (poached eggs, chorizo, pupusas, poblano cream, farm greens, home fries, and baked chilaquiles) -- year round.
Bucktown
Mindy's Hot Chocolate (address and info)
Brunch at Mindy Segal's Damen Ave eatery is one of the few times (maybe the only?) in Chicago we'd gladly forgo a cocktail in favor of hot chocolate studded with house-made marshmallows. Team your drink with pillowy buttermilk pancakes or a sky-high breakfast BLT with bacon, heirloom tomatoes, Bibb lettuce, avocado aioli, fried farm egg, house brioche, and breakfast potatoes.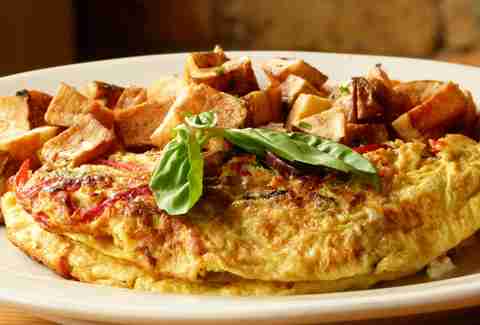 Edgewater
Uncommon Ground (address and info)
Lauded as the one of the "greenest restaurants in America", UG is an OG where certified organic rooftop gardens and locally sourced eats are concerned. The menu changes frequently, but noteworthy recent finds include the smoked maple Gunthorp chicken hash, strawberry-rhubarb pancakes, and blackened catfish with a poached egg and a dill sauce made with rooftop-grown herbs.

Gold Coast
Chicago Q (address and info)
Score brunch with a delicious down-home BBQ twist at this Downtown destination. Chef/partner Lee Ann Whippen's signature fare spans from sweet potato pancakes smothered in pecan butter and bourbon maple syrup, to a build-your-own Bloody Mary bar and Kobe brisket eggs Benedict.
Hyde Park
A10 (address and info)
This eccentric Matthias Merges (of Yusho and Billy Sunday fame) concept is home to a killer 10am-2pm Sunday brunch with everything from duck cassoulet and fried mortadella Benedict to tiramisu French toast and olive oil donuts with lemon curd and thyme. Let those word combinations sink in for a minute.

Irving Park
Bread & Wine (address and info)
A self-proclaimed neighborhood American bistro, Bread & Wine offers an amalgam of light and hearty brunch fare -- a seasonal omelet and poached peaches cover the lighter side, while the whiskey-glazed cinnamon roll, breakfast banh mi (pork belly, ham rillettes, kimchi, fried eggs, hash browns), and cheese & house charcuterie spreads round out (literally!) the heavier side.
Lakeview
Waffles Café (address and info)
As the old saying goes, "When at Waffles Café, get, uh, waffles". Seriously, this place has waffle flights (red velvet, green tea, Mexican chocolate, and Liège with apple compote), wonuts, waffle fries, and waffles Benedict with slow-roasted pork shoulder. Pro tip: pair your waffles with a milkshake, 'cause what's a little more sugar at this point?
Lincoln Park
2 Sparrows (address and info)
Fill up on shrimp & grits made with Three Sisters cornmeal, cream collard greens, and seared shrimp at this recently redesigned Diversey mainstay, and grab their latest savory pop tart: mushroom and goat cheese. Thirsty? They've got bramble soda (a medley of berries and rosemary-infused simple syrup) and 2 Sparrows Shandy for that.

Lincoln Square
Gather (address and info)
Tucked away in the heart of the neighborhood, this quiet hideaway offers a concise menu that hits all the right "classic brunch" notes: fluffy flapjacks, cured salmon with the necessary accoutrements, eggs Benny with a hint of truffle, crispy home fries, and Intelligentsia coffee.
Logan Square
Longman & Eagle (address and info)
L&E doesn't do brunch. It does MICHELIN-STARRED brunch, which means award-winning eats from Chef Jared Wentworth, like the inventive piña colada French toast or the porcine-heavy Whole Hog Crépinette, served with Southern-style cheesy grits, collard greens, and natural maple jus.

Pilsen
Nightwood (address and info)
The eats on Nightwood's handwritten menu include fresh-baked donuts, a spit-roasted Slagel Farm pork loin grinder layered with braised collard greens, provolone, and olive tapenade aioli, and the Nightwood Burger, which'll give you some... uh... never mind.
River North
Bottlefork (address and info)
There is absolutely nothing ordinary about Bottlefork's brunch menu, which is kinda the best part. Sip the inventive coffee cocktail (bourbon, Sherry, maple, Stumptown Cold Brew Coffee, egg, salt), do a bag of sour cream donut holes with bourbon "Old Fashioned" jam (wut), Richie's Mom's Cast Iron Baked French Toast, and the Rich Man Po' Boy, loaded with lobster and crispy oysters on a foie-coated, buttered brioche roll.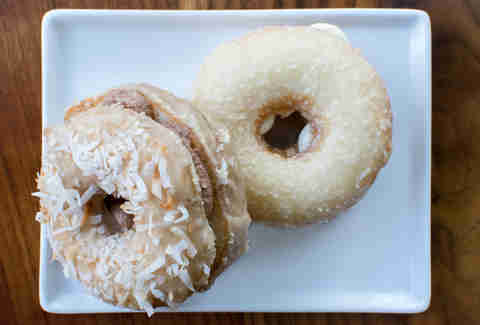 University Village
Sweet Maple Café (address and info)
This unassuming storefront on Taylor St is one of Chi's best examples of a good, old-fashioned brunch diner. The menu blends old family recipes (like the Holiday French Toast) with breakfast-y staples like country scrambles, build-your-own home fries, and sweet homemade muffins, and marries them all in the kind of environment that begs you to sit back, sip coffee, and eat until it hurts.

West Loop
The Publican (address and info)
Who would we be if we didn't include a Paul Kahan resto on this list? A terrible person, that's who. Navigate your way through the dill-infused lobster scramble, corned beef hash, and apple cider-glazed donuts at his Fulton Market institution, then wash it all down with a Smokin' Mary (FEW white whiskey, chipotle house mix, stout, and a beer accompaniment of your choice) and $3 bottomless coffee.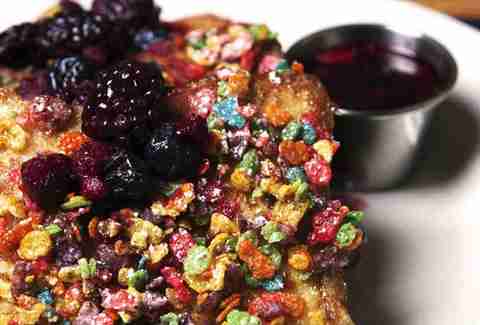 West Town
Flo (address and info)
Fruity Pebbles and Cocoa Pebbles French toast. We could mention the skirt steak eggs Benedict with chipotle hollandaise, too, but really, do we even need to?

Wicker Park
Milk & Honey (address and info)
Cozy, consistent, and entirely unpretentious, M&H has reigned as a neighborhood favorite for well over a decade thanks in delicious part to "casserole-style" huevos rancheros and orange brioche French toast.
Sign up here for our daily Chicago email and be the first to get all the food/drink/fun in town.
Kailley Lindman is a contributing writer for Thrillist Chicago, as well as a food blogger, bacon enthusiast, and devout user of the Oxford comma. Follow her at @KailleysKitchen.