I've always had a soft spot for Chicago. I've been regularly visiting the Midwest's Paris since I was in college, and I love everything about it. The beautiful brownstones. The 20-somethings playing beach volleyball on the lake in the summer. The infinity sports bars with menus long on fried things with cheese. But Chicago's true North Star is its meat. Few American cities take as much pride in their steakhouses, and cities with great steakhouses translate into cities with great burgers. That's just logic.
I also had the benefit of relying on the noted burger expertise of our Chicago native Executive Editor Matt Lynch and my friend/amateur Chicago burger enthusiast Josh Farber. Over the course of 48 hours, with their help, I hit burger spots from Logan Circle and the West Loop to Downtown and the Southside.  
In case you're new to my rankings, here are some guidelines: If the restaurant had multiple burgers, I tried to order its signature burger, or if that was too outlandish and stunt-y, the closest to a classic cheeseburger. If it came with options, I always picked American cheese and grilled onions. If you think I missed a place, please write a clever yet insulting sign and display it in the background on ESPN's College GameDay, or fax me some swear words. But until then, here is my ranking of the 11 best burgers in Chicago.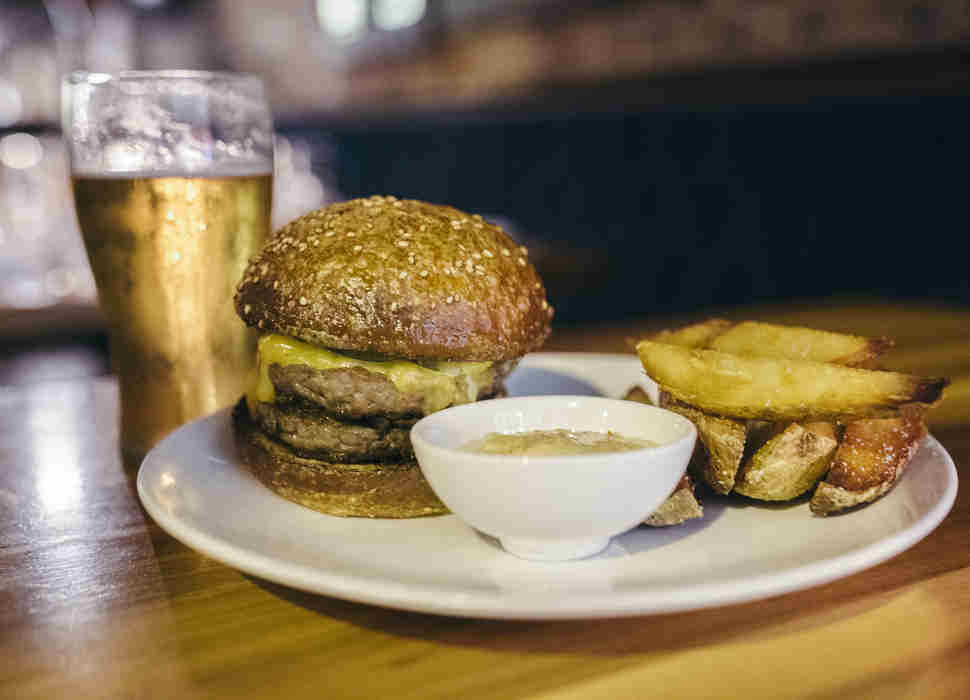 11. Trench Double Burger
Trencherman
Address and Info
We were at Trencherman late night, amidst a crowd of guys wearing gingham shirts saying bad things about Jay Cutler. And perhaps I can blame a little of it on the timing or the downer vibes coming off the gingham, but, like Cutler, the burger had some issues. Though the patties had good flavor, they were a bit compressed, almost as if they'd been over-handled. And one patty was nearly cooked all the way through while the other was medium rare. The bread & butter pickles offered up some needed acid, but couldn't quite bring it back. With better execution, I'm sure the burger is worth the hype, unfortunately that wasn't the case on this visit.
10. The Neurosis
Kuma's Corner
Address and Info
Kuma's has been on my list of burger places to hit in the US since 2005, which was when they opened up in Avondale and hit it big time with their lineup of giant stunt burgers and delicious beers.

Deciding on a burger was difficult, as I tried to stick to my guns and get the most basic one available. Eventually I settled on the Neurosis, and not the Kuma Burger, because I didn't want the bacon and egg clouding my judgment.

The flavor of the meat was fantastic, though almost exceedingly rich, especially with the horseradish mayo, two types of cheese and no acid from pickles or any other vinegar-soaked instrument to cut through things. The only real problem, however, is my own personal pet peeve: The bun was not toasted and thus got soggy from the high-quality meat very quickly. I know Kuma's doesn't need my help considering they're packing 'em in each night even now 11 years down the road, but trust me when I say, a little toasting of the buns would go a long, long way. Please don't hurt me.
9. Royale with Cheese
Pub Royale
Address and Info
I can't say I've gone to a ton of Anglo-Indian pubs, so I was damn excited to hit up Pub Royale in Wicker Park, and, after consulting the menu, realized that I actually wanted to order pretty much everything else. BUT I DID NOT because I am a professional with amazing willpower. Matt, on the other hand, is weak-willed and might've ordered the India Hot Chicken, and I may've been polite and had a few bites just to maintain appearances and not embarrass him.

But this isn't a story about Matt's horrible willpower. Let's talk about the burger. Per the Anglo-Indian take, there was a distinct but subtle Indian spice on the meat, which threw me off at first, though I eventually took to it. The true stand-out was the spicy pickles, which added fire and acid to balance against the aioli, aged cheddar, and that beef, which had a good texture and char, but sat somewhere in no-man's land between a steakhouse and traditional diner burger. I'd actually have loved the burger with slightly less spice in order to let the meat speak for itself, but still a solid, unique burger.
8. Old Fashioned Cheeseburger, Big O-style
M Burger
Address and Info
"It's the Chicago In-N-Out," said every single person I met, upon realizing I came from California and planned to go to M Burger. And yes, there are certain elements that scream In-N-Out -- simple menu with secret elements, thin patties, soft bun, special sauce, American cheese -- but it's not In-N-Out, OKAY?!!?

(Actually, it might be nearly as good as In-N-Out, but I'm going to use parentheses to make that point in case anyone else from California is reading this right now.)

Seriously though, I'm not going to go too deep on this other than to say that this is one of the great fast-food burgers I've had on my travels, but Chicago's burger talent is deep, so that only puts it at number eight.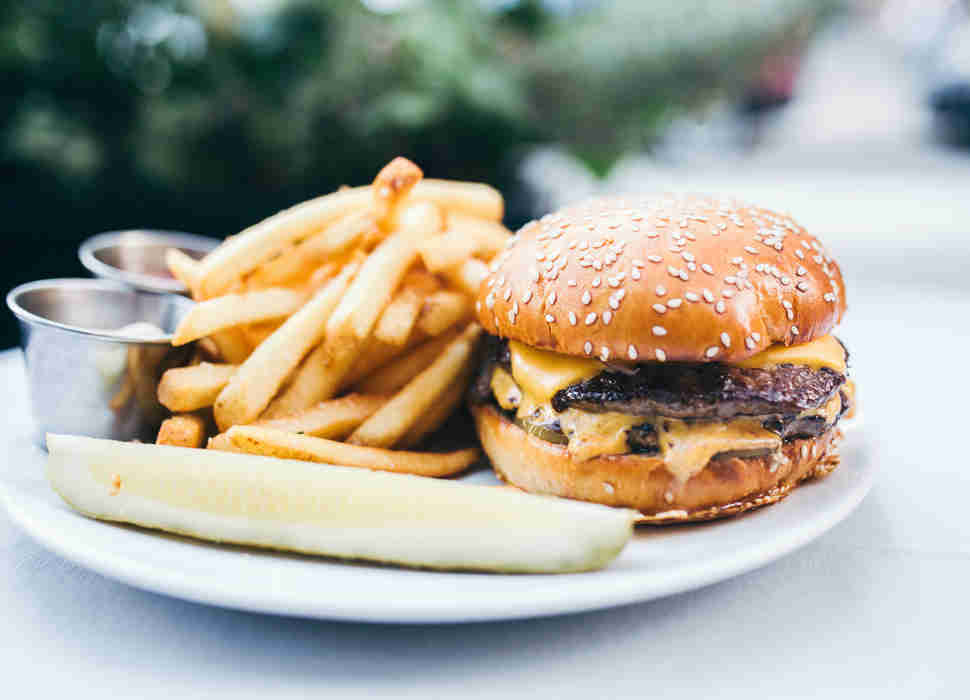 7. Downstairs Burger
Maple & Ash
Address and Info
Upon entering Maple & Ash, I realized that there was a good chance I was out of my league. Perhaps I hadn't factored in that most of the other diners would be taking down impressive slabs of bone marrow while wearing sport coats or other forms of business casual and that my Vans might seem distinctly out of place, but still I plodded on, because I have journalistic integrity and was also too embarrassed to leave and come back wearing a borrowed top hat. I took my place amongst the interlopers at the more casual bar, and got the Downstairs Burger, by far one of the more aesthetically pleasing burgers I've ever encountered.

Look at the picture of that thing. If burgers had yearbook superlatives, this is a lock for best looking. But enough superficiality, it's what's on the inside of those buns that counts. And this was a really well-balanced burger. The texture and grind of the meat was loose enough that you could really taste the freshness, and the balance of the red onions, pickles, and Dijonnaise countered the Cheddar and meat nicely. It didn't blow me away, but it's definitely a burger I wouldn't mind coming back to.

(Editor's Note: Apologies if it sounds like Kevin is actually considering dating this burger, romantically).
6. 1/4lb cheeseburger with American
Top Notch Beefburgers
Address and Info
There is something glorious about places like Top Notch, something that gets me all nostalgic and feeling like standing up and saying the "National Anthem" and wearing my one awkwardly tight swimsuit that looks like an American flag. Anyway, they give you choices here, but the true move is to get the 1/4lb burger, since it is the thin diner-style patty I crave, with just the right amount of char. The American melds with the onions, the basic pickles offer up a bit of acid, and the toasted bun seems fresh and delicious, and all is right in the world (for a couple of minutes, at least).
5. Acadia Burger (single)
Acadia
Address and Info
Also the name of a mid-size SUV from the good people of GMC, I was pleasantly surprised/confused to find out Acadia's cuisine was inspired by "coastal Maine." The burger is less a Maine relic and more in the modern vein of the new upscale bar burger, but I'm hardly complaining about that.

The grind of three meats created a juicy, perfect medium patty, which melds with the Gruyere and Mornay to give it a super-rich flavor that nearly overwhelms any attempts by the house-made pickles and bacon-onion jam to play a leading role. Although I would maybe suggest the Mornay on the side, this burger is still a delicious reminder of a Maine I've never been to, but now want to visit dearly.

Oh, and if you're eating other things, don't you dare be a heathen and get their lobster roll "Connecticut style."
4. Double Cheeseburger
Johnny's Grill
Address and Info
When Sarah Jordan took over the old Johnny's, there was some worrying that she would re-imagine the space too drastically, turning it unrecognizable. Looking back now, that was a stupid thing to worry about. Basically all she did was re-imagine the menu in a more modern light, and give Logan Square a great diner with underrated drinks and a damn good burger.

The double is greasy, OK? Like in most Midwestern cities, the butter use is liberal and slightly over-the-top, reminding me of the famed butter burgers of Wisconsin. But putting aside the butter for a moment, all the other elements click into place. The bun is soft and fresh and could use just a touch more toasting, the griddled patties are salty but not overly so, and the meat crumbles in a delicate way suggesting a knowledgable grind. Add in the pickles to cut through that butter with some much needed acid and you have one of the better burgers in the city. Oh, and a damn good lime gimlet.
3. Slagel Farms Beef Burger
Owen & Engine
Address and Info
Look at that picture. Now imagine someone took a delicious bowl of French onion soup and strained out the very best and most flavorful onions, and then they perfectly seared both ends of a medium sized Slagel Farms chuck/short rib/brisket patty, and placed it atop a house-made potato bun. And that was it. No tricks or sleight-of-hand sauces or even cheese. Now imagine that burger being so incredibly flavorful and juicy that you're only concern is just what sort of depressive withdrawal you'd go through when it was over. Now look at the picture again.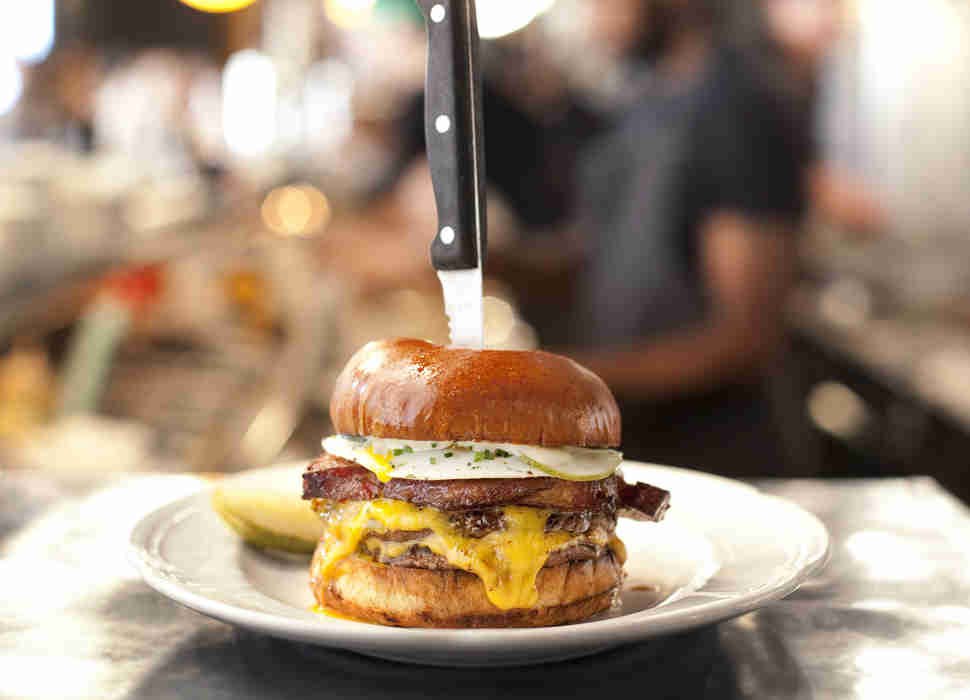 2. Single Cheeseburger
Au Cheval
Address and Info
(Author's Note: I also went to Small Cheval to see if there was much of a difference, but because it's negligible, I'm just going to focus on Au Cheval here.)

Au Cheval is where I fell in love with burgers again. Every year, our Chief Creative Officer Ben Robinson and myself would travel out to Chicago to pick up Matt Lynch and force him to drive us to Iowa to watch a college basketball game. It was a ritual left over from a previous era in the mid-aughts, when we used to have a somewhat successful college basketball side blog, BUT THAT'S A WHOLE OTHER STORY.

Anyway, before we trekked to Iowa, we would always go to Au Cheval for dinner the night before, to enjoy all the glorious egg-topped creations they offer, but mostly for that burger. The experience of eating an Au Cheval burger for the first time is hard to put into words, but it's essentially a burger baptism -- biting into that perfectly charred meat, simply adorned with chopped red onion, mayo, cracked pepper, pickle, and cheese changes you, possibly even in God's eyes. It is one of the purest burger ideals in the country. And yet, crazily enough, in Chicago's burger Olympics, I think it stands on the silver podium.
1. Mott Burger (bar only)
Mott Street
Address and Info
About a year ago, after proclaiming my undying loyalty to Au Cheval's burger, my friend Josh sent me a note. "I think I've got a burger here that beats Au Cheval," he said. I dismissed him and called him swear words. After all, Au Cheval is one of the best burgers I'd had all over the country. And now he's telling me to go to some Asian restaurant?

"What is wrong with you?" I asked Josh. "Just wait," he said, and then went and made some cool soccer clothes.

Now look: I am just slightly big enough of a man to admit I'm wrong, and boy was I wrong here. Mott Street's bar burger is a revelation, an Asian-leaning riff on all the classic elements of the cheeseburger, a beef ballad composed by the gods with help from one of those Swedish hitmakers.

The double chuck patties were juicy and perfectly cooked, the griddled meat and fat blending in with the miso butter, American cheese, and brilliant hoisin aioli to give you a ton of fatty, salty, umami action. But then the pickled jalapeño and hamburger dills bring the balance back from the brink, and those sweet potato shoestrings add crunch, almost as if you stuffed some delicious chips in the burger, but their matchstick size means they only complement without overwhelming. Josh was right, the burger at Mott Street's bar is the best burger in Chicago, and certainly in the running for best in America. I'll see you at the bar, friends.
Sign up here for our daily Chicago email and be the first to get all the food/drink/fun in town.