The grand journey that is life affords many pleasures, and one of those pleasures that we'll never, ever get sick of is eating burgers. And all great burgers require great lists. So yeah, there are plenty of burgers to be had in Chicago, but the thing about THESE ones is that they're new, so go eat all 10 of 'em.
Grass Fed Burger
Bread & Wine (address and info)
Irving Park
While Bread & Wine has already featured the Grass Fed Burger on its menu for a hot minute, the kitchen has recently added Chef Caleb Trahan, who promptly refreshed this dish and put his own spin on it. It's topped with cheddar cheese, crispy onions, beer mustard, and served with a side of fries. However, perhaps the most impressive feature of this meaty creation is its pretzel bun, which is made in-house daily and is also pillowy enough to take a nap on.
Gold Coast Burger
Nico Osteria (address and info)
Gold Coast
If you're going to name a burger after the Gold Coast, it should definitely be made with the fanciest of toppings: lobster. Nico Osteria's elegant burger also adds avocado, gem lettuce, and pickled Fresno peppers. The result is an intriguing meal that will make diners feel like their personal butler is giving them a piggyback ride across flavor country. On the double, Jeeves!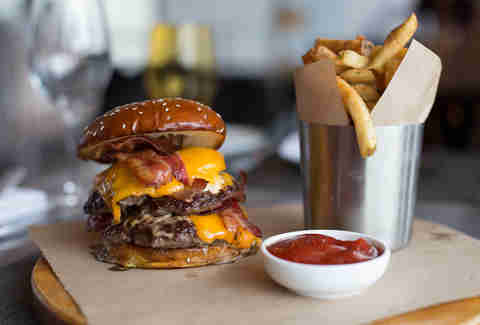 Griddled Bacon Cheeseburger
Current (address and info)
Streeterville
This brand-spanking-new burger tops a 4oz Slagel Farms patty with pickles, American cheese, and Russian dressing. It's also available in a single-, double-, or triple-patty version, which will make you feel like a boss when you order it with three patties. Because of course you're going to order three patties. Right? RIGHT.
7L Cheeseburger
Seven Lions (address and info)
Loop
The 7L Cheeseburger at Seven Lions may seem a touch modest upon first glance, but like a piñata filled with Rolex watches, it's what's inside that really counts. Made with two patties topped with sautéed red onions and served with pickles and a house-made fry sauce, this manageable burger is a nice option if you also don't feel like wearing a HazMat suit to avoid stains.
Wolf Burger
Little Bad Wolf (address and info)
Andersonville
This inviting Andersonville spot offers a pan-global menu that caters to curious taste buds with everything from tacos and elotes, to bao buns and charcuterie. One of the highlights is the semi-intimidating Wolf Burger, which looks just like the kind of meal a Game of Thrones man-at-arms would order regularly. Its three patties are topped with bacon, American cheese, onion straws, mayo, house-made pickles, and, naturally, a fried egg. Hunger will be conquered.
Dove's Burger
Dove's Luncheonette (address and info)
Wicker Park
An updated take on a retro diner, Dove's Luncheonette is exactly the kind of spot where patrons can expect to find an excellent patty-melt burger. Served on slices of sourdough Pullman bread, the Dove's Burger is topped with white cheddar cheese, smoked-chile relish, and aioli. And just like a photo of Bigfoot, you'll also have to grab one at the right time since it's only available Monday through Friday, beginning at 11am and until it sells out.
Breakfast Burger
South Water Kitchen (address and info)
Loop
Breakfast on a burger is pretty much as American as an 18-wheeler that runs on barbecue sauce. So go ahead and celebrate our great nation at South Water Kitchen, where you can order up and salute Executive Chef Roger Waysock's Breakfast Burger. Featuring a half-pound beef-and-pork patty, this hearty creation also contains bacon, egg, and hollandaise -- all served on sturdy pretzel roll.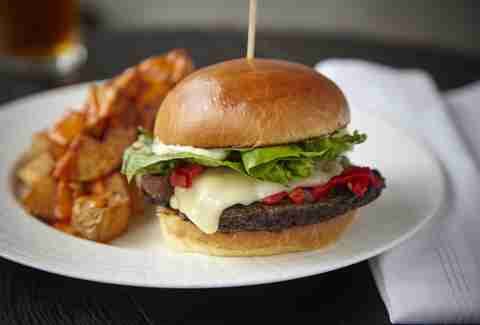 Slagel Farms Cheeseburger
Salero (address and info)
West Loop
For a restaurant that focuses on modern Spanish cuisine from the country's Northern region, Salero sure does know how to make a mean burger. Its Slagel Farms Cheeseburger is made with locally sourced, wood-grilled beef that's then topped with grilled onions, aioli, and romaine and piquillo peppers. Papas bravas are served as a side, making this the perfect meal for when you ditch out of work for a three-hour siesta.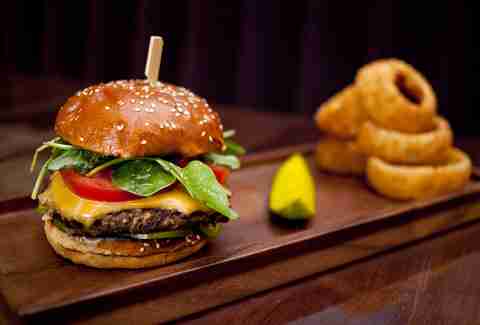 Royale with Cheese
Presidio (address and info)
Bucktown
Cleverly named after the burger mentioned by Vincent Vega in Pulp Fiction, the Royale with Cheese is a straightforward version that's nonetheless executed with thought-out precision. The prime-beef patty is topped with American cheese (no French stuff here), fresh lettuce and tomato, and house-made pickles. Served with a side of crispy onion rings, it's probably best enjoyed before spending the night twist-dancing at Jack Rabbit Slim's. (Or Danny's a few blocks away.)
Mott Burger
Mott St (address and info)
Noble Square
Mott St's Chef Kim is no stranger to combining disparate ingredients that create interesting flavors. The Mott Burger is a great example, since it offers an Asian-influenced take on an American classic. Between a toasted bun, diners will find two quarter-pound ground-chuck patties topped with hoisin aioli, pickled jalapeños, dill pickles, miso butter, diced onion, American cheese, and sweet-potato shoestrings.
Sign up here for our daily Chicago email and be the first to get all the food/drink/fun in town.
Raf Miastkowski knows exactly what they call a Quarter Pounder with cheese in Paris. Send him your most-guarded tips @RafFoSho.