Sean Cooley
Sean Cooley
Much like burros transport water and supplies to small towns, burritos transport invaluable resources (steak! beans!) to your mouth. Here're our picks for the 10 places that do them best in Chicago.
Pilsen
The carne asada at most Chicago taquerias is usually too dry, except at, um, exception-to-the-rule Del Toro. Stick with black beans and Chihuahua cheese, which both manage to blend perfectly with the steak.
Ukrainian Village
Located next to another La Pasadita that's entirely separate, this one serves up a fine carne asada burrito, as long as you keep it to steak, cilantro, and onions. Results can be hit-or-miss -- a trait lots of taco joints suffer from -- but when it's done right, it's done riiiiiiiiiiiiiiiight.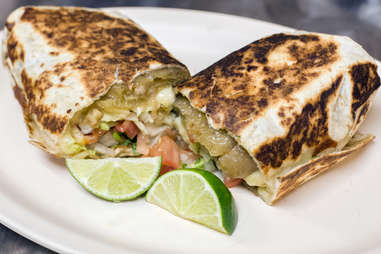 Avondale
Just the sheer fact that Taqueria Traspasada makes a chicharron burrito with salsa verde gets its foot in the Top 10 door. The fact that it's actually a really cool one gets it in the Top 8.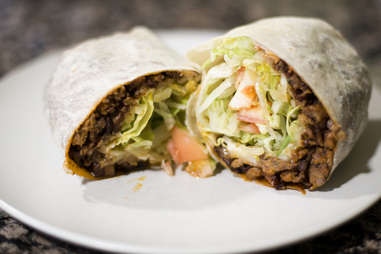 Marquette Park
Here's the thing: you're hesitant about eating goat, and we're hesitant about telling you to, then having this place blow up with lines/people -- but we're gonna go ahead and do it anyway, and you should too. If only because the goat here is stewed to make the meat more palatable to the uninitiated, marinated in a spicy red sauce, and wrapped to perfection. Also: the lengua burrito is a local favorite, if you're into tongue.
Bucktown
This Costa Rican spot has a tasty chorizo burrito that 1) you've gotta eat, and 2) you've gotta eat from the top down (don't make the mistake of trying to tackle it by cutting it in half... actually, don't ever do that). Pro tip: add some guacamole to balance out the inherent greasiness that is chorizo.
North Center
This one is an area favorite. Go with the chicken, leave off the tomatoes and lettuce, and add avocado to the party. The cilantro and onions will thank you.
Bucktown
This small chain's location near the Western Blue Line serves up reliable al pastor burritos made with pork that isn't cooked on a spit (no doubt upsetting purists), but IS bathed in a six-hour marinade that manages to impart a high level of juiciness. Normally knowing that pineapple is one of the marinade's secret ingredients would be a big deal, but the fact that the meat stays juicy even after getting some good char on the griddle is an even bigger one.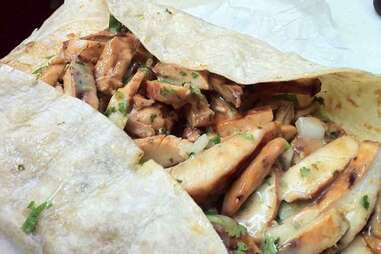 Ukrainian Village
You're not meant to hang out too long at this hole-in-the-wall spot, and helping reinforce the choice of "Should I Stay or Should I Go?" is the graffiti and punk rock imagery (including a modified poster for The Clash film Rude Boy, and a cut-out picture of Sid Vicious). Get the awesomely huge Mother Clucker burrito to go -- it bursts with chicken, cilantro, onions, and the ingredient that binds the whole mother-clucking thing together: tequila-lime sauce. *mic drop*
Multiple Locations
El Famous has more than one location in the city, but you can also trek to the 'burbs for the best chile relleno burrito around. Cut the lettuce and tomato in favor of avocado. It's not always made to perfection, but when it is, the combination of avocado, rice, refried beans, and that glorious batter-fried poblano pepper stuffed with cheese that oozes out when you bite into it is something close to witnessing "Buddy Christ".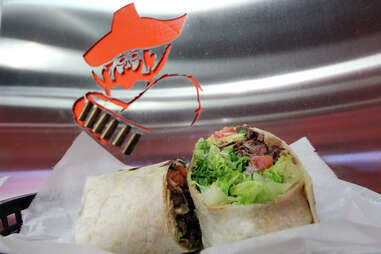 Logan Square
It's no wonder the best burrito in Chicago comes from someone who spent time working at Rick Bayless' Topolobampo. Ernesto Gonzales' wonderfully tiny, stiflingly hot taqueria hasn't been around even remotely as long as others on this list (it opened in 2012), but it makes the only steak burrito we desperately want to eat again and again and again. Generous sections of tender and incredibly juicy steak are stuffed inside a reasonably sized burrito shell and then griddled to glorious perfection, achieving a crispy exterior.
Sign up here for our daily Chicago email and be the first to get all the food/drink/fun in town.
Brett Hickman is a local freelance writer and would sleep wrapped in a tortilla if he could. Follow him on Twitter.