The greatest cheap meal in 25 Chicago neighborhoods
Because sometimes (all times?) you just need a break from turkey subs and microwave burritos from the convenience mart down the street, we criss-crossed the city to identify cheap-ass alternatives that truly represent each of 25 different neighborhoods. They're all good -- and more often than not you're getting a hell of a meal for around $10 or less.
 
Albany Park
Salam Restaurant (address and info)
What you're getting: Beef shawarma plate with hummus, Jerusalem salad, and pita, $9.99; Falafel plate, $5.99
The most reliable spot on a strip of Middle Eastern restaurants, Salam does a steady business in tender chicken taouk, smoky house-made baba ghanoush, shawarma, falafel, and other standards -- accompanied by service that might best be described as slouchy but friendly.
Mike Gebert
Andersonville
Sunshine Cafe (address and info)
What you're getting: Saba shioyaki (grilled mackerel), $9.50
A homey, '60s-era Japanese cafe run by an older lady and her middle-aged son, Sunshine Cafe does simple, beautifully made Japanese comfort food like char-grilled mackerel or udon soup.
 
Archer Heights
Birrieria Zaragoza (address and info)
What you're getting: Large plate of birria, $10.50
A Mexican family restaurant in an old diner, this guy specializes in one dish -- roasted goat in spicy broth, served with handmade tortillas -- and it's life-changingly, decide-to-move-to-Mexico good. It's hot and deep in meaty flavor and comfy with the chewy tortillas, all at the same time.
Mike Gebert
Bridgeport
Pleasant House Bakery (address and info)
What you're getting: Steak and ale pie, $7.50; Mushroom and kale pie, $6.50
If Bridgeport had its own flag, it'd be one with this place's savory pies on it -- an imposing structure of flaky butter crust filled with steak, curry-spiced chicken, or mushroom and kale. Did we mention the kale is grown just down the block? 'Cause it is.
 
Chinatown
Sweet Station (address and info)
What you're getting: BBQ four things with fried rice, $7.95; Hong Kong-style stir-fried beef and rice noodle, $9.25
It's not the the most well-tread restaurant in Chinatown, but still has a pretty good value, especially given the ultra-lounge futuristic interior which makes it feel like it should be called Space Station instead. The noodle dishes and soups are standouts.
Mike Gebert
Edgewater
Cookies & Carnitas (address and info)
What you're getting: The Beefy Cheezy, $10; Pork belly or beef brisket tacos, $4.50 each
Chicago's only "farm-to-table cookies and tacos and big meaty sandwich and pizza" joint... with a coffee bar attached. No you can't just move in.
 
Gold Coast
Lou Malnati's (address and info)
What you're getting: Small sausage deep dish, $13.65
In a land of pickup bars and power steak joints, everybody needs a pizza once in a while, too. Malnati's has deep dish history (Lou's dad is probably the one who invented it) while not turning the style into a stomach anvil.
 
Humboldt Park
Grandma J's Local Kitchen (address and info)
What you're getting: Braised pork belly Bennie, $14; Duck eggs and ham, $13
What's the best thing that a place on a busy, unfriendly strip in a neighborhood with rough edges can do for you? Invite you in and make you feel like it's the friendliest, homiest place in the world. That's what this cute, cozy little breakfast and lunch spot does, with board games to help pass the time.
 
Irving Park
D'Candela (address and info)
What you're getting: Pollo entero, $10.50
There's a long menu here, and some of the seafood items are quite good, but look around the room and you'll see what draws everyone to this Peruvian restaurant -- crisp, juicy rotisserie chicken, served with spicy green aji for dipping.
Mike Gebert
Jefferson Park
Smak Tak (address and info)
What you're getting: Hunter stew old Polish style, $9.99; Pierogi plate, $9.99
Scratch Polish cooking in this woodsy restaurant on North Elston includes pierogis, potato pancakes, and the massive, feed-you-for-two-days hunter's goulash -- all made to keep you warm through the winter.
 
Lakeview
BIG & little's (address and info)
What you're getting: Cheeseburger and fries, $9; Foie gras and fries, $16; Samurai fish taco, $4.75
This is one of the best bets for people going through Hot Doug's withdrawal -- order your fries with a side of foie gras and see for yourself. The wide-ranging menu has good burgers and such, but even better tacos, from al pastor to fish.
 
Lincoln Park
Del Seoul (address and info)
What you're getting: Sambal fish taco, $3.95; Bulgogi banh mi, $6.25
Del Seoul was one of the first places in Chicago to attempt Korean-Mexican fusion after it became a thing in LA, and their fish taco with Asian slaw on top is still one of the best examples in town.
Mike Gebert
Lincoln Square
Aroy Thai (address and info)
What you're getting: Beef ball and tendon soup, $9.50; Phrik khing with crispy pork, $11.50
Lincoln Square is Thai food central and this veteran restaurant remains one of the best examples. The best cold remedy in town is a bowl of their pungently hot and sour beef ball (no, not that kind) and tendon (yes, that kind) soup.
 
Logan Square
90 Miles Cuban Cafe (address and info)
What you're getting: Cubano sandwich, $7; Sopa de grouper, $4
As Logan Square dining becomes more upscale, you've got all the more reason to love this easygoing Cuban cafe (with a sibling in Roscoe Village). You'll find tasty Cubano sandwiches and ropa vieja, hearty chicken and skirt steak, and really good seafood soups here. It's also BYO, and if you bring your own rum, you can get a pitcher of mojitos.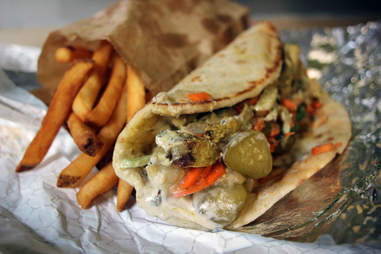 Mike Gebert
The Loop
BenjYehuda (address and info)
What you're getting: Chicken shawarma flatbread wrap, $6.99
Middle Eastern fast food has popped up all over the Loop, but the winner is this Israeli-style place with fresh, authentic toppings to put on your chicken wrap or eat with your falafel.
 
Noble Square
The Butcher & Larder (address and info)
What you're getting: Daily special, around $10
The main business of this butcher shop is selling big hunks of raw meat, but the place was started by chefs -- and every day they practice their former trade a little with a couple of sandwiches. It might be a roast beef sandwich, or it might be Sloppy Joe or Italian beef -- doesn't matter. Whatever it is, with great meat and a chef's sense for balancing flavors, it'll probably be the best of that thing you ever had in your life.
Mike Gebert
North Center
Cho Sun Ok Restaurant (address and info)
What you're getting: BulGoGi, $9.95; Kimchi jjigae, $7.95
One of the oldest Korean restaurants in town, but still regularly drawing lines on Friday nights, this spot specializes in cooking cha dol -- aka thinly sliced beef -- at the table in thick clay pots, and they'll do it for you, thank you very much.
 
Pilsen
Del Toro (address and info)
What you're getting: Carne asada, pollo adobado, or puerco adobado tacos, $3
You can't throw a rock without hitting good Mexican food in Pilsen, but here's a little more upscale destination for people who want more than a hole in the wall, but still want muy authentico tacos. The good craft beer list is a plus.
 
River North
Dough Bros (address and info)
What you're getting: Pizza slice, $4; Roast pork sub, $10.29
A celebrated, high-end chef tackles everyday street food and shows how it's done. River North -- we must be talking about Rick Bayless's Mexican sandwich shop, right? Well, sure, but you already knew about Xoco, so check out Chef Roland Liccioni's Dough Bros, which does an awesome New York-style slice even during late-night drinking hours in this area.
Mike Gebert
Rogers Park
Khan BBQ (address and info)
What you're getting: Chicken boti, 10.99; Half broast chicken, $9.99; Onion naan, $2.49
As you might guess from it being on the Indo-Pak strip on Devon, this isn't American barbecue, but grilled meats cooked over fire in big clay tandoors. It's still about as succulently meat-errific as a barbecue joint, thanks to juicy beef, chicken, or goat with eye-opening spices and lots of tasty char. Start with chicken boti and some naan, damping the heat as you go with cool yogurt sauce (raita).
Mike Gebert
Ukrainian Village
Fatso's Last Stand (address and info)
What you're getting: Double Fatso with cheese, $6.50; Fresh-cut fries, $2; Grilled Polish with fries, $5
How does a big, fat cheeseburger coated in cheese and grease represent a Ukrainian neighborhood? Well, it doesn't, but it stands for what brings us all together as Chicagoans at a stand like this: cholesterol. The grilled Polish and fried shrimp are great, too.
 
University Village
Al's Italian Beef (address and info)
What you're getting: Italian beef, dipped, hot or sweet peppers, $5.25; Combo, $6.35
Give me grief for calling out Al's yet again if you want. All I know is, I took some out-of-towners here for their first Italian beefs a couple of weeks ago and they're still talking about the great Chicago experience they had.
Mike Gebert
Uptown
Nha Hang (address and info)
What you're getting: Pho Viet Nam, $6.95; Chicken goi ga, $10.95
You almost can't go wrong looking for Vietnamese food on Argyle St -- I said almost -- but my favorite is this friendly (if nearly English-free) spot with good pho (noodle soup) and plenty of other good dishes, like goi ga (chicken salad) and deep-fried crab.
Mike Gebert
West Loop
Publican Quality Meats (address and info)
What you're getting: Parm #2, $9.50; Ribollita (bowl), $6
It's a dice roll when high-end chefs do casual food, but this butcher-sandwich shop consistently comes up sevens, putting a refined spin on indulgently meaty sandwiches like the pork belly gyros or the (free-range, artisanal) chicken Parm.
 
Wicker Park
En Hakkore (address and info)
What you're getting: Bibimbap, $8; Paratha tacos, $7.50
Not the hipster neighborhood where I'd think to go looking for Korean food, but the bibimbap bowl at this sunny place is one of the most beautiful dishes in town, full of life-giving vegetables (but with a hunk of tasty beef to keep you from feeling deprived). The Korean tacos (wrapped in Indian-style parathas, who knows why?) are good too.
Sign up here for our daily Chicago email and be the first to get all the food/drink/fun in town.
Mike Gebert is a James Beard Award-winning food video producer and writer, and founder of SkyFullofBacon.com. Follow him on Twitter @skyfullofbacon.