If there's one thing Chicagoans love, it's watching Vine videos of Derrick Rose not tearing any crucial ligaments. But if there are two things, it's that and buffets. Here are Chi's nine best.
Recommended Video
Tuna Eyeball with Timothy DeLaGhetto and Ben Sinclair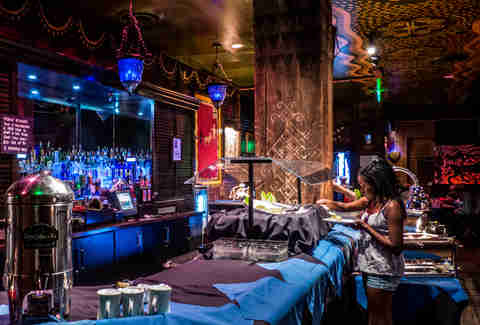 River North
There are exactly three things you need to know about HoB's Gospel Brunch: 1) traditional and contemporary gospel songs are personally selected by legendary gospel producer and artist Kirk Franklin, 2) there are carving stations, and 3) there are unlimited chicken and waffles.
Cragin
If you've ever wondered what Polish heaven might look like, stop by Staropolska and step through the Smorgasbord Buffet's pearly gates. This all-you-can-eat-ery will ply you with infinity potato pancakes, pierogi, Polish sausages, kraut, etc., all for under $10. Whatever you do, also order infinity Okocim Polish beers.
River North
You had to know there was going to be a Brazilian steakhouse on this list, and if you knew that, you had to know said Brazilian steakhouse was going to be Fogo de Chão. The buffet buffet here is mostly just salad, cheese, potatoes, and assorted cold cuts THAT YOU SHOULD UNDER NO CIRCUMSTANCE WHATSOEVER EAT, but the actual buffet will be hand-delivered by dudes with crazy-good cuts of skewered meats that you should definitely under any circumstance eat.
West Lawn
Seriously... the place is literally named Buffet City? Combine that with the fact that this is maybe the most comprehensive buffet in Chicago, and you've got yourself a "Best Buffet" winner. There's a Chinese station, a sushi bar, an American station, a Mexican station, and a zillion other stations that you can ransack for like $12. Bonus: it's in a K-Mart shopping center!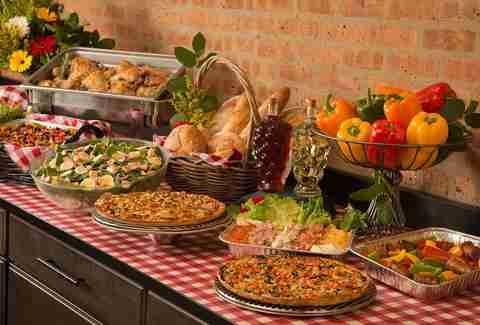 Addison
Did someone say pizza buffet?? You're damn right we did. You're getting six lunchtime pies made using decades-old family recipes, hot entree options, cold salad options, soups, desserts, and a drink on the house, all for under $10. Pro tip: get some of the house-made Caesar salad dressing for pizza-dipping.
West Ridge
They don't normally offer a buffet line, but when it's iftar (the feast that follows Ramadan) and they do, you damn sure better be there. That's because it's like Pakistani food Christmas: chicken boti, chapli kabab, lamb biryani, sweet yellow rice, and crazy-good cold chickpeas, all from a spot that's best at what they do.
Bronzeville
Ain't no party like an all-you-can-eat breakfast buffet party, because an all-you-can-eat breakfast buffet party don't stop (literally). But also because it includes omelets cooked to-order, morning meats galore (sausage links, bacon, salmon croquettes, Parker House spicy sausage), grits, French toast, scratch pancakes, and Pearl's famous buttermilk biscuits.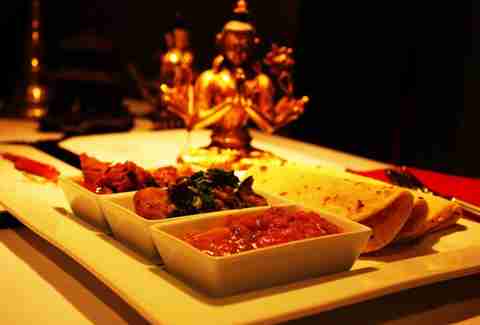 Wicker Park
The basket of naan alone is probably worth the $12, but we won't blame you if you wanna get in on everything at this authentic Wicker Park 70-seater's Nepalese lunch buffet, where you'll likely get ridiculously good saag with corn or paneer, tender tandoori chicken, and allllllll the samosas.
West Ridge
If you're looking for some awesome Indian buffet action, you're gonna want to head to Devon Ave, and then you're gonna want to head to Viceroy of India (or again, Khan -- they're literally two blocks apart). Unlimited butter chicken, succulent goat, and one of the best Indian desserts you'll ever have (gulab jamun in a pool of warm syrup) can all be yours again and again and again and again (and again) for just $10.

Grant Marek is a Senior Editor at Thrillist and thinks there may not be a better usage of $10 than an all-you-can-eat buffet. Follow him on Twitter.