The only constant in life is change. The only constant you want in your life is burgers. And that's where this comes in: our 2015 Chicago burger manifesto, which combines all of our finest Chicago burg coverage from the past year into one Meat Voltron. Roll out, carnivores.
12 damn good burgers that fly under the radar
Don't get us wrong -- we love the burgers at Edzo's, and Kuma's, and Leadbelly, and Owen & Engine (seriously, we do) -- it's just that Chicago has approximately infinityzillion burgers. And even though the same 20-ish show up on everyone's "Best Burgers in Chicago" lists, there are plenty of others worth celebrating. That's why we put together this list of 12 way-way-way-under-the-radar ones you won't find on any of the latest "Best Burger" lists from 1) Chicagoist, 2) Eater Chicago, 3) Chicago Magazine, or 4) Time Out Chicago. READ MORE
Find the best burger nearest you
Because you've already eaten all of the best burgers in Chicago, and well, the best under-the-radar burgers in Chicago (it's not that many burgers... right??), it's time you took down the best burger in TWENTY-SEVEN different Chi 'hoods. God speed. READ MORE
Thought we were done? Nope, here're the best stuffed cheeseburgers
There's a lot of controversy in Minneapolis over which bar invented the stuffed cheeseburger (aka the Juicy Lucy, aaka the Jucy Lucy). What we know for sure is that we Chicagoans don't need any extra dramasauce on our burgers, so here're 10 local spots to get a delicious stuffed burger without having to argue with someone who sounds like an extra in Fargo. READ MORE
Burgers that are just ridiculous...ly awesome!
When it comes to making the most ridiculous burgers in Chicago, stuffing a patty with cheese no longer gets the job done. These days, if you wanna crack our Top 10, you've gotta use waffles for buns. Or stack meat like Legos. Or build a MOAB. Or do literally any of the things that these burgers -- ranked 10 to 1 -- did. READ MORE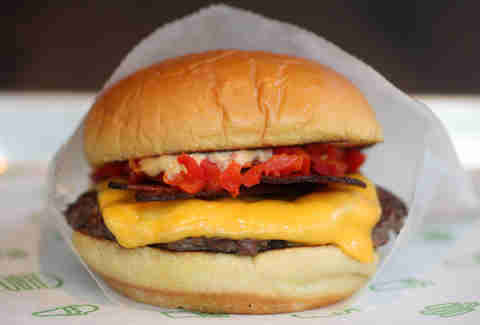 Shake Shack brought in burgers from the East Coast
Once a hot dog cart dedicated to spreading the Vienna Beef gospel to New Yorkers, Shake Shack came full-sausage-circle in 2014 with the opening of its first-ever location in the dog mecca that is Chicago, finally bringing the East Coast's choicest burger chain and all that comes with it (flat-top dogs! Gourmet burgers! Crinkle fries! Beer! Concretes!) to River North. Here's why you'll want to queue up, pretend you're getting work done on your phone, and grab the only burger on Earth that can rival In-N-Out. READ MORE
Umami Burger brought in burgers from the West Coast
LA-based burger-world-conquering chain Umami Burger finally landed in Chicago via Milwaukee Ave, and along with it, a menu that plays to the tongue's fifth taste known as "umami," aka the Japanese term for "savory meatiness," aka "whoa, this makes the burger taste phenomenal." READ MORE
For the protein fiends out there, the best egg-topped burgers
Which came first: the burger, or the egg-topped burger? And does anyone honestly care if that question just results in us rounding up the nine best egg-topped burgers in all of Chicago? Yeah, didn't think so. READ MORE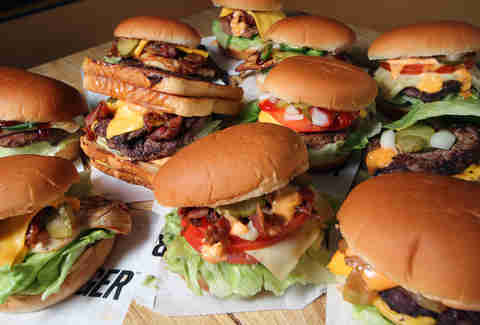 Here's a breakdown of every off-menu item at M Burger
Chicago has plenty of secrets (though, Al Capone's vault is no longer one of them -- thanks Geraldo!), but disappointingly, not a lot of ones that involve 14 off-menu burgers, fries, and shakes. In fact, there's just one, and it belongs to Chicago mini-chain M Burger, where the secret menu is more than double the length of the regular one. READ MORE
We've got the best burger at any price range
Whether you're living like a ramen-diet student or a Playpen lifer, you deserve the best burger that money can buy. So we're giving it to you: here's a rundown of the best Chicago burger for 22 different price points (starting at $1). Now go get the best burger bang for your buck. READ MORE
The best fries in Chicago (you know, to go with the burgers)
Fries are the Dwyane Wade to burger's Shaquille O'Neal. The Robin to burger's Batman. The Dwyane Wade to burger's LeBron James. But just because Dwyane Wade rides everyone else's coattails doesn't mean America's favorite potato stick has to. Especially not in Chicago. Here are 14 places in Chicago where fries are the superstars. READ MORE
Sign up here for our daily Chicago email and be the first to get all the food/drink/fun in town.
Sean Cooley is Thrillist's Chicago Editor and many burgers were harmed during the making of this story. Follow him @SeanCooley.