There are certainly some cool Chicago tours you'll actually want to go on with visitors, but the city's culinary tours are worth booking immediately, no guests needed. These excursions unlock Chicago's intricate culture at its heart: that boozy, food-laden core that we love. From donut, steak, and beer excursions to eye-opening walks through immigrant communities, these food and drink tours have won over our affections. 
Fair warning: many will require walking, but all will involve snacks and/or spirits.
Recommended Video
Thrillist's Best (and the Rest): The Truth Behind the Saddest Cookbook Ever
Learn just how well beer pairs with Chicago history through three distinct beer tasting and bar tours in Lincoln Park and Lakeview, Bucktown and Wicker Park, and the Loop and South Loop. Each walkable tour focuses on different aspects of the city's colorful past, beer styles, and neighborhood establishments. From historic pubs to new microbreweries and a beer-and-bacon bar to an arcade bar, you'll down many, many beers at several watering holes while the history of the 1855 lager beer riots, German-fueled beer expansion of the 1800s, and today's booming craft brew scene unfolds.
The coolest Chicago tours pack architecture, history, and, most importantly, food and beer into a mile-long walk Downtown. The 1893 World's Fair Tour with Bars and Food delves into an event that continues to capture our imaginations perhaps more than any other in Chicago history. In three hours, spectacular architecture and stories imprinted by the World's Fair will be brought to life through archival photographs, scavenger hunts, and tastings. Ride one of the last human-operated elevators Downtown, and take in The Century Room's brilliant stained-glass windows over The Berghoff's German-style fair favorites.
Biking to your food is obviously more efficient than walking. But while the multi-neighborhood Bikes, Bites, and Brews cruises reward cyclers with pizza, hot dogs, cupcakes, and beer, walking tours departing from the Chicago Cultural Center also set out to explore food (and history). The two-hour and 1.5-mile Chicago River Walking & Food Tour highlights the Chicago River's history through the Chicago Riverwalk, Centennial Fountain, and the McCormick Bridgehouse and Chicago River Museum while sampling food and beer at some of the new eateries that've helped revitalize the river bank.
Chef and culinary instructor Rebecca Wheeler leads intimate food walks within off-the-beaten-path pockets of the city like Southeast Asian on Argyle, Indian and Pakistani on Devon, and Chinese cuisine in Chinatown. Her two-and-a-half hour Argyle Food Tour explores Vietnam's vibrant street life and cooking through Uptown's fresh banh mi sandwiches at Ba Le, samplings of Peking duck at Sun Wah BBQ, a steaming bowl of pho at Tank Noodle, and even a stop at a local market, where she'll offer up tips for cooking authentic dishes on your own.
There's better food to be had where chefs in the know feast, and when a Chicago-born industry professional guides you to his or her favorite spots, you'll soon feel like a stuffed neighborhood insider. The "Heart of Chicago" Pilsen and Little Village bus tour stops for tacos and shrimp in "The Mexico of the Midwest" and Italian beef and a classic dessert within Chicago's oldest Italian neighborhood while working in the National Museum of Mexican Art, vibrant street murals, and Al Capone's Cook County jail unit.
Cut into the city's juiciest history through its quintessential steakhouses. Each three-hour tour via luxury bus spotlights four participating restaurants like Gene & Georgetti, Morton's, Rosebud Steakhouse, and Kinzie Chophouse, and offers a rare take on the meatpacking industry and restaurant techniques. By the end of the ride, you'll pack in a full-course meal and knowledge of the best cuts, grades, spices, and tips for tricking out a killer meat and potatoes meal.
Starting nearly a hundred years before the National Prohibition Act (known informally as the Volstead Act) through the roaring '20s until the law was repealed from the US Constitution in 1933, the Original Chicago Prohibition Tour covers the prohibition's key players -- whether they were enacting the law, enforcing the law, or breaking the law. Stop at four of the city's iconic speakeasies for signature drinks (your guide can even assist with drink orders to pair with the current discussion era).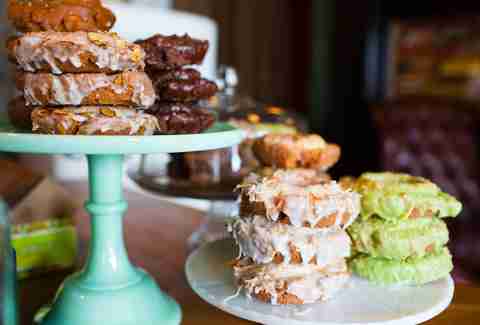 Why should you cough up the dough to visit four famous donut spots in Downtown Chicago? Because the fascinating history of the various shops and their donut-making specialities will be deliciously revealed over the course of two hours on the city's one and only donut excursion. You'll earn all those old-fashioned and savory, on-trend donut samples at each stop -- viable options include Do-Rite Donuts & Coffee, the Doughnut Vault, Firecakes Donuts, and Glazed & Infused -- on this walk around the Loop with founder and fellow donut-lover Jeff Woelker.
Power your way through Chicago's best pizzerias one slice -- and cocktail, craft beer, or glass of wine -- at a time. Pizza party like it's your last cheat day ever on the Pizza & Cocktails night tour. They'll do the driving with the Dough Force One bus, which is conveniently outfitted with a karaoke machine, so you'll just have to worry about getting your fill of booze and thin-crust or deep-dish slices at each pie stop (potentials include Piece, Coalfire, Pequod's, and Flo & Santos).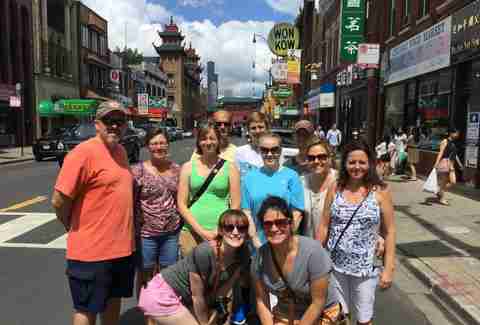 Of the company's various neighborhood walking tours, including Lincoln Park, Wicker Park/Bucktown, and the Gold Coast, the Chinatown tour is its stand-out excursion. Taste the Chinese delicacies that define various regions like spicy, bold Szechuan dishes, a selection of Hong Kong-style dim sum specialties, a Beijing Peking duck dinner, and sweet and savory buns, moon cakes, and cookies for dessert. You'll hear the incredible stories behind the foods and get schooled on Chinese customs and etiquette, so you'll be "in the know" the next time you make a reservation with friends.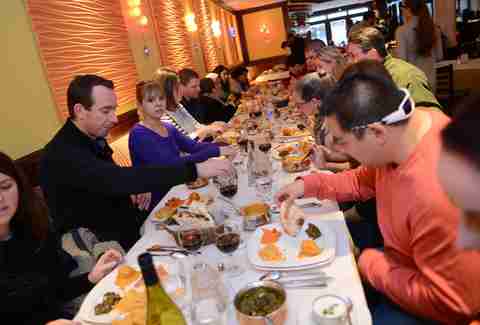 From Little Arabia to Little India, these walking tours with several sit-down tastings are a feast for the senses. The Little India Tour exposes groups to the cuisines and culture of India, Pakistan, and Bangladesh. Nosh on Pakistani BBQ and browse shops for Indian spices along Devon Ave, where more than 40 languages are spoken along a mile-long stretch. Sample appetizers and kebabs of Arabian and Persian restaurants on the Little Arabia Tour, which also dips into Middle Eastern culture through Albany Park's specialty stores, hookah shops, and an Egyptian Bazaar on Kedzie Ave.
If your goal is to bang out all the basic food groups of the Chicago food pyramid (pizza, hot dogs, burgers, Italian beef, popcorn, and chocolate, that is) in a couple hours? Carbo-loading on famous Chicago-style dogs, deep-dish slices, "cheezborgers," and Fannie May chocolates in one walk is possible. Pick from the Flavors of Chicago Food Tour, the Taste Chicago Food Tour, or even Chicago's Underground Food Tour of the pedway system, and your diet of stereotypical Chicago cuisine will be covered.
Sign up here for our daily Chicago email and be the first to get all the food/drink/fun in town.