6 places to score Friday night fish fry
Chicago Whether you're going meatless on Fridays for Lent or... just like fried stuff, Chicago's myriad Friday night fish fry options are gonna come in handy this month. And they're also gonna come in "delicious", if you're doing them at one of these six Thrillist-approved, crispy-on-the-outside, flaky-and-tender-on-the-inside spots.
Parson's Chicken & Fish: With the option to get three, six, or nine pieces, or a basket with nine pieces, slaw, and Texas toast (do that one!!), Parson's fish fry gets first billing on our list because all of their fried fish is battered in beer. Yay beer!
Continue Reading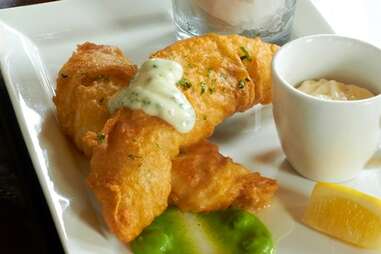 Owen & Engine: O&E's way-straighter-teethed take on traditional British fish 'n chips features a fried Haddock with house-cut fries, malt vinegar aioli, pea puree, and sauce gribiche.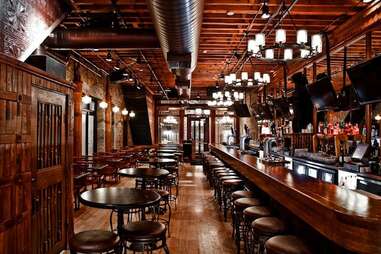 Frontier: The preeminent stop for whole-animal shenanigans is offering an all-day fish fry deal on Fridays through Lent. $15 all-in gets you Chef Brian Jupiter's expertly prepared fried fish, along with a swath of hushpuppies and fries, because we all need fried sides to go with our fried entrees.

Big & Little's: This Diners, Drive-Ins and Dives favorite recently opened a second location on Belmont Ave, and lately, the beer(!!!)-battered, fried mahi mahi has been getting some serious lip service. Enjoy it with tartar sauce and truffle fries, shrimp banh mi, raw ahi tuna tacos, and a soft-shell crab po' boy. Okay, we're done.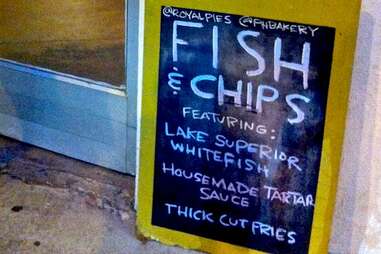 Pleasant House Bakery: This cozy bakery offers a different food special every day of the week (except Mondays), and on Fridays, it's fish and chips. The fresh catch is beer(dude!!!!)-battered and fried, and served with crispy chips and tangy, homemade, preserved Meyer lemon tartar sauce.



Fish Bar: The folks at DMK's seafood outpost teamed with local food-business incubator, The Plant, to bring classic fish and chips to the dining-out crowd on Fridays during Lent. Plant Chicago's providing the fresh tilapia, and Fish Bar's batter-and-frying it, plus pairing it with a heap of DMK's signature thick-cut steak fries.