Mike Gebert
Mike Gebert
We're living in a golden brown-crispy age for fried chicken, with trendy new contenders frying up alongside classic soul food joints in every part of town. Here are the 10 best, with only one caveat: we're ranking actual pieces of chicken, so no chicken sandwiches or dinosaur-shaped nuggets. Let's get to it!
<em>Edgewater</em><br />
Korean restaurants making fried wings with an Asian touch are a thing at this point, but only one's doing it well enough to crack this list: Dak, whose big, meaty wings can either come with a soy-ginger sauce (which is great) or spicy Korean marinade (which is... spicy!... and great).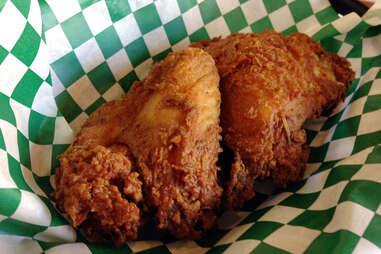 <em>Lakeview</em><br />
A food truck with a new, permanent storefront on Irving Park Rd, the focus here is chicken sandwiches, but they also do buttermilk-brined chicken by the piece. It's a little on the greasy side, but there's some real kick to the crust (and the heat only goes up from there, when you order it spicy or Nashville Hot).
<em>West Rogers Park</em><br />
"Broasting" is a trademarked process for making juicy chicken, which you mostly see at old-school fried chicken places in America. And, it turns out, in foreign countries like Pakistan, where they keep the process but tailor the recipe to their own tastes. The result here is succulent nubbins of Grandma-crispy chicken with a spicy, red curry kick that Grandma would have approved of about as much as your girlfriend with the tattoos.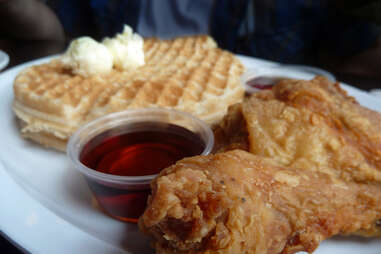 <em>Bronzeville, Evanston, Oak Park</em><br />
Weird but true: the oldest references to chicken and waffles come by way of the Pennsylvania Amish. It's an African American thing now, though, and juicy chicken with a crispy waffle is basically the perfect Sunday breakfast, especially here. Hard-to-believe side note: the same chicken under the onion gravy might be even better.
<em>Garfield Ridge</em><br />
Hidden on a one-way side street past Midway in a location that would make a pool hall feel classy, this is the Southwest side's antidote to everything trendy about fried chicken: just perfect bird, breaded and fried to order all day long, only for those who know where to go.
<em>Avondale</em><br />
Almost violating our bone-in requirement (everything's deboned but the drumsticks), Honey Butter overcomes your chicken-fingers-for-grownups prejudice with excellent, paprika-spiced breading and unusual, fresh-tasting sides like the Thai curry corn or kale salad, which diet-wise totally cancels out the schmaltz-mashed potatoes... right?
<em>Irving Park</em><br />
Usually chicken wings are the alternative poultry choice at BBQ joints, so you wouldn't expect them to be a serious contender on a list like this. But at Smalls, the fried chicken -- with its lightly crispy crust -- is so good, it might actually be better than the BBQ (and&nbsp;<a href="https://www.thrillist.com/eat/chicago/best-bbq-joints-chicago&quot; target="_blank">the 'cue already receives high marks</a>).
<em>Austin</em><br />
Yes, we know there's a classic Chicago chicken chain called Harold's. But the thing is, they vary a lot from one seemingly random-numbered outlet to the next. This is a much smaller chain, all in the Austin neighborhood (except for one inside the Humboldt Park Wal-Mart), and they all nail it. The perfectly crispy chicken is served with the finest bowl of smoky-red, high fructose corn syrup you've ever dipped your bird in. Just ask for it on the side if you don't want to end up wearing it.
<em>Andersonville</em><br />
Chef Paul Fehribach is a connoisseur of Southern cookbooks (and currently working on his own), and his fried chicken claims a high-saluting pedigree in a recipe from the legendary Edna Lewis. But no bird's putting on airs with these fluffy, crunchy pieces of leaf lard-fried goodness, accompanied by biscuit, greens, and butter beans.
<em>Evanston</em><br />
It's one thing to fry a bird beautifully, but it's another to season it just so. That's where Evanston's Chicken Shack stands above all the rest -- the balance of salt and pepper in the breading is pretty much perfect (as in, not shy about either), and they fry it just as well. Be sure to ask for the complexly spiced house BBQ sauce for dipping. Pro tip: get the great house-made biscuits, too. Other pro tip: in the Summer, they'll deliver straight to Evanston and Rogers Park beaches, for an instant picnic.<br />
<br />
Mike Gebert is a James Beard Award-winning food video producer and writer and Founder of&nbsp;<a href="http://skyfullofbacon.com/blog/&quot; target="_blank">SkyFullofBacon.com</a>. Follow him on Twitter&nbsp;<a href="https://twitter.com/skyfullofbacon&quot; target="_blank">@skyfullofbacon</a>.