With the death of Dominick's comes the rise of more Mariano's, a Milwaukee-based supermarket franchise that has recently spread to Edgewater, Ravenswood, and Ukrainian Village. We camped out in Mariano's Ravenswood location -- at 80,000sqft, it's the biggest in the city -- to see what this everyman's-version of Eataly has to offer.
1. A pianist will play you in
The wine bar by the second floor entrance naturally features a stage with a Baby Grand, where a pianist will be tickling the ivories on weeknights and weekends (a jazz trio comes in for special events. Can you say... grocery store Bar Mitzvah???).

2. You can booze while you shop
The first item on any grocery list should be "start drinking". Grab a draft beer, wine, or cocktail at the upstairs bar, then get ready to throw allllllllll the impulse buys into your cart ("we totally DO need 10 boxes of cinnamon French toast sticks").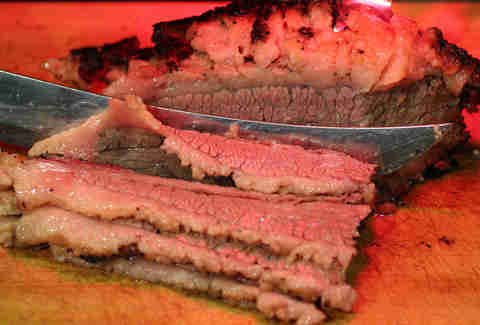 3. There's BBQ
They've got all kinds of ready-to-eat stuff (pizza, sushi, a salad bar, deli sandwiches), but you'll wanna zombie-walk past all of them and beeline to the Southern Pride hickory smoker at Todd's BBQ. Meats are smoked overnight and served with Midwest, Texas, or Carolina BBQ, plus there's pulled pork, brisket, burnt ends, rotisserie chicken, and ribs that you can buy by the bone, if you're not up for a full slab (for some reason).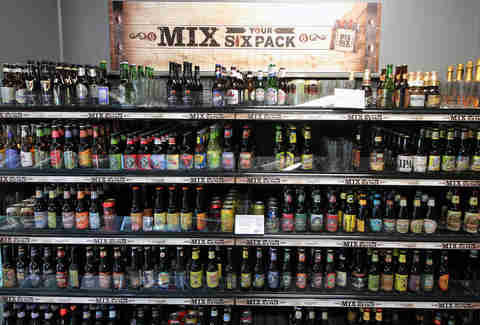 4. You can make your own six-pack
Next to the liquor shelves is the walk-in beer cooler, where you can mix-and-match your own sixer with local brews, including Revolution, Lagunitas, and Goose Island.
5. There's a quick bottle-chilling machine
Pluck a bottle off a wall that's 1,000 wines deep, and dip it in the Wine Well to get it ice-cold in minutes.
6. They've got the freshest possible orange juice
In the produce section, you'll likely catch one the 600 store employees manning the giant juicer pumping out orange, watermelon, and vegetable juices that're both fresh and nicely priced.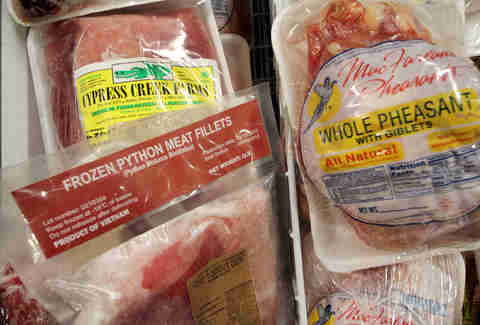 7. You'll finally get to eat python fillets
In the wild game section, you'll find alligator, python, boar, quail, ostrich, and whole pheasant meat (with giblets!).
8. Buy only the amount of ingredients you actually need
Their spice shop has all of the weird spices you're gonna need for whatever random recipe you found online, and they're all available in custom-sized baggies (meaning you'll never end up with an entire Mason jar of cumin again). Also important: they're planning to install a peanut butter grinder.

9. They've got a gelato-stocked cafe and work space
The ground floor's Vero Cafe has coffee, beer, smoothies, and a dozen gelato flavors, including coconut and peanut butter cup. Remember: there's no wrong way to eat a peanut butter cup smoothie.
10. They'll grill anything in the store (within reason)
There're two free grill stations available for cooking any meat and seafood to-order (should you have a hankering for charred, in-house Italian sausage or ahi tuna), plus daily lunch and dinner grill specials.
11. Expect some free samples
The samples of Chicago-style popcorn alone -- which pop up between the sweet shop (fresh fudge, candied apples, chocolate-covered fruit) and cheese shop (300+ cheeses) -- put other stores' "thing with a toothpick in it"-samples to shame. TO SHAME.
Sean Cooley is Thrillist's Chicago Editor, and he will never again shop for groceries without a draft beer. Follow him @SeanCooley.