It was a pretty big year in Chicago pizza: we survived Jon Stewart's ire, watched a Chicago pie named one of the best in the country, and saw awesome pizza emerge in all shapes and sizes, from deep dish, to thin crust, to cracker crust. We chronicled it all, and now we're chronicling our chronicling with this Chicago pizza SUPER guide.
Chicago's 10 best pizzas, regardless of crust
Plain and simple. If you only consult one Chicago pizza list, make it this one. READ MORE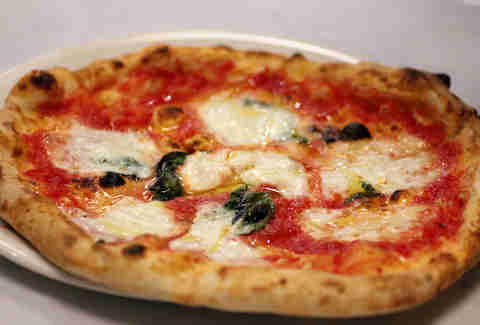 The best pizza in 23 different Chicago neighborhoods
Whoever said, "Sex is like pizza: even when it's bad, it's still pretty good", probably wasn't taking into consideration how truly awful pizza can be. So to help ensure you never end up with another poor pie, we braved Chicago's vast marinara ocean to piece together this list of the best pizzas in 23 different neighborhoods. READ MORE
Chicago's 8 best under-the-radar pizza places
We're not here to stoke the flames of the deep dish/thin crust debate (we believe in a world where they can coexist), but rather to highlight the unheralded pizzerias around Chicago that're pounding out quality pies. Oh, and when we say they're under-the-radar, we mean they're legitimately under-the-radar: none of these slice-houses appear on any of the most recent "Best Chicago Pizza Places" lists from Chicago magazine, Time Out Chicago, or Zagat. READ MORE
We named Vito and Nick's as IL's top pizza in our national roundup
There are things in America that you can find no matter where you are. The kindness of strangers. A building with Donald Trump's name on it. Good pizza. We like to think that somewhere, in each state, there's a truly sublime pie, and to prove that point, we've crunched the numbers (and the crusts) and come up with a definitive list of the best pizzerias in every corner of this great nation. READ MORE
Square-cut pizza is a whole category unto itself, here's our top 10 list
Tavern-style, square-cut pizza is thin crust, but not all thin crust pizza is tavern-style, see? So don't go suggesting New York slices and Neapolitan pies in the comments. It's a Chicago thing: the flat, crunchy crust cut into squares, for people who don't want to be stuck eating a whole slice for five minutes when there's important drinking to be done. Turns out, the best pies are found in places that have been doing it forever. So here're 10 that fit the most well-rounded flavor into one square cut. READ MORE
We were forced to defend our pizza honor against Jon Stewart...
... which was hard because we really like Jon Stewart. But $%#! you Jon Stewart, Chicago pizza is fantastic. After what started out innocently enough as a piece about One World Trade Center surpassing the Sears (yes, Sears) Tower as America's tallest building (which Chicagoans can't even really complain about because, patriotism and stuff), he launched into an angry screed about Chicago-style pizza. READ MORE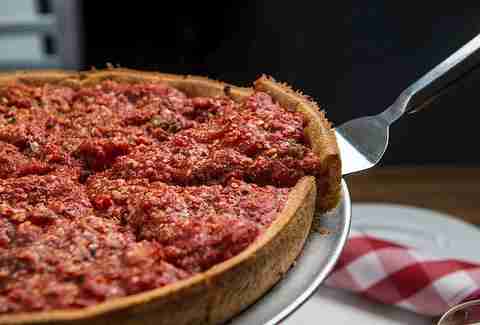 11 other cities make admirable attempts at deep dish pizza
The ingredients aren't exclusive to the Windy City, so why is it so damn hard to find a decent Chicago-style pizza outside Illinois? Most places claiming to serve the sauce-on-top deep-dish goodness come up with something that's about as Chicago as Renee Zellweger. But not these... these places, manned by folks with weird accents and Cubs hats, offer the real deal without the benefit of existing in Oprah's kingdom. Open wide: these suckers are enormous (the pies, not Oprah). READ MORE
There're plenty of late-night pizzerias on our post-last call delivery list
After last call (2am last call, not bad decisions last call), you're likely looking for someone to cuddle with. More than likely, that someone is a large cheese pizza. Problem is, using a late-night delivery app right now is kind of... hard. Much easier? This list of 60 places in Chicago that deliver post-2am eats, complete with the essential information: their menu, phone number and hours. READ MORE
Sometimes you only need a single piece of pizza, like one of these 9 slices
Because sometimes you just don't need a full pizza (hahahahahahahahaha)... really though, sometimes you just want a slice (hahahahahahahaha)... ANYWAY, here are the nine best places to grab a slice of pizza in Chicago. READ MORE
Sign up here for our daily Chicago email and be the first to get all the food/drink/fun in town.
Sean Cooley is Thrillist's Chicago Editor, and he knows to never get involved in a land war in Asia. Follow him @SeanCooley.