Recommended Video
The Fasties: Kat Thompson Mukbang
It's that time of year again when we raise a fork to the best of the best of Chicago's culinary talent -- those skilled and creative chefs who have worked hard to keep us exceptionally well fed. While the names of the restaurants where they work may have become household names by now, often the names of the virtuosos behind the scenes of those buzzed-about spots go unrecognized by many diners. Well, we're here to change that with our picks for this year's best, along with a few words from some of the chef's themselves and their kitchen counterparts.
These culinary hustlers fought their way to the front of the pack during a particularly crowded year of restaurant openings. From a pastry chef breaking sugar-ceilings to become partner, to a gourmet fried chicken sandwich that will help you break that Harold's habit for good, here are Thrillist Chicago's best chefs of 2016.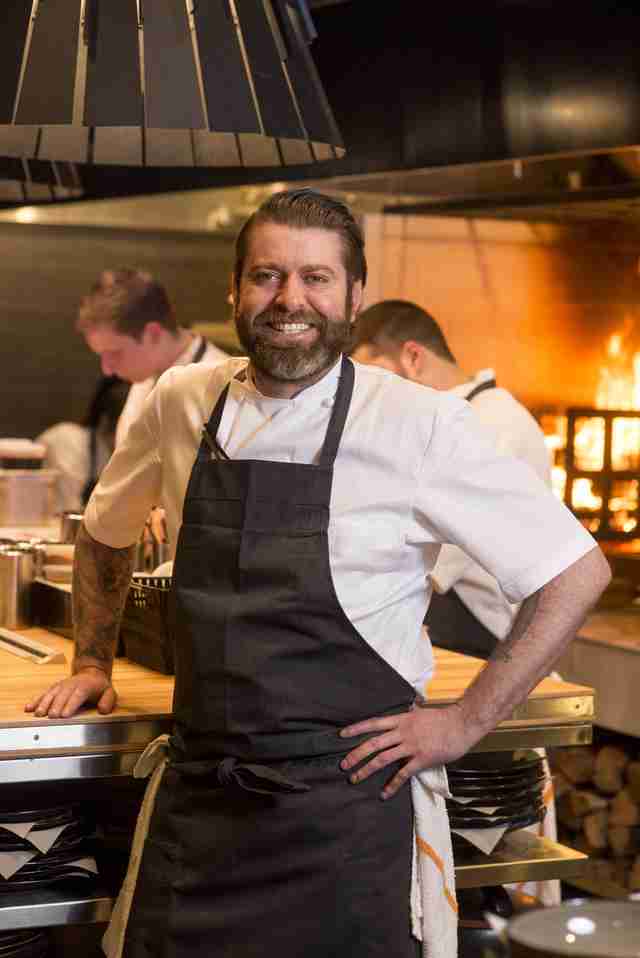 Andrew Brochu
Roister
Address and Info
Perhaps we should start judging chefs by their ability to fry chicken. Given that scale, Andrew Brochu is off the charts. He's the mastermind behind chamomile-scented fried chicken served with what can only be described as magical sunchoke hot sauce. That's not all that put this chef on our radar this year. The A-5 wagyu with uni butter and hearth-baked lasagna also helped. Brochu's also a veteran of the game, cooking at such notable establishments as Graham Elliot and The Aviary, but he really found his stride this year with the opening of Alinea Group's casual-ish Roister.
Brian Fisher
Entente
Address and Info
Aside from a little spot called Alinea, Lakeview has never been much of a dining destination for those in the market for chicken liver mousse that tastes like a PB&J sandwich or fettuccine with maitake mushroom and white truffles. That all changed thanks to former Schwa chef de cuisine, and reluctant hero of 2016, Brian Fisher. "He's a free spirit, very driven, super-creative -- kind of like a savant, silent-genius type of guy -- things just organically come about and you don't really know where they come from, but they are so brilliant and perfect," says his pastry chef and counterpart in the kitchen, Mari Katsumura.
Mari Katsumura
Entente
Address and Info
The daughter of Yoshi Katsumura is keeping her father's legacy alive by dazzling Lakeview -- the home of the late Katsumura's 34-year-old restaurant Yoshi's Café -- with sour cherry and sassafras profiteroles or hojicha (Japanese green tea) and pumpkin tres leches cake. The seasoned pastry chef, who also spent time in the kitchen of Acadia and Blackbird, runs the kitchen at Entente alongside Brian Fisher. "All of us were so involved in every aspect of building this establishment from the ground up," Katsumura says about the DIY, collaborative nature that helped one of Chicago's most unique restaurants come to be.
Genie Kwon
Oriole
Address and Info
Mother of croissants, breaker of glass ceilings, and queen of the kitchen at Oriole, Genie Kwon broke out of the pastry chef box when she took the role of partner in this West Loop restaurant. Here, she helped the team ascend to two-Michelin-stardom with her cardamom croissants and pistachio gelato. "People treat you differently when you are a partner and investor," Kwon says. "As far as the food is concerned, I am lucky that the tasting menu format highlights the importance that a pastry program can bring to a restaurant rather than being a financial burden."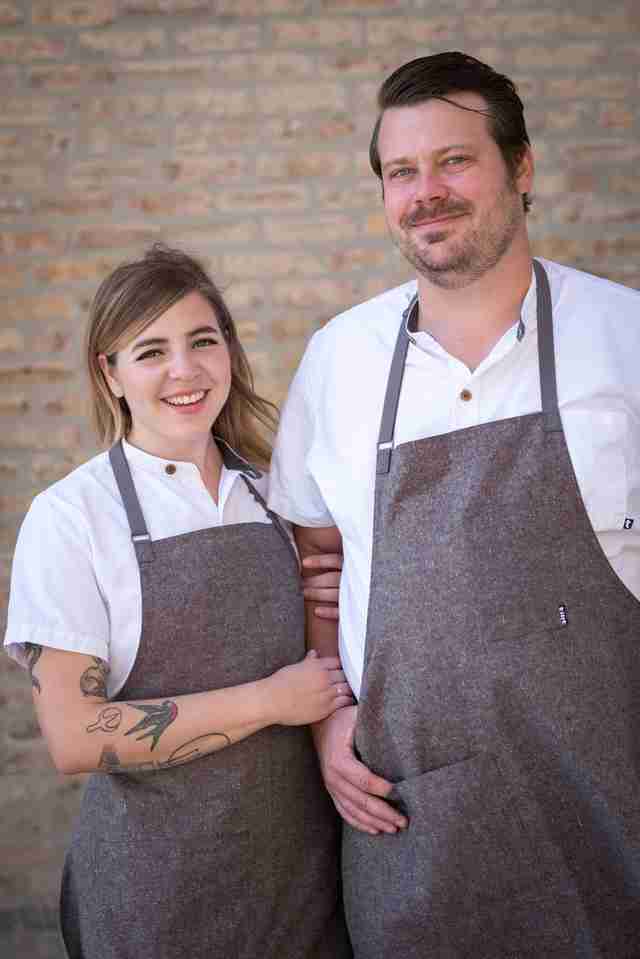 David and Anna Posey
Elske
Address and Info
Two years: That is how long David Posey spent out of a professional kitchen, before opening Elske. His last role was chef de cuisine of Blackbird. His wife, Anna Posey departed her most recent cooking job of pastry chef at The Publican, over a year ago. That leaves a lot of time to ponder the new Nordic cuisine that inspired their first joint venture. The result is an elegant eight-course tasting room served in the comfortable West Loop restaurant, plus a la carte options and an extensive wine list. Creamy duck liver mousse tart and ribbons of grilled carrots with mussel cream are served with views of the roaring outdoor fireplace. It's cozy AF.
Noah Sandoval
Oriole
Address and Info
Don't leave your phone unattended around this two-Michelin-starred trickster. He has a tendency to prank his fellow chef as well as his wife/general manager by putting poop-related statuses on their Facebook pages. This playful nature translates to his restaurant in both the food and service. Exposed brick walls and a semi-open kitchen mimic the feeling of dining at your cool friend's apartment, which happens to serve puffed beef tendon with wagyu tartare and shaved matsutake mushrooms. "The overwhelming success Oriole has had blows my fucking mind," Noah Sandoval says. "Striving to stay focused and allowing an organic evolution of the restaurant as a whole is the foundation of our success."
John and Karen Shields
Smyth + The Loyalist
Address and Info
"It's been unbelievably thrilling, challenging, and nerve-wracking but at the same time totally comfortable. We feel like we've come back home," chef John Shields says about his returns to Chicago alongside his wife and pastry chef Karen Shields. "It was difficult to readjust after four years out of the kitchen, but I feel like I'm just beginning to hit my stride and climb the hill." No one else noticed the bumpy start. The fine-dining component of their two-story restaurant, Smyth, earned a Michelin star within its first two months. Meanwhile, downstairs, The Loyalist has been lauded with serving one of the best burgers in Chicago.
Michael Simmons
Café Marie-Jeanne
Address and Info
Sometimes you just want "fancy meats," "fancy cheeses," a few oysters, and half of a smoked chicken in a no-frills café, which happens to have one of the most skillfully curated wine list in this city. For all those times, we present Michael Simmons. The former Rootstock chef took his talents across the street to open Café Marie-Jeanne earlier this year. Here, simple yet skillfully executed American fare with a few French twists -- think duck frites with wild mushrooms in smoked oyster sabayon and then start drooling -- is served all day.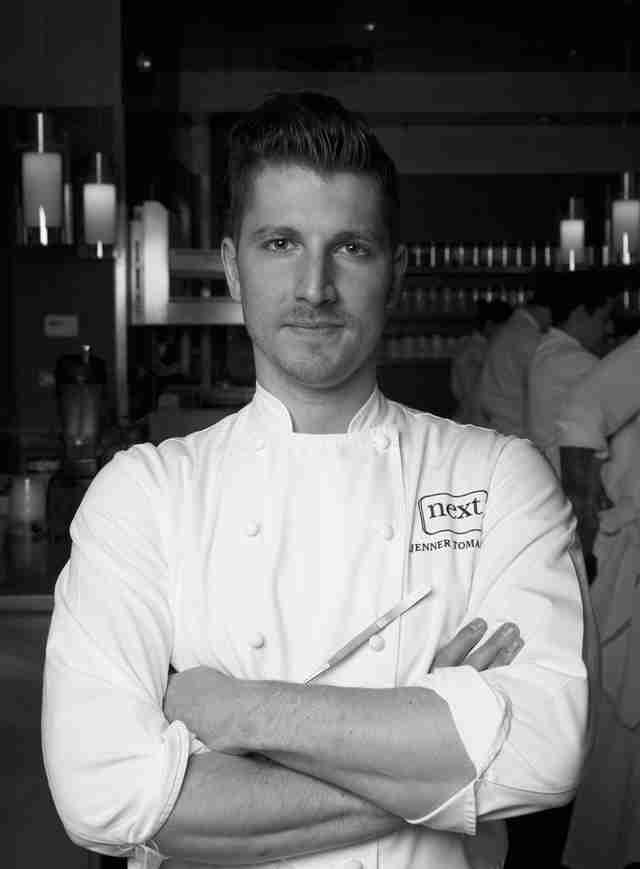 Jenner Tomaska
Next
Address and Info
"A concept such as Next's can be exhausting and at times daunting, but the educational aspect has changed how I function and create as a chef," says Jenner Tomaska, who recently took the reigns at ever-evolving Next. If you think cheffing is difficult, then imagine working at a restaurant that completely changes concept every four months. In the past year alone, Tomaska was responsible for understanding the food of The Alps, offering an edible tour of South America, and then paying homage to The French Laundry circa 1996. "Research is everything and learning never stops, this is something that will stay with me from here on out."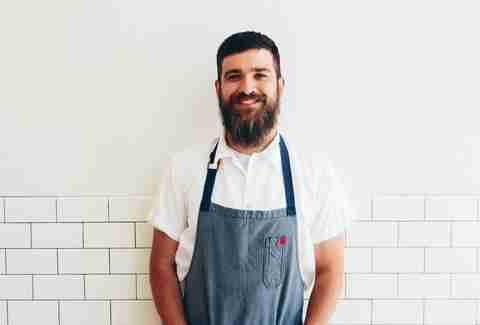 A.J. Walker
Publican Anker
Address and Info
One Off Hospitality is a magnet for talent. It attracts and then molds some of the best food-and-drink slingers in the city. A.J. Walker, the latest protégé takes second-in-command at brand-spankin'-new Publican Anker, where he comes into his own with delicata squash sprinkled with pistachios and classic roasted chicken with not-so-classic hash browns. "I've worked with Paul and Cosmo for a long time, including four years as Sous Chef at The Publican while Cosmo was the Chef de Cuisine," Walker says. "Even though we have our working rhythm down to a science at this point, it's still amazing to know how much support I have here."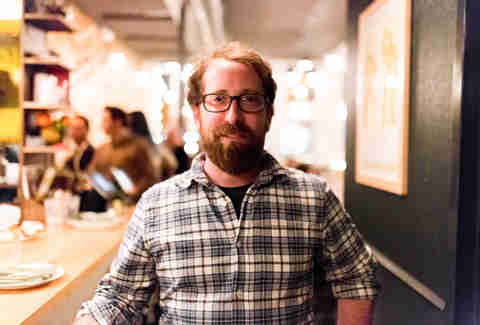 Jason Vincent
Giant
Address and Info
Chicagoans who were left feeling empty with a Jason Vincent-sized hole in their bellies following his departure from the much beloved Nightwood in 2014 (Nightwood would close the following year) found themselves filled with joy this year when he returned with co-collaborater Ben Lustbader to open Giant in Logan Square. But beyond the joy, Chicagoans were also filled with Jonah crab salad paired with incomparable waffle fries, addictive sweet-and-sour eggplant with pancetta, and fry bottom apple pie with sour cream sorbet. Which in turn brought more joy. It was a beautiful thing, and a big part of why Thrillist chose him as our national Chef of the Year.
Sign up here for our daily Chicago email and be the first to get all the food/drink/fun in town.